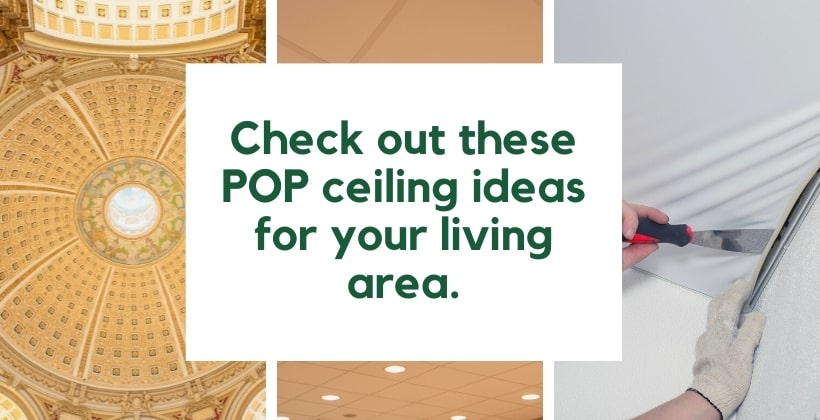 Check out these POP ceiling ideas for your living area.
We look at the benefits of plaster of Paris (POP) false ceilings and several ways to instal them in the living room.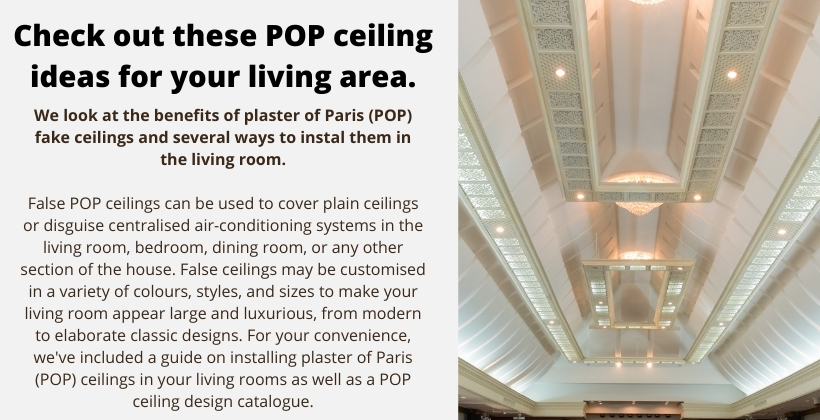 False POP ceilings can be used to cover plain ceilings or disguise centralised air-conditioning systems in the living room, bedroom, dining room, or any other section of the house. False ceilings may be customised in a variety of colours, styles, and sizes to make your living room appear large and luxurious, from modern to elaborate classic designs. For your convenience, we've included a guide on installing plaster of Paris (POP) ceilings in your living rooms as well as a POP ceiling design catalogue.
---
Are you looking for a Rent home in Kharghar Navi Mumbai? Then you may contact Navimumbaihouses.com the biggest property portal to Rent / Sale / New Projects properties in Kharghar and Navi Mumbai.
---
Why should you use POP for a False ceiling?
Plaster of Paris fake ceilings are extremely long-lasting and can withstand wear and tear for many years. The POP comes in powdered form, and the paste is created by mixing it with water. The ceiling design is created by adding POP to a mesh and allowing it to float. POP is also less expensive than gypsum boards. To achieve elegance, you'll need to employ an expert to instal a POP ceiling. POP ceilings also take longer to instal because they must be completely dry before they can be put. Simple POP designs for living rooms are easy to instal, but if you want to add elegance to your area, go with a modern, complex one.
What factors should you consider while choosing a POP ceiling design for your living room?
Instead of a plain ceiling design for the living room, you may choose a creative design with a combination of forms and lighting. If you have a combined drawing room and dining room, however, choose a style that is both attractive and functional.
Make suitable lighting settings for the living room's fake ceiling. You may utilise LED lights that are energy-efficient and complement the ceiling design. If you want to make your room appear more elegant and attractive, you may experiment with large chandeliers or hanging lights.
While white is the most popular colour, you may make your space look larger by using other bright colours. For a regal appearance, play around with beige and yellow hues. For a modern aesthetic, add texture to your ceiling with a wooden finish, rustic or metallic finishes, or both.
There's no reason to limit yourself to rectangle and square ceiling designs. Curves, arcs, and circles are fashionable, and you may use them to create a fresh appearance. Breaking the symmetry and giving your property a contemporary feel is a wonderful idea. In contrast to other components utilised in décor, you may also use these forms.
Catalogue of false POP ceiling designs for your living room
POP ceilings may also be utilised in your living room to offer an extra layer of insulation. If you want to give your space a warm look, LED lights in the fake ceiling are a good option. If you have a limited budget for the fake ceiling, basic POP designs for the living room are simple to instal, attractive and offer a minimalist touch to your space.
Another advantage of Plaster of Paris ceilings is the ability to utilise moulds and shapes such as circles, trays, tiers, squares, and so on. Apart from that, it is quite simple to re-decorate or change the existing design after finishing the POP fake ceiling installation procedure.
Trending false ceiling design ideas
Trending artificial ceiling design ideas It has a contemporary appearance, yet it also works well with traditional decor.
Light-highlighted: If you want to play around with lighting, POP fake ceilings are ideal. The POP fake ceiling, which runs close to the wall, is designed to accommodate light fixtures, giving the area a calmer feel by emitting a gentle glow.
Hanging ceiling: This is one of the most popular fake ceiling designs, in which POP suspended ceilings are supplemented with wood. This gives depth to the room. Furthermore, the intensity of light in the space may be controlled by pendant lamps suspended from the wooden portion of the ceiling and spotlights mounted on the POP.
Patterned ceiling: From crossing lines to an intriguing pattern on the ceiling, you may select any type of creative display. The pattern will enhance the elegance of the fake ceiling design when combined with lighting.
The advantages of POP false ceilings
False ceilings may be utilised for uniform light distribution across space via ceiling lights, and they can also be used to express your style.
Unlike conventional ceilings, false ceiling designs can be readily customised to fit the room's size and lighting requirements.
To make your area appear larger, try experimenting with different colours and hues on the ceiling. They may be coloured in the same way as any other artwork.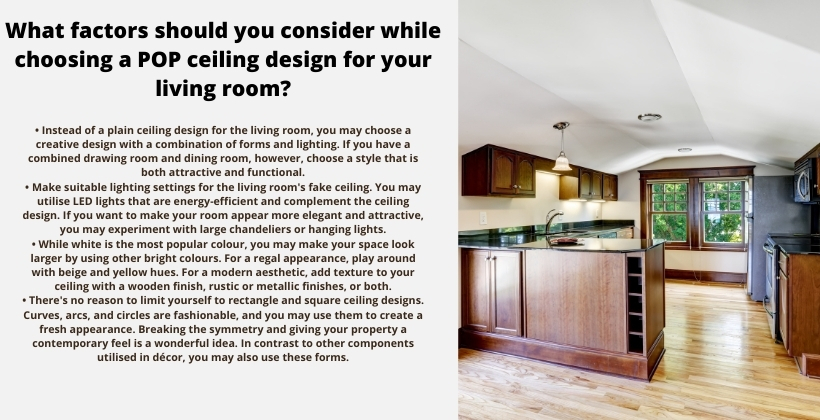 How to Pick the Right POP False POP ceiling Ceiling Colors for Your Living Room
When it comes to fake ceilings, there are a variety of colours to select from. Here are some of the possibilities, depending on the size and dynamics of the space:
Using lighter colours for the fake ceiling than for the walls might make the roof appear higher, making space appear larger.
If the room is brightly coloured or has a lot of components, such as furniture, paint, décor, and upholstery, the best option for the ceiling is to go with a white hue.
For rooms with white walls, dark colours like charcoal greys, navy blue, or chocolate brown are great since they provide a striking contrast. You may use the same colour on the walls and the roof when building a fake ceiling. However, the colour scheme chosen should be based on the room's size.
POP False ceiling colour combinations
You may play around with different hues to make your POP fake ceiling stand out and blend in with the rest of your home. If you're going to install a POP ceiling in your house, here are some of the hottest colour options for 2021:
Mustard yellow and white for a warm and inviting atmosphere.
A splash of orange, purple, red, or yellow for a unique look. Although the colours may not be seen, the lighting will bring out vivid tones.
Turquoise is a good choice for white walls and neutral decor.
Crown moulding in brown or another dark hue for emphasising the walls.
Choose ebony or ivory colours for a traditional appearance.
---
If You're Looking for a Rental Property in Navi Mumbai We Have the Best Option For You Flats for Rent in Kharghar Navi Mumbai: https://navimumbaihouses.com/property/search/rent/kharghar/
---
How to Pick the Right Ceiling Paint Colors
Before deciding on ceiling colours for your home, keep the following in mind:
The spirit of the room is enhanced by the ceiling colours. But don't go overboard; instead, keep things basic in areas where redoing isn't an option.
A white ceiling will direct attention to the walls and furniture. As a result, if you choose bright wall colours, make sure the ceiling is white.
The white ceiling may make space look larger and more lit if the walls are painted in light colours.
For a contrasting look, paint the ceiling a dark tone and then top it with a glossy version of the same colour. The shine will reflect light from the surface, but the glaze will lessen the dramatic impression.
If you want to paint your walls and ceilings the same colour, keep in mind that it will make your room appear smaller and more peaceful. This is an excellent choice for bedrooms and bathrooms.
Cost of POP false ceiling
| The type of ceiling | Average cost |
| --- | --- |
| Gypsum false ceiling | Rs 50-150 per sq ft |
| POP false ceiling | Rs 50-150 per sq ft |
| Wooden false ceiling | Rs 80-650 per sq ft |
Things to consider before installing a POP fake ceiling
Has the ceiling installed before you move into your new home? If you're remodelling your home and want to add a fake ceiling to your current décor, choose experts who can do the job quickly. This is due to the fact that POP (Plaster of Paris) may produce a lot of clutter and may deter you from having a ceiling installed.
Certain ceiling heights necessitate greater headroom than others. So, before you start the installation, double-check the height. Also, be prepared to add or subtract a few inches in height due to the POP sheets' need for the room.
If you're going to put up a fake ceiling in your living room, decide whether you want to cover the entire surface or just the area around the light fixtures. This will assist you in effectively organising your budget.
Precautions to follow while installing a POP fake ceiling
Several measures should be taken by property owners throughout the installation procedure. This will aid them in subsequent phases in controlling and maintaining its ceiling.
Ensure that the ceiling is not prone to leaks, and only use POP from reputable companies to avoid cracking during the operation.
Consider if a certain consistency of POP is appropriate for the space in which it will be put.
A thickness of 10-12 mm is ideal. Anything less would be vulnerable to harm.
Always make sure the POP is totally dry before using it.
To avoid unintentional fires, encase all electrical lines in a conduit.
---
We are the Real Estate Web Portal to Buy Sell and Rent properties in Navi Mumbai, Mumbai, and Thane. We can help you Buy Properties at Affordable Prices at your desired location. For more information Call Us On +91 8433959100
If you want daily property update details please follow us on Facebook Page / YouTube Channel / Twitter
Disclaimer:
The views of this expressed above are for informational purposes only based on the industry reports & related news stories.
Navimumbaihouses.com
does not guarantee the accuracy of this article, completeness, or reliability of the information & shall not be held responsible for any action taken based on the published information.
Also Read
Buy Properties in Navimumbai