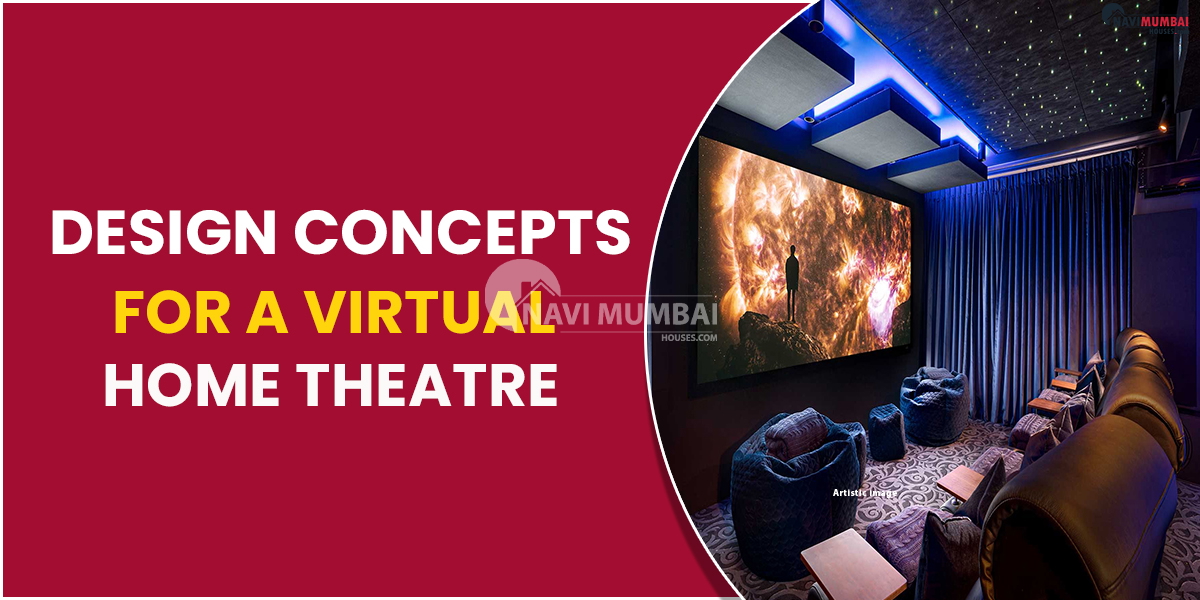 Design Concepts for a Virtual Home Theatre
According to a May 2022 story in the Indian Express, both the demand for home theatres and OTT subscriptions have increased by 49% in India. A home theatre is now more than simply a place to watch television; it also serves as a decorative element and even a status symbol.
The easiest way to unwind after a long day is to turn on your home theatre, prepare some freshly made microwave popcorn, and take in a movie. Having a large home theatre is now practically required, regardless of whether you incessantly gorge on fresh OTT material or prefer to watch your favorite movies on the DVD player.
---
Are you looking for kharghar flats for sale?
---
What exactly is a Home Theatre?
For those who are unaware, a home theatre, sometimes referred to as a home cinema, is a category of audio-visual system that simulates the atmosphere of a movie theatre at home. A surround sound system that can be installed in various parts of the room and create an immersive audio and visual environment that is almost like a movie theatre adds to the ambiance.
If you're searching for something big, you might choose a screen that is bigger than 55 inches. A small house theatre system for limited rooms can range from 32 to 55 inches. Consider investing in a 4K super HD LCD, OLED, or LED TV if you have extra cash to burn.
The internet may now be streamed on a home theatre system as well. Check off the items on the following list to create the perfect home theatre system if you want to have an intense home theatre watching experience in the comfort of your own home.
You should make a large audio system investment. Better still is size.
To prevent sound from becoming trapped within and echoing, look for home theatre systems with a modest enclosure.
A 5.1 surround sound system is a crucial component of a home theatre and should be included as a minimum requirement. You may search for something a little more expensive, like 7.1 or 9.1, if your budget allows. The impact of the background music and sound effects increases with the level of surround sound.
The subwoofer's frequency range is covered by an equalizer, which also adjusts the sound to fit the environment. The majority of home theatre systems have an equalizer. You can buy them individually if your system doesn't already have them.
Home Theatre
A subwoofer balances the speakers' output and adds a bass impression.
Each home theatre has a controller that you may use by pressing a button.
AVR, the abbreviation for audio-visual receiver kit, is the amplifier that is included in a home theatre system. This is a strong gadget that transforms source device outputs into excellent video and sound. It is occasionally referred to as the center or focal point of a home theatre setup.
The acoustics panel is a crucial component of the ideal home theatre system, in addition to audio systems and amplifiers, which are crucial for using sound to set the mood. Home theatre acoustics entails making panels out of wool or foam to absorb sound waves and stop them from bouncing off of solid objects.
8 Ideas for Your Home's Cinema
In this post, we go through some of the top home theatre layouts.
Creating a Sports-Friendly Home Theatre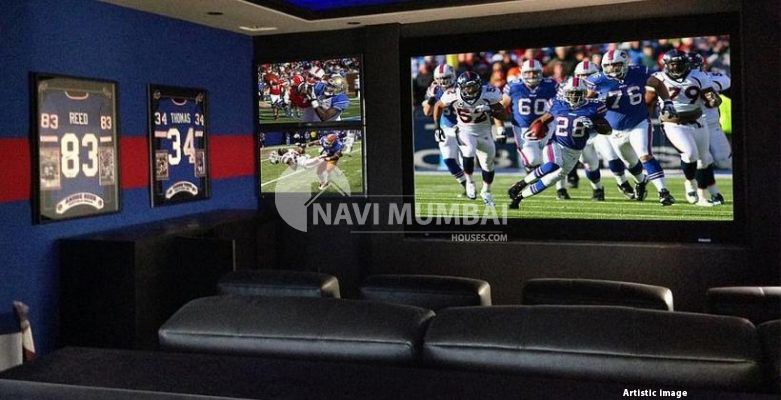 If you enjoy sports, you will undoubtedly adore this home theatre design concept. Investing in a home theatre that is at least 120 inches wide or larger is the greatest method to enjoy your game with your buddies. The match improves as the screen size increases. If the match times conflict, you may even divide your home theatre into several smaller screens if your budget allows it so that you can watch various games simultaneously.
The magnificence of the theatre, along with a comfortable leather sofa, should be the emphasis of a sports-themed home theatre room. To create the atmosphere of a stadium, surround sound systems must be install. Additionally, you may hang jerseys and personalized sports gear on the walls. It will also be a good idea to have a little fridge and a cupboard stocked of food. To improve the room, you may add faux green grass carpets to the flooring.
Home Theatre Ideas for Science Fiction Fans
Did you see 2001: Space Odyssey, ET, Event Horizon, or Aliens as a child or teenager? If the answer is yes, you will undoubtedly enjoy the concept of a home theatre design with a sci-fi theme. Dark colors are necessary to evoke an alien feeling; using blue or bluish-black will do this by simulating space. You may achieve this by using LED tube lights, which not only work but also consume less energy.
The roof, which must resemble a "starry night," is another crucial component of a sci-fi-themed home theatre design plan. You may use a watery gateway from the movie Stargate to design your screening room if you have the financial flexibility to do so. This home theatre design will make you not want to leave your space.
Home Theatre Basement Design
Homes with basements may be creatively use instead of being use as a standard storage area. You may brighten up your basement in whatever manner you like with the installation of your home theatre with the aid of an interior designer or if you have the artistic skills. Going with a comfortable motif would be the best choice for a home theatre design, making it great for family movie nights. You may use easy decorating techniques to give your basement a pleasant appearance, such as hanging bottle lamps, fairy lights, or rice lights. If you'd like, you may choose between a luxurious sofa, a regular couch, or a sofa bed. Given that the basement is a secluded part of the house, you may invest the necessary time, money, and effort into making it a suitable movie theatre.
Pool Table Home Theatre Ideas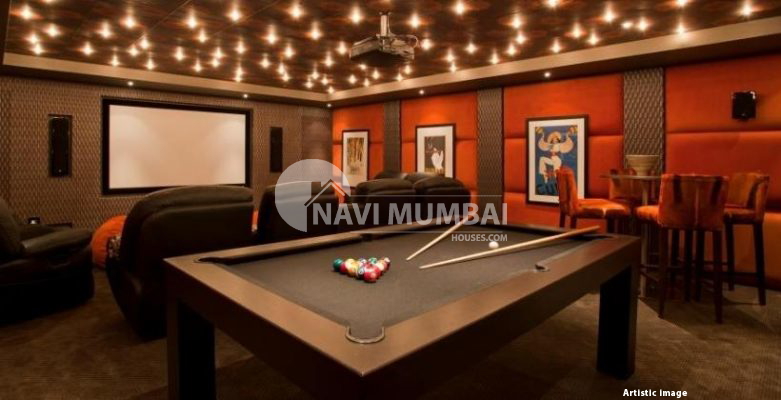 If your home has a pool house, you might want to think about converting it into a stylish movie-watching lounge for those relaxing evenings. You may be active in the morning and finish your work fast, and you can continue to unwind in the evening by relaxing on a daybed or a soft floor mattress while your favorite 90s movie is playing.
Individualized Rotating Home Theatre
There might not be enough room in your house or apartment. Or perhaps you object to a home theatre system gazing at you day and night. If you have strong feelings about either of the aforementioned scenarios, you may want to consider having your home theatre wall customize with a rotating panel that will allow you to conceal your system while you are not using it. It is entirely up to you whether you want book shelves, a spherical mirror, or just an artwork hanging on the front.
Reclining Chair in Home Theatre
With recliners and a snack bar, what better way is there to recreate the movie theatre experience at home?  Mind-blowing theater-turn-basement, complete with luxurious recliners and cushions, were release.  They have even set up a bar with enticing drinks.
Outdoor Theatre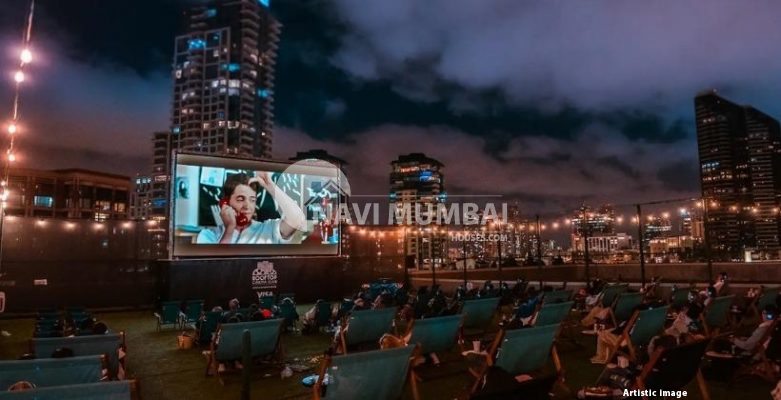 If you have the luxury of a large garden or an open patio, you may transform it into an outdoor theatre similar to a drive-through in the United States. You need a projection screen, a projector, and a secure neighborhood in order to replicate an outdoor movie theatre where your electronics won't be stolen.
A Luxurious Home Theatre for Two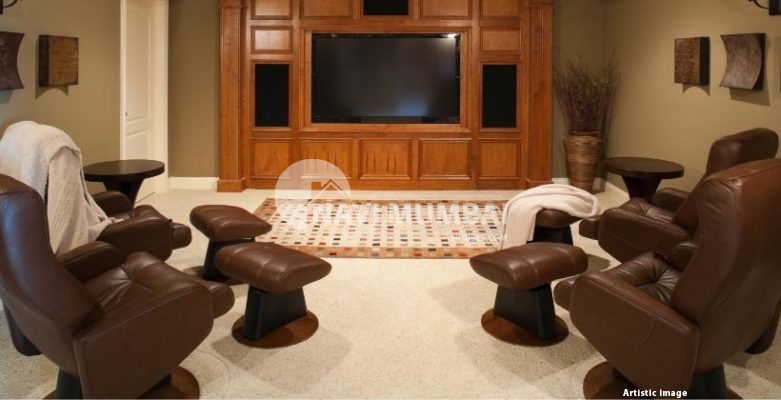 Are you looking for something basic yet elegant? Create a luxury sofa in your home theatre room and add velvet sidewalls and silk drapes. The champagne bottle is ready, and you are all set for a romantic date night in front of your favorite film or television programmer.
Present-day Home Theatre Market
A research predicts that the worldwide home theatre industry would increase from $22.77 billion in 2021 to $27.24 billion in 2022. The pandemic-related sales surge, which is still going on today, is to blame for the change in growth rate. The ordinary Indian may expect to pay between INR 60,000 to INR 1, 80,000 for a high-quality home theatre system that includes surround sound stereos. If you're going to spend this much money on anything, you need to make sure the rest of the space is balance in terms of design so that your home theatre can be the major focal point.
Summary of Home Theatre Design
A home theatre system is a significant investment. It's a location where you may spend a lot of time connecting with loved ones and watching a variety of stuff. We have covered a few common home theatre design concepts in this post that you may use as inspiration when designing your new house, room, or apartment.
---
You're looking for New Projects in Kharghar we have the Best New Projects Kharghar like Ready to Move & nearby possession:  https://navimumbaihouses.com/properties/search/kharghar/
If you want daily property update details please follow us on Facebook Page / YouTube Channel / Twitter
Disclaimer:
The views of this expressed above are for informational purposes only based on the industry reports & related news stories.
Navimumbaihouses.com
does not guarantee the accuracy of this article, completeness, or reliability of the information & shall not be held responsible for any action taken based on the published information.
Also Read
Buy Properties in Navimumbai