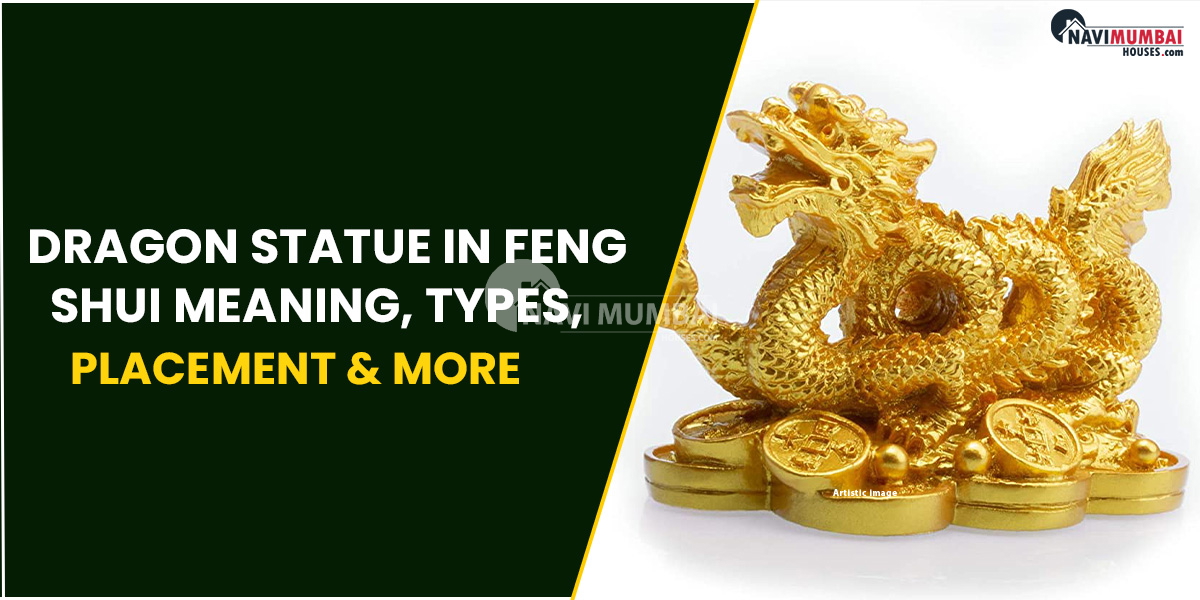 Dragon Statue In Feng Shui : Meaning, Types, Placement & More
Dragon Statue In Feng Shui: In Chinese culture, dragons have a unique place in the heart. It is a fabled creature that is said to bring luck and riches. In order to bring success, riches, and prosperity, Feng Shui dragon sculptures are positioned in homes, businesses, and workplaces. Feng Shui dragons come in a variety of styles that represent various energies. They come in various sizes as well. You can get a miniature Feng Shui dragon that can be worn as a necklace or ring, or one that is much smaller that can be stored on your desk. There are also large Feng Shui dragon statues that draw luck while also enhancing the environment's visual appeal.
The Great Wall of China was created with the Chinese's reverence for dragons in mind. You must be wondering why the Chinese people have adopted the dragon as a sacred emblem. What do the phoenix and dragon in Feng Shui represent? What advantages does the dragon statue with Feng Shui provide? Where should it be placed to generate good energy? Let's investigate!
---
Are you looking 2BHK flat for Sale In Airoli?
---
Meaning & Significance of the Feng Shui Dragon
According to Chinese tradition, a dragon once redirected the wind to benefit a rabbit. It also caused the rain to fall down and feed a community that was suffering from a severe drought. The animal is viewed as bold, helpful, and kind as a result. An earth element and Yang energy are both connected to a Feng Shui dragon. By orienting the Feng Shui dragon correctly, the Yang energy may be energised. It is claimed to have the ability to turn a bad circumstance into a good one.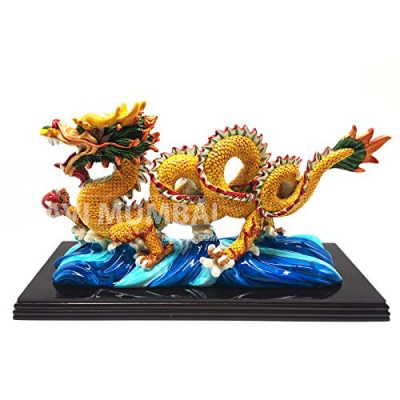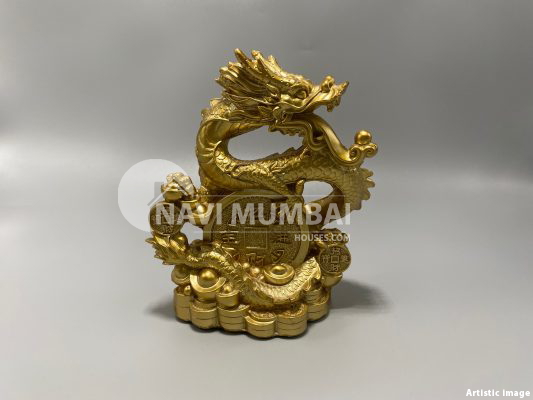 East is said to be the ideal direction for the dragon.
Different kinds of Feng Shui dragon statues
Let's explore the many dragon sculptures used in Feng Shui and the energy they draw:
Dragon with a Crystal in Feng Shui
Popular statues include a dragon grasping a gem. The crystal is known as the gem of desire fulfilment. This kind of dragon fosters hope.
Dragon with a Pearl in Feng Shui
It's not uncommon to see dragon statues with pearls in their claws or beneath their chins. Power, wealth, and knowledge are represented by the pearl. As a result, this statue draws in comparable energy.
Jade Dragon in Feng Shui Statue
It's said that this lovely dragon figurine would bring you luck.
Dragon in gold
The golden Feng Shui dragon represents prosperity and riches. So, by putting a golden dragon at your house or place of business, you may anticipate an increase in your fortune.
Statue of a Red Feng Shui Dragon
Red dragons are thought to foster insight and creativity. It also represents passion and courage.
Feng Shui Dragon Positioning
The Feng Shui dragon statue may be positioned in various parts of your home or workplace to draw in various energy. Let's examine a few locations that are suitable for erecting sculptures and paintings of dragons according to Feng Shui. We've also mentioned where it shouldn't go because doing so can draw bad energy.
It is advised to instal a dragon in the north direction of your office or home to encourage success at work. well renowned for encouraging a successful working life. It is preferable to position your workstation towards north with a red dragon behind it. In this approach, the dragon will monitor you carefully and encourage effectiveness and production.
Place the dragon facing south in your home if you want to keep things peaceful and harmonious there.
To beckon prosperity and wealth, you might erect a jade dragon statue in the east part of your home. Your home's east side also affects your health. A dragon placed in this direction according to Feng Shui encourages health.
A Feng Shui dragon placed in the west is thought to bring pleasure and joy to the family members. It also provides safety for the household's children.
Dragon Statue In Feng Shui:
To balance the water element in your home, position a dragon statue close to the kitchen sink or any other body of water. You must, however, absolutely avoid putting the dragon in your bathroom.
To awaken the energy of love, place a dragon and a phoenix side by side. It can be kept in your bedroom to encourage a happy marriage.
To protect your space, keep a pair of dragons next to the front door. Additionally, they draw luck.
Many of you might not want to focus on discovering your dragon's ideal course of action. If so, you are free to put it anywhere in the house. Simply maintain a face inward to attract luck and optimism.
It is not advisable to keep the dragon in a closet, a drawer, a storage, or any other low-energy space at your home or place of business.
Final thoughts
Positive energy may be drawn into your home by positioning a Feng Shui dragon in the appropriate direction. With this lovely addition, wealth, plenty, success, and prosperity will come into your home. Your home's Yang energy is amplified by it. A variety of Feng Shui dragons, including ones with pearls, crystals, red colouring, and more, are available on the market. Above we discussed the significance of several dragon species. Depending on the type of energy you wish to generate in your home, choose the appropriate dragon. Bring home a Feng Shui phoenix to counteract the male energy of a dragon since it emits Yin (feminine energy). Putting them together makes it easier to draw plenty, love, serenity, and harmony.
---
You're looking for Buy Home In Navi Mumbai we have the Best Buy Properties In Navi Mumbai Like Ready to Move & Nearby possession: https://navimumbaihouses.com/property/search/buy/navi-mumbai-all/
If you want daily property update details please follow us on Facebook Page / YouTube Channel / Twitter 
Disclaimer:
The views of this expressed above are for informational purposes only based on the industry reports & related news stories.
Navimumbaihouses.com
does not guarantee the accuracy of this article, completeness, or reliability of the information & shall not be held responsible for any action taken based on the published information.
Also Read
New Projects Properties in Navi Mumbai