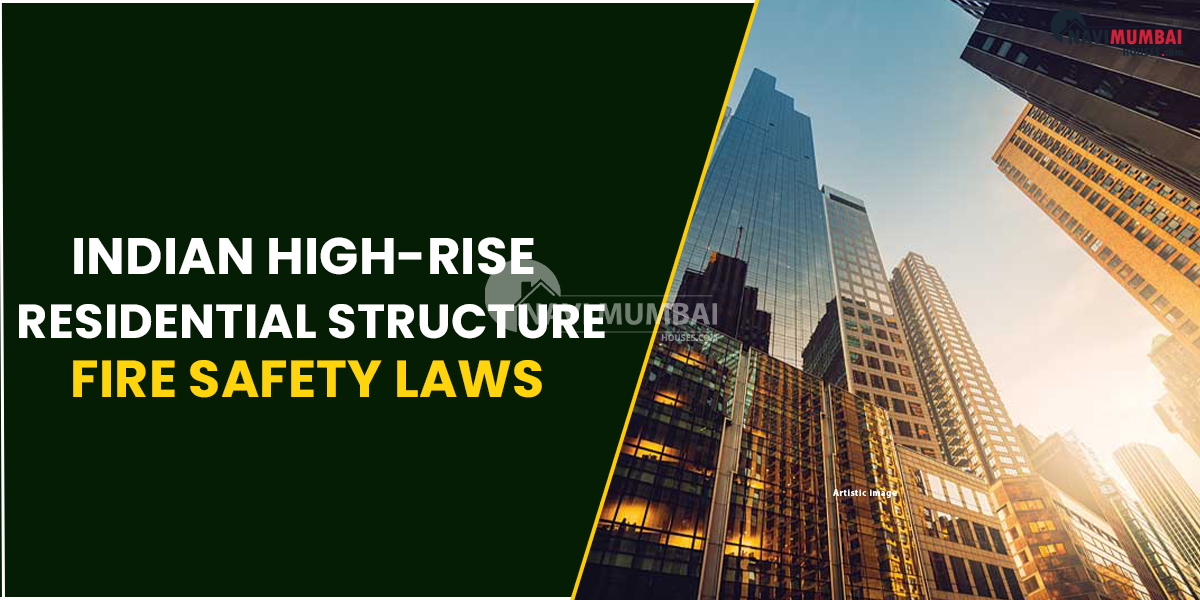 Indian High-Rise Residential Structure Fire Safety Laws
Kharghar Fire Safety Laws : Developers must pay close attention to building designs and adhere to the various fire safety standards outlined in the National Building Code due to the country's rising fire accident rate. (NBC). Here are some NBC standards for tall structures that are important for preventing fire fatalities in India.
In India, where construction activity has sharply increased, particularly for high-rise buildings, the frequency of fire breakouts has also significantly increased. The recent fire tragedy in a multi-story building in Kolkata and numerous mishaps reported in Mumbai, Delhi, Chennai, and Surat bring to light the dangers of fire in high-rise structures throughout the nation.
Up to 17,231 fire incidents may have been recorded between 2019 and 2020, according to media accounts. More than 100 people lost their lives as a result of these, and 843 others were wounded. A total of 15,158 fire-related inquiries were recorded in 2020 and 2021, compared to 14,268 in 2021 and 2022. A total of 392 non-fatal contacts and 55 reports about fatal incidents were received. The majority of accidental fires in domestic and business structures resulted from high-rise buildings' violations of the National Building Code 2016 (NBC) standards.
"As a result of expanding urbanization and rising housing demand, the majority of modern metropolises are increasing vertically. According to some, vertical growth is the only viable option going forward, particularly in major cities like Mumbai and Delhi. However, with more vertical growth, it is also crucial to check whether the structures comply with safety regulations.
---
Are You Looking Flat For Sale In Kharghar?
---
Rules for fire safety: In 2016, the National Building Code (NBC)
A national tool known as NBC outlines the construction standards in the nation that are essential for the orderly and secure construction of structures. Developers who violate the rules risk fines, revocation of their construction permits, or even property destruction. The NBC also includes a number of rules and clauses that govern and avoid fire in Indian structures.
According to the law, there are nine different types of structures in India, and the fire protection regulations are set according to the building's use and occupancy. Residential structures fall under group A, while commercial, industrial, and warehouse structures are categorized under categories G, E, and H, respectively.
Let's examine some of the fire safety guidelines and standards established for domestic structures in Part IV of NBC:
kharghar Fire Safety Laws : How do I get a high-rise structure safety approval?
A high-rise structure is one that is 15 meters or more above the earth or has more than three stories. Before work on any such structure can begin, it must receive a certificate of permission from the Director of the Fire Force or an officer designated by him.
The building plan that is presented to the authority should include appropriate signs and symbols on the plans to show all the fire protection measures and the building's means of entry and escape. The same needs to be properly verified/signed by a qualified fire consultant/architect.
Along with the other plans and construction sections, a comprehensive plan illustrating the placement of water containers, pipes, and booster pumps at different levels should be presented for approval to the relevant authority.
After reviewing the safety plan and evacuation routes. The Chief Fire Officer would send the revised plan to the appropriate authorizing authority.
A No Objection Certificate may be issued by the Fire Officer following the authorizing body's evaluation and approval of the building plan. (NOC). After all the precautions have been taken, the fire inspector must visit the location and inspect the project. Any deficiencies in the fire safety standards discovered during the examination should be reported to the appropriate regulating body. And the rectification process should start right away.
kharghar Fire Safety Laws: Staircase rules
For a quicker evacuation in the event of a fire, the structure should have two stairway exits on each level. This is important for structures that house more than 20 people and have a floor area of more than 150 square meters of living space. Additionally, the stairs should be at least two meters broad because a stampede during an evacuation is more likely on a small stairway.
kharghar Fire Safety Laws: Fire-fighting measures
The structures should be equipped with massive subterranean water storage that can be accessed at a rate of 1,000 liters per minute. Additionally, automatic sprinklers ought to be put in place in cellars used for storing or parking that are more than 200 meters long.
Every structure taller than 25 meters ought to be equipped with gas engines that can put out fires in the event of a power outage.
Mandatory fire protection regulations for homes
The implementation of the following firefighting devices in high-rise domestic structures is required by the National Association of Fire Officers. These technologies ought to be integrated during building.
Wet riser: It refers to a vertical pipeline connected to an underground water tank
Down commer: It is a vertical pipeline connected to an overhead tank
Dry riser: A vertical pipe which has to be kept dry to avoid the freezing of water
Hydrant: It is a horizontal pipeline with a 63 mm dia outlet connected to an underground water tank
3BHK Furnished Flat In Kharghar
Rules for installation of firefighting systems-
Down commer or wet riser cum down commer should be provided in residential buildings
Only a wet riser is mandatory for commercial establishments
Both wet riser and down commer are required for hotel buildings
The diameter of the riser should be 150 mm for all buildings
A separate fire section inlet should be available on the ground floor
The location of the wet riser should preferably be near the staircase
kharghar Fire Safety Laws: Lift norms
High-rise structures should have distinct elevators just for firefighters in case of an emergency. In addition to the normal lifts used by residents. The fire lifts should move at a faster rate than the normal elevators. The speed should allow the firefighters to ascend from the bottom level to the highest level in under a minute.
kharghar Fire Safety Laws: Others
In addition to the aforementioned rules, NBC requires regular fire exercises to familiarize the locals with the emergency escape process.
It is crucial to raise residents' knowledge of the need for fire safety and prevention steps. In many residential buildings, either the occupants are ignorant of the proper firefighting procedures or the equipment is inoperable due to bad upkeep.
The NBC lists a number of fire safety regulations. But producers have primarily ignored them in order to save time and money. Another important element is the carelessness with which the State administrations conducted their fire audits. For instance, in Mumbai, nearly 50% of schools lack fire safety measures. And approximately 90% of domestic structures do not adhere to fire regulations. Therefore, it is imperative for officials to carry out timely fire assessments and take harsh action against builders and proprietors who disobey fire safety regulations. Only a vigilant strategy to fire safety regulations can stop the destruction of property and the loss of life.
2BHK Furnished Flat In Kharghar
---
You're looking for Buy Home In Navi Mumbai we have the Best Buy Properties In Navi Mumbai Like Ready to Move & Nearby possession: https://navimumbaihouses.com/property/search/buy/navi-mumbai-all/
If you want daily property update details please follow us on Facebook Page / YouTube Channel / Twitter
Disclaimer:
The views of this expressed above are for informational purposes only based on the industry reports & related news stories.
Navimumbaihouses.com
does not guarantee the accuracy of this article, completeness, or reliability of the information & shall not be held responsible for any action taken based on the published information.
Also Read
Rent Properties in Kharghar