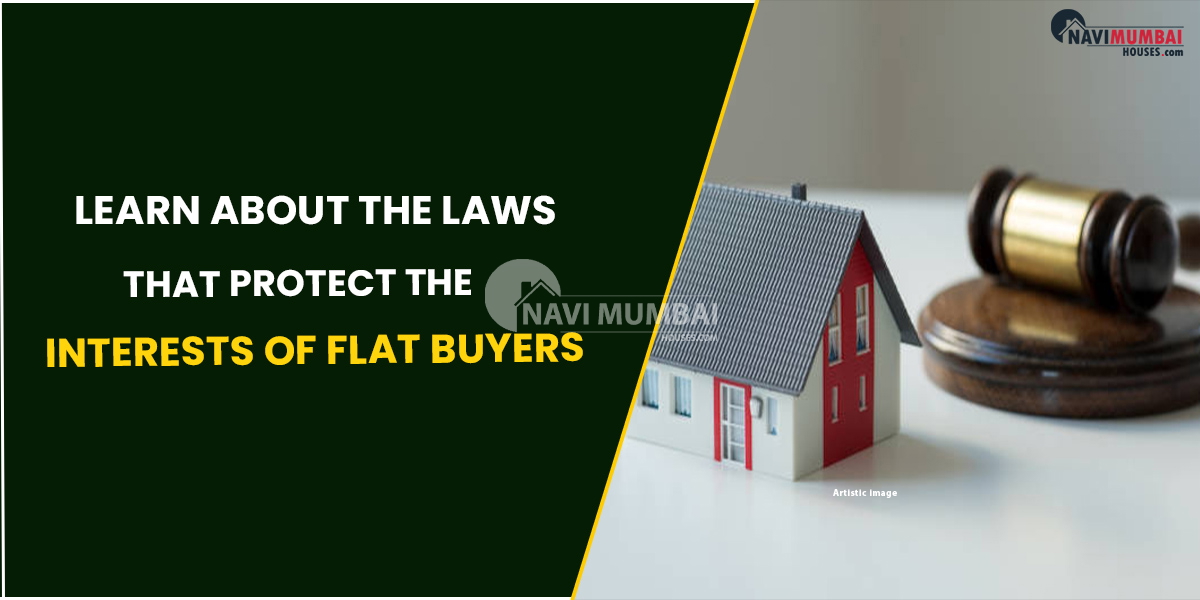 Learn About the Laws That Protect the Interests of Flat Buyers
Protect the Interests of Flat Buyers : "In any country, ignorance of the law is not an excuse." Jefferson, Thomas
People can spend months or even years looking for the perfect dream home in a lovely neighbourhood. But it's ironic that they don't give much thought to the legal aspects of their property ownership. The desire to buy a home is so strong that other important factors are frequently pushed to the sidelines. Even the most educated people are found to be guilty of this error.
You spend millions on buying and decorating your home. As a result, it is critical that the investment is made with great care and caution. Every minor but important detail should be thoroughly examined to avoid problems and regret later. It is your hard-earned money, so you should be extremely cautious when purchasing real estate. So, what can home buyers do to protect and empower themselves? Continue reading to learn more.
---
Are you looking flat for sale in kharghar? 
---
Certain Prerequisites Before the Legalities:
Before we get into the legalities, there are a few things you should know. The buyer should make regular site visits before and after the sale transaction. This gives you firsthand knowledge of the project's status. The sale agreement specifies the date on which the buyer is to receive possession of the flat. Payments are typically linked to construction progress. When you personally visit the site, you can see if the project is progressing as planned. You can also see the materials used in your apartment's construction. Any delay, deviation, or default can be brought up with the builder and regulatory authorities right away.
RERA Changes Everything:
India's real estate market is vast but largely unorganised. There was no single regulatory body to oversee the sector's rapid expansion. There were no national standards that were consistent. As a result, many property developers experienced significant delays and large-scale defaults. Home buyers were left in the lurch, and many ended up paying both rent and EMI because they had taken out bank loans but did not receive possession of their homes for 8-10 years. This caused a slew of legal and financial issues for individuals in particular, as well as the real estate industry in general.
The parliament passed the Real Estate (Regulation & Development) Act 2016, and the Real Estate Regulatory Authority (RERA) was established with the primary goal of protecting home buyers' interests and regulating the real estate sector. The act requires more accountability in real estate transactions by imposing several legal obligations on builders. Customers can no longer be taken for a ride because of ambiguous clauses in the sale agreement.
With the RERA in place, a competent authority can quickly address any issue that a home buyer may have, from construction to delivery. You don't have to jump from pillar to post to protect your interests. The RERA act requires each state to establish a regulatory authority and an appellate tribunal to address home buyers' complaints. Greater accountability, transparency, and operational efficiency will pave the way for the real estate sector's holistic development.
Protect the Interests of Flat Buyers- The RERA Act's Key Features:
Creating a regulatory authority in each state to resolve all real estate disputes through a fast-track mechanism.
Real estate projects must be registered with RERA in order for the authority to have legal jurisdiction over them. Only after RERA registration can project sales begin.
Without the written consent of at least two-thirds of the buyers and the permission of RERA, the builder cannot transfer the buyers' rights in a project to a third party.
In the event that either the buyer or the builder defaults, both are required to pay an equal rate of interest as penal charges.
The builder must compensate the buyer for any losses incurred as a result of the property's defective title.
Protect the Interests of Flat Buyers- Key Advantages for Home Buyers:
The following are some of the major advantages that new home buyers can gain from this landmark legislation.
Prior to the implementation of RERA, the interest paid by buyers for late payment was higher than what the builder would pay them in the event of late delivery. The interest rate is now the same for both parties.
Separate Bank Account: Previously, money collected by a builder for one project could be diverted to another. However, RERA requires that at least 70% of the funds collected for a project be kept in a separate bank account.
Advance Payment Cap: A maximum of 10% of the apartment cost may be collected as advance payment prior to the signing of the sale agreement.
Construction Quality: Any defect in the apartment's construction that occurs within five years of sale must be corrected at no additional cost by the builder within 30 days of receipt of the complaint.
By paying a small fee, you can file a complaint on the respective state's official RERA website. The state governments have clearly defined the process for filing complaints.
Protect the Interests of Flat Buyers – Conclusion:
For many people, purchasing a home is a once-in-a-lifetime opportunity. You simply cannot afford to relax your legal safeguards. A few precautions taken before purchasing a home can save you time, money, and energy in the long run. Home buyers now have more power than ever before thanks to the RERA act. While the government has done its part by enacting strict legislation, it is equally important for citizens to be aware of their rights before exercising them. With today's information overload, ignorance is no longer a problem, but rather a choice!
---
You're looking for Buy Home In Mumbai we have the Best Buy Properties In Mumbai Like Ready to Move & Nearby possession: https://navimumbaihouses.com/property/search/buy/mumbai-all/
If you want daily property update details please follow us on Facebook Page / YouTube Channel / Twitter
Disclaimer:
The views of this expressed above are for informational purposes only based on the industry reports & related news stories.
Navimumbaihouses.com
does not guarantee the accuracy of this article, completeness, or reliability of the information & shall not be held responsible for any action taken based on the published information.
Also Read
Rent Properties in Kharghar