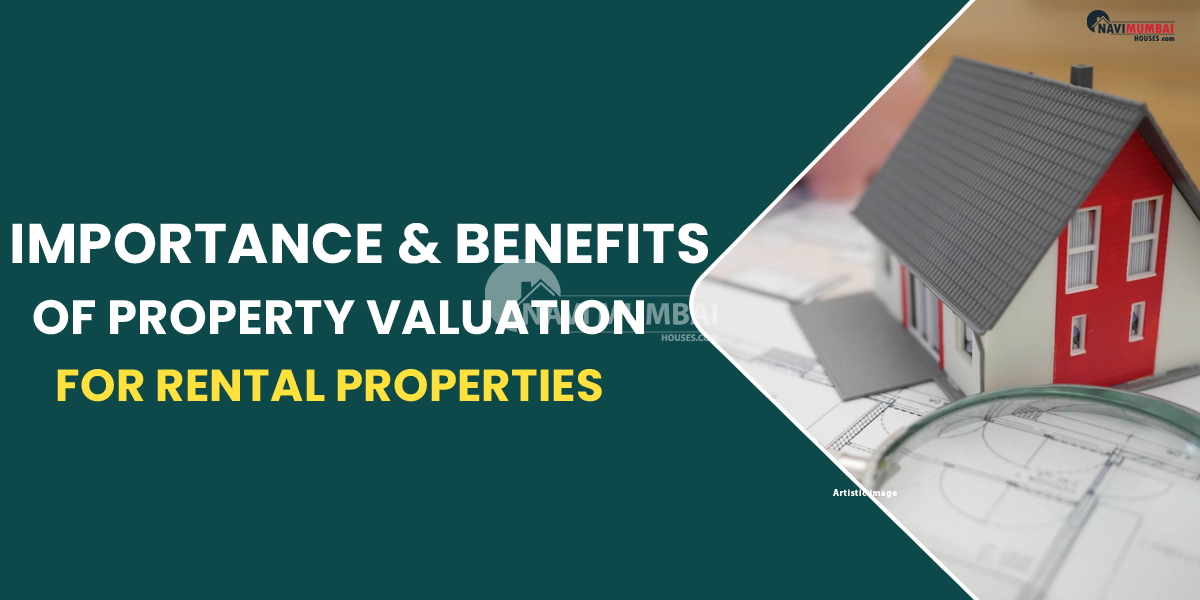 Importance & Benefits Of Property Valuation For Rental Properties
A rental home is a surefire method to have a consistent income throughout the year and is also a fantastic strategy to increase your real estate wealth. Multiple rental property owners have the opportunity to generate passive income that will help them live a better lifestyle. If you own one or more rental properties, you may need to choose property or home valuation from time to time. By doing this, you can maximize the value of your property's net worth.
---
Are you searching flats for sale in bandra?
---
Property valuation: What Is It and Why Is It Important?
Property, house, or flat valuation is the process of periodically determining the financial worth of your property. Simply said, it aids in determining a property's selling price, market price, and rental value. Owning a home, business, or even an industrial property is an option. Your property's worth will fluctuate; therefore it's critical to regularly be aware of the most recent prices.
This will assist you as a landlord in obtaining the highest market rate for your rental property. Knowing the true value of your property can enable you to negotiate a better rental rate. Whether you are renting out a home, apartment, or business space.
Who Performs Real Estate Valuations?
Property evaluators or valuers carry out home or property valuation. Due of their experience in the real estate sector, they can produce a precise market valuation report by using market analysis, guidance values, & location analysis. But not everyone can do this correctly. Before settling on a value, ensure that their evaluators take all relevant elements into account. Experts begin by inspecting the property and noting any interior or external elements that might affect the market value.
Different Methods of Property Valuation
Depending on the nature of property and the intend use, different valuation methods are use. One of the techniques listed below may be used by your appraiser to assess rental properties.
Comparison Approach: To complete a flat valuation, the comparison method is a highly popular one. Here, the appraiser locates comparable homes in the neighbourhood or region and contrasts the flat under examination with these homes. This is a surefire technique to arrive at a market valuation that is comparable to other properties in the area.
Gross Rent Multiplier Method: The gross rent multiplier method is a well-liked approach to assessing a property based on the revenue it brings in through rentals. The appraiser determines the typical rental price in such locations and calculates the gross rent multiplier value.
Total purchase price or property investment / yearly rental income equals gross multiplier value.
Say you bought an apartment for Rs. 30, 00,000. In that neighbourhood, comparable properties typically rent for $20,000 per month.
Gross multiplier value is calculate as 3000000/(12×20000) = 12.5.
It indicates that the market value of the property is 12.5 times greater than the average annual revenue it can produce.
Since they provide higher rental income, properties with low gross multiplier values are typically value higher by appraisers.
Residual Method: Let's imagine you own a home that needs to be rented out. You might use the residual method. Be sure to have your home valued before placing an advertisement. The residual approach may be use by the appraiser to determine if you should rent out the property as-is or make minor improvements to raise its rental value. In this situation, the property's worth is determine by the potential earnings it could generate.
Profits Method: Some people buy real estate with the sole purpose of leasing or renting it to a company. In that situation, the annual lease or rent payment will be compare with the company's profits using the profits technique.
Businesses would naturally not want to spend a large portion of their budget on rent. As a result, your property will look better in the eyes of businesses if you can present them a value report that indicates larger gross earnings in comparison to rent or lease. To accurately determine this valuation, your appraiser might use a particular building valuation calculator.
Why Property Valuation Services for Rental Properties Are Needed by Homeowners
The following are the justifications for selecting a reputable house valuation agency if you are the owner of a rental property.
To raise the rent: The majority of landlords do so annually. This is due to the fact that property value also rises over time. An online property appraisal is a fantastic technique to demonstrate evidence for raising the rent if you believe the time has come to do so but your tenants are refusing.
To determine the cost of renting a property: If you have a property to rent out but are unsure of the appropriate rental value in your neighborhood, getting a valuation done might be helpful. In the majority of locations in India, the rental value represents 6–10% of the overall property value. The annual rent may be set between $120,000 and $200,000 if you paid $20,000.
To apply for a mortgage: If you unexpectedly need a lot of money, you might think about mortgaging your home with a bank or another financial institution. If so, the institution can require you to provide a reliable property appraisal report in order to estimate the loan amount.
To invest in the right property: To make the best real estate investment, many people purchase homes and businesses with the intention of renting them out and earning a passive income. If that describes you, picking the correct property is crucial.
To pay the right property tax value: To evaluate the current worth of a property so that you, as a landlord, may pay the appropriate property tax value, a building valuation calculator may be utilised. The value of the property may change over time, and in some situations. You can reduce the property tax value by having a valuation perform.
Experts can assist you determine the correct property value as well as whether or not renting out that particular investment would be profitable. The study will provide information on the location's possibilities for the future and assist you in making the best choice.
Key Points to Remember About Rental Property Valuation
Evaluation and assessment, internal & external inspection, location assessment, recommendations, & submission of final reports are all included in online property valuation services. It is strongly advised that you get an appraisal performed to evaluate the prospects of your current property & invest in the correct properties that produce significant rental income, even though this is not yet a legal necessity in India.
Here are some important conclusions you should make when analyzing your property:
Comparing the value of your primary residence to a rental home is different. This is so because the rental property's value fluctuates according to its capability for generating rental income.
To determine the approximate worth of your rental property, use online property valuation tools.
To determine the correct worth of your home, you might utilise the sales comparison strategy.
---
You're looking for Projects in Andheri we have the Best Properties In Mumbai Like Ready to Move:https://navimumbaihouses.com/properties/search/andheri-/
If you want daily property update details please follow us on Facebook Page / YouTube Channel / Twitter
Disclaimer:
The views of this expressed above are for informational purposes only based on the industry reports & related news stories.
Navimumbaihouses.com
does not guarantee the accuracy of this article, completeness, or reliability of the information & shall not be held responsible for any action taken based on the published information.
Also Read
Buy Properties in Borivali