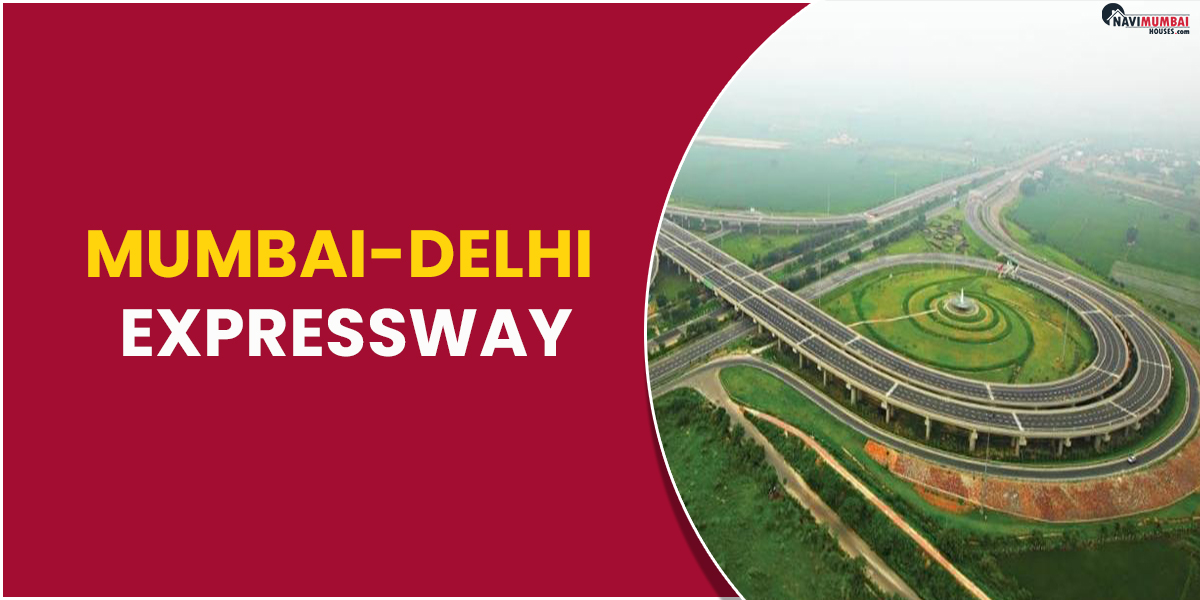 Mumbai-Delhi Expressway
The Delhi Mumbai Expressway, a brilliant government initiative, would link India's two largest financial centers, the national capital of New Delhi and Mumbai, the country's commercial heartland. The eight-lane highway is the longest in the world and may be expanded to twelve lanes depending on traffic demand.
The NHAI is building and maintaining the Delhi–Mumbai highway corridor (National Highways Authority of India). By December 2023, the Delhi–Mumbai Expressway project is expected to be finished, cutting the distance between the two cities from 24 to 12 hours.
Learn everything there is to know about the Delhi-Mumbai Expressway's route, facilities, price, and development phases.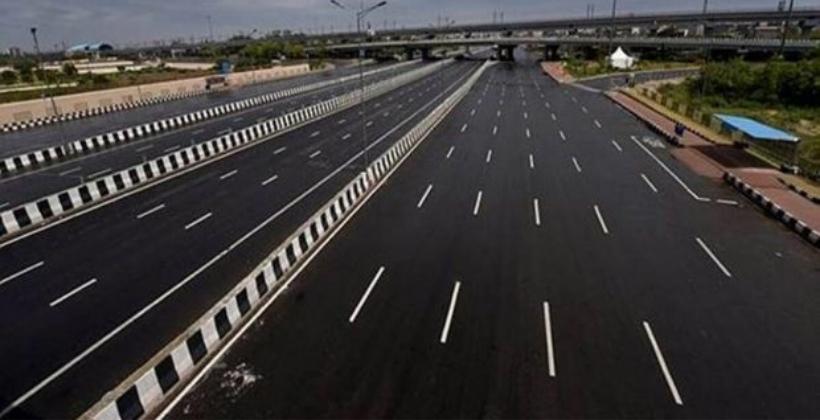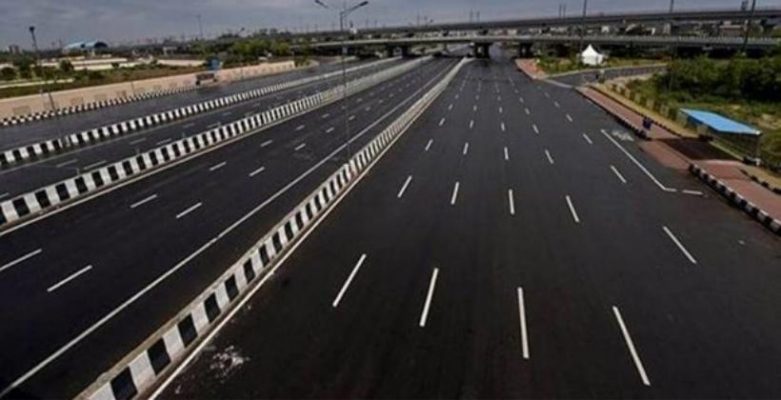 ---
Are you looking for rent flats in thane?
---
What exactly is Delhi-Mumbai Expressway?
A 1350 km (8-lane) roadway called the Delhi Mumbai Expressway will cut the distance between India's two most important cities in half. Nitin Gadkari, the Union Minister for Road Transport & Highways, laid the cornerstone for the Delhi-Mumbai Expressway on March 9, 2019.
The Mumbai-Delhi expressway route would go through five states: Gujarat (426 km), Madhya Pradesh (244 km), Rajasthan (373 km), Haryana (129 km), and Maharashtra (426 km) (171 km). The Delhi to Mumbai highway was constructed on more than 15,000 hectares of land spread across these five states.
The highway would begin in Haryana at Gurgaon and travel through Rajasthan at Sawai Madhopur and Jaipur. After then, the road travels via the Madhya Pradesh cities of Ratlam and Vadodara until arriving at Mumbai, Maharashtra. Connectivity to financial centres like Jaipur, Ajmer, Kishangarh, Kota, Udaipur, Chittorgarh, Bhopal, Ujjain, Ahmedabad, Indore, Surat, and Vadodara will improve thanks to the Delhi to Mumbai expressway.
For the whole project, 80 lakh tonnes of cement would be used. Numerous experienced civil engineers and more than fifty lakh workers for expressway construction are expected to find work as a result of the Delhi-Mumbai Expressway route map.
Map of the Delhi–Mumbai Expressway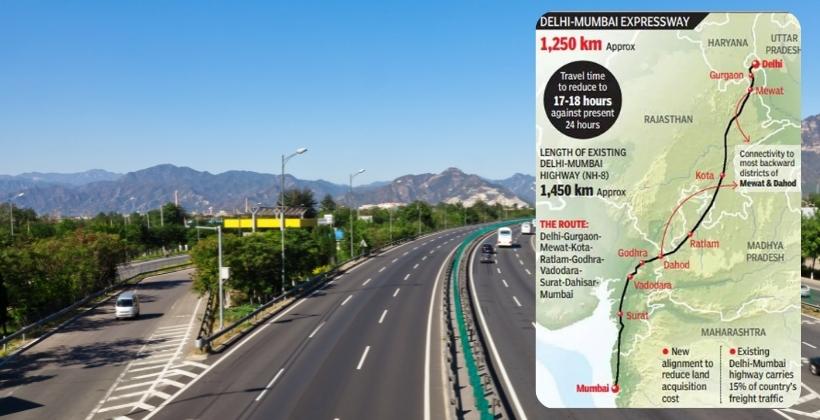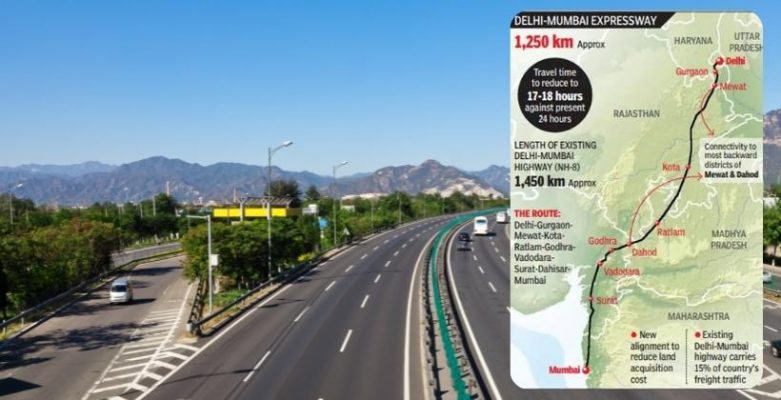 Facts about Delhi Mumbai Expressway
The following are some of the important facts regarding the Delhi–Mumbai Expressway:
Particulars

Details

Project Duration

1,350 km

Project Price

One trillion rupees (approximately)

Tracks

8 lanes, one of which is designated for electric cars. Further 12 lanes extendable.)

States Mentioned

Rajasthan, Madhya Pradesh, Gujarat, Maharashtra, Delhi, Haryana, and Rajasthan

Start and Finish Lines

Start – Delhi's DND Flyway and Sohna, Haryana

End – Jawaharlal Nehru Port Trust and Virar, Maharashtra

Completion Date

2023 December (Expected)
Cost of Delhi-Mumbai Expressway
The approximate cost of building the Delhi-Mumbai Expressway includes the cost of land acquisition. According to the Bharatmala Pariyojna Phase-1 plan, the project is being carried out. Out of the 1380 km that have been granted per the contract and are now being built, 1200 km will be the overall construction area, according to a statement from the government.
The government will carry out the building of the 52 construction packages for the Delhi–Mumbai highway. To finance the operation and development of the Delhi–Mumbai expressway line, the national highway administration of India established a Special Purpose Vehicle (SPV). On August 29, 2020, the SPV will be known as DME Development Limited. DMEDL has achieved AAA ratings from CARE, CRISIL, and India Ratings, according to a recent NHAI release.
DMEDL has generated about Rs 9731 crore, according to NHAI, to help pay for a portion of the Delhi–Mumbai expressway project. SBI provided the largest portion of the financial support, or Rs 5,000 crores. The Bank of Maharashtra, PNB, and Axis Bank are further significant investors in the DMEDL.
Cost
With around Rs 10,400 crores, a segment of the highway over 160 km long that crosses through Haryana is being built. The highway would reduce vehicle pollution in Delhi-NCR by 27%, according to the Union Ministry, and it will benefit 73 communities.
With the estimated Rs 16,600 crores, a 375 km length of the expressway would be built in the state of Rajasthan. The route will go via a number of locations, including Alwar, Dausai, Bharatpur, Kota, and Madhopur, among others.
There will be several bridges built over rivers including the Banganga, Mezriver, Chambal, etc. The majority of the state's bridges are currently being built. By August 2022, it is planned for the Alipore (Gurugram)–Dausa (Rajasthan) leg to be open for traffic. The state of Madhya Pradesh would be covered by 250 km of the Delhi–Mumbai highway route. About Rs 8,500 crores will be spent on the expressway's construction. According to the officials, 106 km of the 250 km expressway's planned route have already been constructed, including sections through Ratlam, Jhabual, Mandsaur, and other locations in the state. In Gujarat, a distance of 426 kilometers, a total of 60 bridges, 17 flyovers, 17 interchanges, and 8 roadways over bridges will be built.
Stages of Construction of Delhi–Mumbai Expressway
The whole Delhi–Mumbai Expressway has been divided into four parts, totaling 52 construction tenders/packages, ranging in length from 8 km to 46 km roughly.
Section

Distance in km

Quantity of Packages

DND-Faridabad-KMP

59

03 – 2 in Haryana and 1 in Delhi

Sohna-KMP-Vadodara

844

31, including 3 in Haryana, 13 in Rajasthan, 9 in MP, & 6 in Gujarat.

Vadodara-Virar

354

13 — 3 in Maharashtra &10 in Gujarat

Virar-JNPT

92

05 – 05 in Maharashtra

 

Total

 

1350

6 States
Special Features of the Delhi-Mumbai Expressway
The Delhi to Mumbai Expressway map has a variety of unique characteristics, including the following:
Roadside Amenities: There will be 93 locations along the Delhi-Mumbai Expressway with a variety of roadside amenities, including hotels, ATMs, food courts, single-brand restaurants like Burger King, Subway, and McDonald's, as well as retail stores, gas stations, and charging stations for electric vehicles. For the first time, the Mumbai to Delhi highway will include fully functional trauma centers and helipads every 100 kilometers to provide medical assistance to travelers who are injured in accidents.
Environmental Aspects: The Delhi–Mumbai Expressway will be a route that is beneficial to the environment. About 20 lakh trees would be covered by the road. Every 500 metres throughout the whole span, these trees will be irrigated using the drip irrigation technique while also being harvested rainfall. Through the planting of trees, it is estimated that the highway would reduce carbon dioxide emissions by around 850 million tonnes. By easing traffic congestion, the initiative should save about 32 litres of gasoline. The roadside lights on the Delhi–Mumbai highway will be run using a combination of solar energy and state networks.
Special Features
E-Highway or Electric Highway: A section of the Delhi–Mumbai expressway is intended to become an electric highway, or e–highway, according to the union government. Buses and trucks may travel at a speed of 120 km/h on this route. As heavy trucks switch to using electricity instead of diesel fuel, the expressway's speed and absence of traffic will reduce logistical costs by around 70%. Out of its eight lanes, the Delhi–Mumbai highway will also feature four lanes specifically designated for electric cars. In addition, a 1.5-meter-high security barrier will be erected on both sides of the expressway route, and the toll plaza will be placed inside slip lanes.
Wildlife Crossings: The Mukundara National Park and Matheran Eco-sensitive Zone tunnels, which will be the first 8-lane wide tunnels in India, would be the key animal crossing attractions. The country's longest expressway, the Delhi-Mumbai Expressway, will have the first animal overpasses or over bridges, which are specifically intended to keep the wildlife section intact and unaffected by project building.
Route of Delhi–Mumbai Expressway
The route alignment for each of the four parts of the Delhi to Mumbai expressway, which span various states, is provided below:
Section 1: Route: 59 km DND-Faridabad-KMP
(50 km in Haryana and 9 km in Delhi)
The Delhi-Mumbai Expressway would begin at Delhi's Delhi Noida Driveway (DND) flyway and continue via Shaheen Bagh, Okhla, and Kalindi Kunj before reaching Mumbai. A place of entrance and exit is Sohna in Haryana. At the KMP expressway in Nuh, Haryana, the traffic from both entry and departure points will combine to proceed in the direction of Vadodara and Mumbai.
Section 2: Route: 845 km, Sohna-KMP-Vadodara
(149 km Gujarat, 244 km Madhya Pradesh, 373 km Rajasthan, and 79 km Haryana)
Alipur village, Sohna, Sancholi village, Bhirawati & Khalilpur (Nuh district), Naurangabad, east of Ujina, east of Bhadas, west of Pinangwan, east of Ferozepur Jhirka, and Kolgaon village are some of the Haryana state locations that are included in section two of the Delhi-Mumbai highway. Following that, it travels across Rajasthan, passing via Naugaon village (Alwar district), Rajgarh-Mandawar road, east of Dausa, south-west of Lalsot, south-west of Sawai Madhopur, east of Indragarh (Bundi), east of Kota, and east of Rawatbhata.
The expressway route will also go across Madhya Pradesh and travel through areas to the east of Bhanupura, the east of Garoth, the east of Sitamau, the east of Jaora, the west of Ratlam, and the west of Thandla. The road then enters the state of Gujarat, passing through communities including Chhayan Village, north of Dahod, some of Godhra, Dodka Village, and Vadodara.
Section 3: 356 km Vadodara-Virar Route
(Gujarat: 277 km; Maharashtra: 79 km)
The Dodka Village, Fajapur Village, Samiyala & Laxmipura Village, Dehgam Village, Moti Naroli Village, east of Navsari, and east of Valsad are just a few of the Gujarati communities that are covered by Section 3 of the Delhi-Mumbai Expressway. The section also discusses several locations in the state of Maharashtra that are on the Gujarat-Maharashtra border and are a part of Virar, Palghar.
Section 4: Route: 92 km Virar-JNPT
(Maharashtra, 92 km)
The highway ends at JNPT in Mumbai and passes through a number of locations in Maharashtra, including Virar, Amane, and Badlapur.
 Major Attractions along Delhi–Mumbai Expressway
Numerous tourist sites may be found along this longest freeway. A few locations that you may visit while driving on the expressway are as follows:
| | |
| --- | --- |
| Cities | Areas to visit |
| Jaipur         | City Palace, Hawa Mahal, Johari Bazaar, and Amber Fort |
| Ajmer | Ana Sagar Lake, Jawahar Circle, Khwaja Gharib Nawaz Dargah Sharif, and many other places |
| Udaipur | City Palace, Lake Pichola, Fateh Sagar, and Jagdish temple |
| Ahmedabad | Law Garden Market, the Sabarmati River, and the Auto World Vintage Car Museum |
| Surat | Galteshwar, Jagdishchandra Bose Aquarium, and Gopi Talav |
| Vadodara | Sayaji Baug, Lakshmi Vilas Palace, and Ajwa Nimeta Garden |
| Daman | Beaches at Jampore, Devka, Moti Daman, and Bom Jesus |
| Mumbai | Marine Drive, the Gateway to India, the Siddhivinayak Temple, and the Haji Ali Dargah |
Current Status of the Delhi–Mumbai Expressway
The Delhi Mumbai Expressway's current state is list below.
In September 2019, civil work and land acquisition got under way.
For the final 33 km of the route, the Detail Project Report, or DPR, has not yet been made.
While the contract for 162 km has not yet been issue, around 497 km of the route are now under development.
By April 2022, the expressway's Sohna-Jaipur section is expect to be fully operational.
Additionally, work has begun on the 92-kilometer-long Virar-JNPT segment spur.
On September 16 and 17, 2021, Union Minister Nitin Gadkari visited Delhi, Haryana, Rajasthan, Madhya Pradesh, and Gujarat as part of a two-day evaluation of the Delhi Mumbai Expressway construction progress.
The Delhi Mumbai Expressway project's original 2020 completion date was push back until January 26, 2023. The project is currently anticipate to be finish only by December 2023.
Latest Information about Delhi–Mumbai Expressway
Beginning on August 15, 2022, a section between Alipur (Gurugram) and Dausa (Rajasthan) will be accessible to travelers. From the current 4 hours of journey time, it will only take 2.5 hours. The amount of traffic and congestion on the route would undoubtedly decrease thanks to this 8-lane motorway.
On the Delhi–Mumbai expressway, optical fiber cable networks are being enable by the ministry of roads and road transportation. The National Broadband Mission of India includes it (NBM). Networks of optical fiber cables will aid in improving telecommunication connection.
Final Thoughts: Delhi–Mumbai Expressway
The Delhi–Mumbai Expressway will be the first of its sort since it will also have an e–lane, or designated lane for electric cars. The Delhi–Mumbai highway has eight lanes as standard, but it may be expand to 12 lanes. The Sohna, Alwar, Dausa, Sawai Madhopur, Kota, Mandsaur, Ratlam, Dahod, Vadodara, Bharuch, Surat, Navsari, Valsad, Virar, and Mumbai would all be accessible via the 1,350 km long Delhi–Mumbai highway. Additionally, the Delhi–Mumbai highway will have five animal bridges, making it the first e-way. The 4 km long tunnels that run through Matheran Eco-sensitive Zone and Mukundara National Park are one of the great attractions of the entire road. By December 2023, construction on this eight-lane Delhi–Mumbai Expressway is anticipate to be complete.
---
You're looking for New Projects in Kharghar we have the Best New Projects Kharghar like Ready to Move & nearby possession:  https://navimumbaihouses.com/properties/search/kharghar/
If you want daily property update details please follow us on Facebook Page / YouTube Channel / Twitter
Disclaimer:
The views of this expressed above are for informational purposes only based on the industry reports & related news stories.
Navimumbaihouses.com
does not guarantee the accuracy of this article, completeness, or reliability of the information & shall not be held responsible for any action taken based on the published information.
Also Read
Buy Properties in Navimumbai