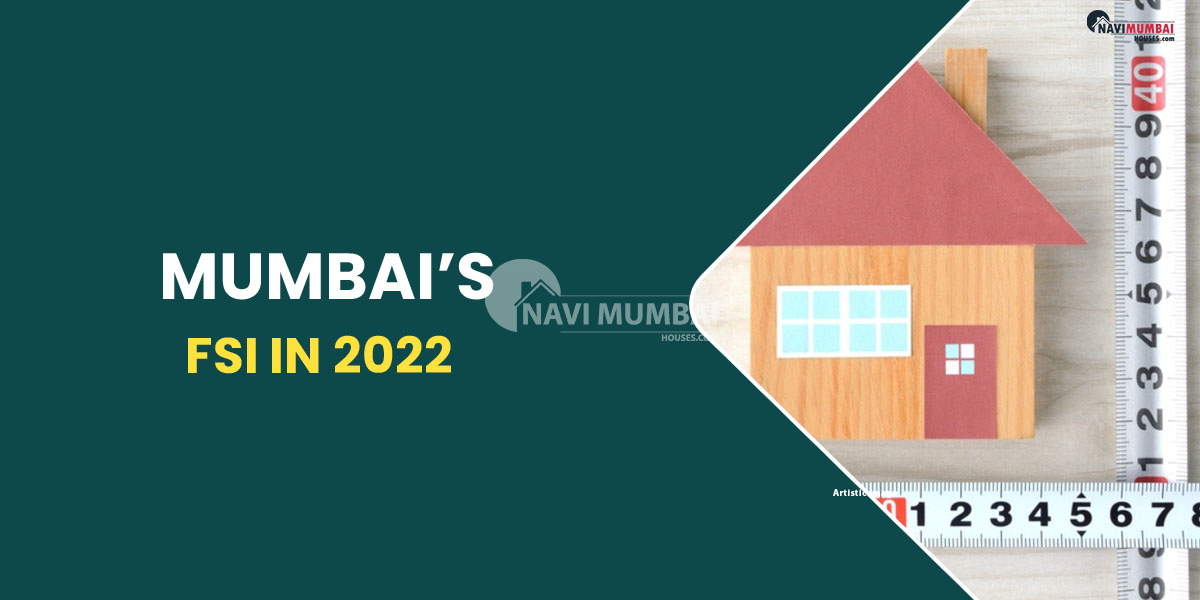 Mumbai FSI in 2022
The floor area ratio, or FSI, is the proportion of the total built-up area to the total plot area. Floor space index (FSI) standards are implemented in India to control the height of buildings in urban areas. The FSI varies between 2.5 & 5, depending on the plot's precise location and land use, in Mumbai, India's financial metropolis. It is important to comprehend what FSI or FAR entails before we delve further into the subject.
---
Are you searching 2bhk flat on rent in wadala?
---
What exactly is FSI?
The FSI is the maximum amount of development allowed on a plot. The ratio of the entire built-up area to the total plot area is known as the floor area ratio (FAR), or FSI. For instance, if the floor space index (FSI) is 2, no building on a 1,000 square foot lot should have a floor size greater than 2,000 square feet. More floors can be built on a given plot of land if the FSI is higher.
FSI = Plot area / Total covered area on all levels
The FSI in Mumbai
Residential: 3 compared to 1.33 previously
Commercial: 5 as opposed to 1.33 before
Mumbai suburbs' FSI
Residential: 2.5 compared to 2 previously
Commercial: 5 compared to prior 2,5
FSI for projects of redeveloping slums
4 versus 3 prior
The Maharashtra government raised the FSI to 4 from 3 for state-wide slum-rehabilitation projects in February 2022.
The highest FSI allowed in Mumbai was 4.5 before certain adjustments to the development control criteria during the past few years. However, following several relaxations provided in this area over the last few years, this restriction was raised. A 2018 UN survey ranked Mumbai as the sixth most populated city in the world, with more than 2 crore people living in metropolitan areas. This indicates that more living space must be built in this island community where finding land is nearly impossible.
Mumbai FSI: Modifications to DCPR-2034's definition
On July 27, 2022, the Bombay High Court ordered the Brihanmumbai Municipal Corporation (BMC) to provide an explanation of how it intended to permit the use of increased FSI under the Development Control & Promotion Regulation (DCPR)-2034.
The high court's statement followed a public interest lawsuit that alleged that stricter FSI standards will further clog already congested cities. According to the FSI standards outlined in the DCPR 2034, the petitioner alleged that 30-story buildings were being built in place of ground-plus-two-story historic buildings.
The National Building Code of India and the Maharashtra Regional & Town Planning (MRTP) Act, both of which were enacted in 1966, both differ from the revised definition of FSI in the DCPR-2034. The FSI is defined by the MRTP Act as the sum of the areas on all levels, including the built-up area, divided by the plot area. The built-up areas are exempt from FSI under the revised definition.
By raising the permitted FSI, the DCPR-2034 has suggested a number of strategies for expanding the space-constrained commercial sector, particularly in prime metropolitan areas. Additionally, it mentions providing more FSI to biotechnology, smart fintech, and IT/ITeS centres. Additionally, it has connected the road width and the allowable FSI.
Mumbai's FSI: Before and after the DCPR 2034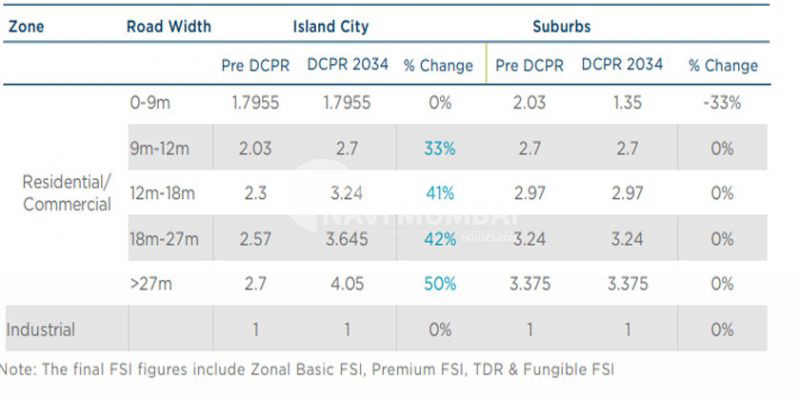 Before & after DCPR 2034, the development potential of FSI in Mumbai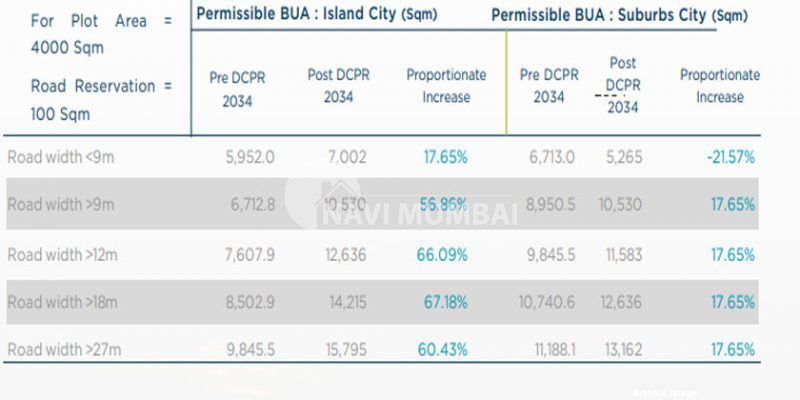 IT/ITeS, smart fintech, and biotechnology hubs FSI in Mumbai
Building type

Condition

FSI

Biotechnology

Built by any public entity such as MHADA, SEEPZ, MIDC, SICOM, CIDCO or their joint venture with minimum 11% stake

FSI 3, 4, 5 for road frontage 12, 18, 30 m, respectively.

*On payment of premium of 50% of land price

IT/ITeS

80% area for IT/ITeS firms, 2% area for startup incubation

FSI 3, 4, 5 for road frontage 12, 18, 27 m, respectively*.

*On payment of premium of 40% of land price

Smart fintech centers

85% area for smart fintech firms. No amenities space to be left for plots up to 2 hectares; minimum road width to be 18 m

FSI of 3.0 for plot up to 2,00,000 sq m*

FSI of 4.0 for plot over 2,00,000 sq m*

* FSI of 4.0 for land larger than 2,000 square metres
The Administrative Regulations have added words to the Act by exempting enormous BUA from FSI computations, even though the act defines FSI based on aggregate built-up area (BUA) without any qualification. By changing the law, a massive amount of construction has been added.
What is the FSI's Most Important Advantage?
The FSI may be seen as a significant restriction on real estate, yet it offers many advantages for a developing metropolis like Mumbai:
Preserving the optimal ratio of built and open space.
Governing the habitat and area of the city.
Track a project's steady progress.
It's crucial to strike the correct balance between developments and supported planned expansion.
With an effort to boost FSI in Mumbai, the city's planning authorities seek to implement a comprehensive redevelopment plan. The FSI basis in Mumbai city is now 1.33, however with the government's revision; it has been raised to 5 for commercial areas and 3 for residential ones. In the suburbs of Mumbai, the FSI for commercial development has been raise to 5, but the FSI for residential spaces has remain constant at 2.5. The FSI for commercial projects has been correlated with road width, thus more space can be exploited the wider the road. This is FSI Mumbai for road width.
The Municipal Corporation's maximum permitted area for development in Mumbai is known as FSI. According to the government-established regulations, these requirements are constantly changing. Mumbai's FSI is currently set to 5 to 3. It is the same as FSI for Mumbai's redevelopment. Mumbai is one of the nicest and most popular places for young people to live in since it has so many developing districts.
2 BHK Resale Flat In Mumbai | 
---
You're looking for Homes in Matunga we have the Best Properties In Mumbai Like Ready to Move:https://navimumbaihouses.com/property/search/buy/matunga/
If you want daily property update details please follow us on Facebook Page / YouTube Channel / Twitter
Disclaimer:
The views of this expressed above are for informational purposes only based on the industry reports & related news stories.
Navimumbaihouses.com
does not guarantee the accuracy of this article, completeness, or reliability of the information & shall not be held responsible for any action taken based on the published information.
Also Read
Buy Properties in Mumbai Central