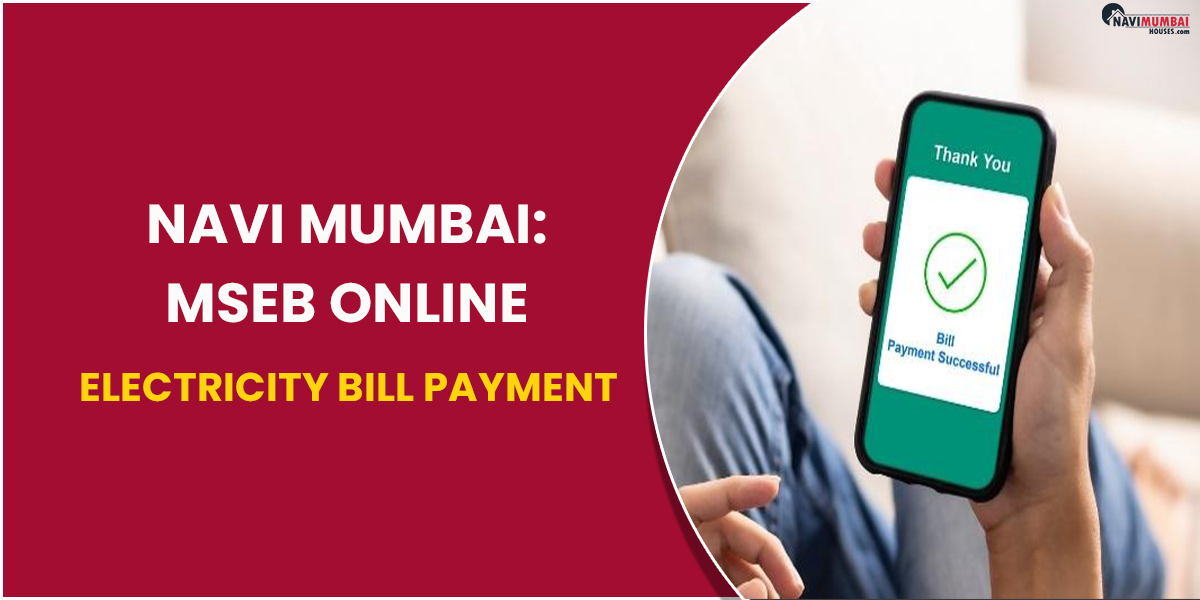 Navi Mumbai: MSEB Online Electricity Bill Payment
Residents of Navi Mumbai may pay their power bills online through MSEDCL, which also supplies the city with electricity.
People's lives have been easier as a result of the transition to digital everything and widespread use of the Internet of Things. Electricity is another factor that has made life simpler and more comfortable. Nowadays, power is accessible practically everywhere in India.
Then then, nothing that makes your life simpler is free. There is a price associated with it. Therefore, you must pay power bills in order to utilize energy.
Electricity Bill Payment Online
In India, a number of public and private enterprises are in charge of energy distribution. For the use of power, they have several prices and tariffs. Maharashtra State Power Distribution Company Limited, or MSEDCL, is the company that distributes electricity to Navi Mumbai residents. Tata Power, Brihanmumbai Electricity Supply and Transport, and Adani Electricity Mumbai Limited are the electricity distributors in various areas of Maharashtra, nevertheless.
The second-largest power distribution company in India is Maharashtra State Electricity Distribution Company Limited (MSEDCL), often known as Mahadiscom. It is the Maharashtra State Electricity Board's sole subsidiary (MSEB). Electricity in Maharashtra, including Navi Mumbai, is distributed by MSEDCL. With technological advancement, MSEDCL has made it simpler for clients to pay their power bills. It used to just take cash, but it now provides consumers with a variety of ways to pay their MSEB power bills online in Navi Mumbai. Additionally, it offers Web Self Service (WSS) functionality to make paying bills simple.
---
Are you searching for buy flats in thane?
---
A type of self-service site operated by Maharashtra State Electricity Distribution Company Limited is called Web Self Service. It provides customers with a variety of services in a simple way. It provides:
Ask for a fresh connection
Observe the power bills
Save bill information
Monitor payments using the Payment History page.
Verify the consumer data that has been entered into the MSEDCL billing system.
Registration of Complaints
Track progress, add files, and pay fees
Determine energy costs
Charges for electricity in Navi Mumbai
According to state rules, electricity invoices are produced using the relevant slab rates for the used units. Consumers are required to pay the set amount as directed by the relevant board. Even if power is not utilized, various default fees are imposed on users by each state. Customers should pay their MSEB Navi Mumbai power bills online as soon as they are generated, regardless of when that is. Late payments are sanctioned, and the government even has the authority to withhold your access to energy.
The MSEDCL charges varied prices for residential and business uses. The prices are set by the Maharashtra Electricity Board. The Navi Mumbai household electricity rates are as follows:
| | |
| --- | --- |
| Consumer Strata | Charges for energy (Rs/kWh) |
| 0-100 units | 3.36 |
| 100-300 units | 7.34 |
| 301-500 units | 10.37 |
| Above 500 units | 11.86 |
Residential customers of LT are subject to these tariffs. BPL home customers are required to pay Rs. 1.20 for each unit utilized. Connection fees are maintained as fixed costs. Rs 105 are paid for each service connection for a single phase. On the other hand, a three-phase connection costs Rs 350 per service. In addition to this, the user must pay fuel allocation fees of Rs. 1.61 per kWh.
Electricity calculator for MSEB
The WSS interface provided by MSEDCL allows you to quickly calculate your power bill. To view your power bill online, follow the instructions listed below: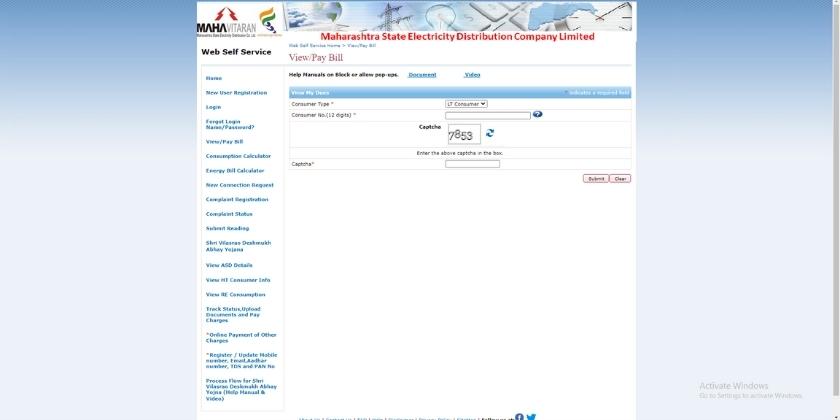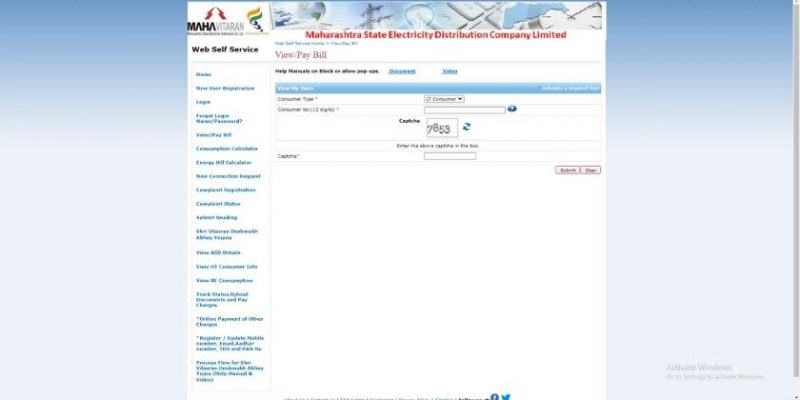 Choose "Energy Bill Calculator" from the choices on the home page's left.
Provide information such as Supply Type and Tariff.
Type in the following information: sanctioned load, connected load, phase, and consumption.
Payment Options for Electricity Bills in Navi Mumbai
Due to the variety of payment options available, paying your power bills has never been simpler. You may now pay your Navi Mumbai electricity bills through means of:
Website of MSEDCL
Online
Offline
The payment options for power bills in Navi Mumbai, both offline and online, is all practical. To make payments on the MSEDCL website and through other online channels, be sure to open a trustworthy and secure website.
How to Pay the Electricity Bill in Navi Mumbai at the MSEDCL Website
Customers of Maharashtra State Electricity Distribution Company Limited have access to pay their Navi Mumbai Electricity bills online. The actions listed below can be used to pay an electricity bill.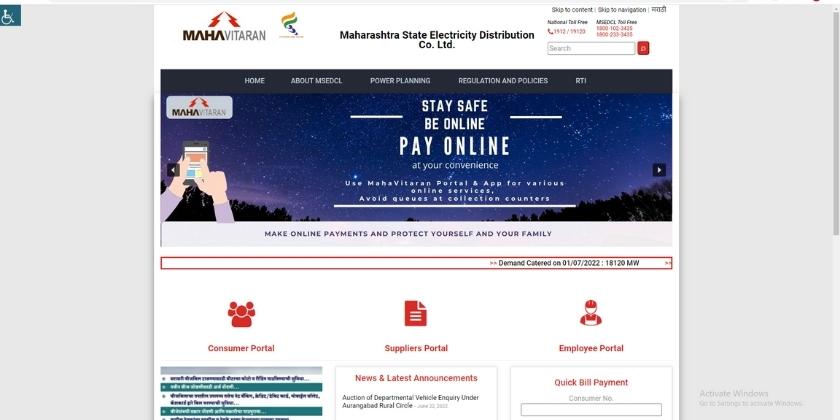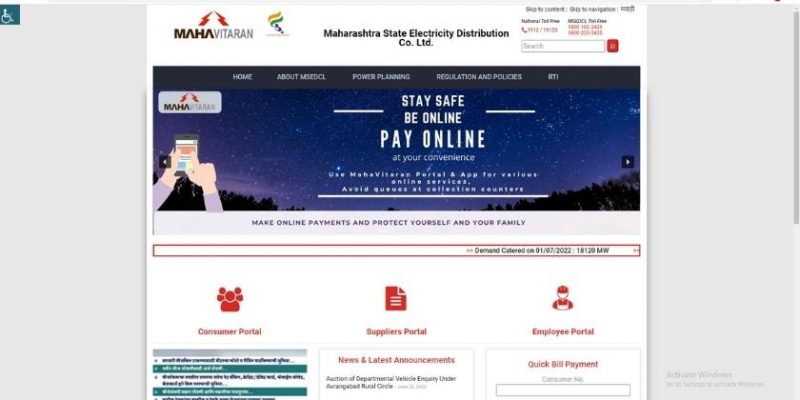 You may find the option to pay your bills online on the website's front page. The Consumer Number must be enter in the dialogue box.
Accept the terms and conditions before proceeding to make an online payment. By selecting the little checkbox in the dialogue box, you must verify the information.
Press the "Pay Now" button if the information you provided is accurate.
The next screen will provide the bill's specifics and the required payment. The user can also enter the payment amount.
Click Pay Now after completing step 5.
At this point, provide the pertinent information and adhere to the prompt instructions to finish the online payment procedure.
Upon completion of the payment, you will be sent a payment acknowledgement receipt, which you may save for your records.
Tip:
Make sure you access MSEDCL's official webpage.
Paying using any other website that offers the link or points you to the official website is not recommended.
When making payments, avoid keeping important passwords or bank account information on search engines.
How to Pay the Electricity Bill in Navi Mumbai Using an E-Wallet?
In order to make payments digitally using their mobile app, customers can keep their credit card and debit card information in an app called an "e-Wallet" or "mobile wallet." There are several e-wallets available nowadays that you may use to pay your Navi Mumbai Electricity bills. The steps to paying your Navi Mumbai electricity bill are as follows:
Before beginning to pay your electricity bill, download a reputable e-Wallet app, such as Paytm, Amazon Pay, MobiKwik, Phone Pe,
From the options, choose "Electricity."
From the drop-down option, choose "Maharashtra" as the state.
You the chance to choose your electricity board. Select "Maharashtra State Electricity Distribution Company Ltd or Mahavitran" from the drop-down menu.
Enter your consumer number. For the consumer number, you can go to the bill paper.
In certain E-Wallets, some extra data may be need; in most of them, you will be able to check your power bill as soon as you input the customer number.
When you view your power bill, you can continue with the payment.
Select your wallet and enter your password to complete your transaction.
After making the payment, save the receipt for future use.
Tip:
Make sure the e-Wallet you're using complies with PCI standards.
Your debit card and credit card information are kept private.
Paying Navi Mumbai Cost of electricity UPI app use
Another safe payment method is using a UPI app. Through a single app, it enables customers to make payments using any of their bank accounts. UPI applications combine several bank accounts into a single programmer. As a result, it gives bank account holders the ability to make payments using their bank accounts. To pay an electricity bill in Navi Mumbai using the UPI app, follow these steps:
On the UPI app, look for the bill payment option.
Choose a power bill
Choose Maharashtra State Electricity Distribution Company (MSEDCL)
Enter your consumer identification number and choose the associated account.
Make the payment and keep the receipt for your records.
Tip:
A UPI app requires the user to join several bank accounts.
They are able to choose the bank of their choosing to make the payment.
Additionally, it enables customers to take use of their banks' online payment options.
Before paying the power bill using the UPI app, the customer must evaluate the offers through their bank accounts.
Offline Process for Paying Electricity Bills in Navi Mumbai
You can pay your power bill offline if you don't want to use the Navi Mumbai online system. You can take your power bill to any Consumer Facilitation Center (CFC) and pay at the counter there. Cash, DDs, checks, debit/credit cards, or other means of payment are all acceptable. Make sure to obtain the staff's payment receipt.
Navi Mumbai Electricity Bill Check
You want to review the monthly bill before paying the power bill. You can better control your spending and make sure you have enough money to pay your bills. As opposed to the conventional method, you won't need to go to the Consume Facilitation Center to find out what your power bill is.
You may view your power bill online on the Web Self Service by Mahadiscom website if you reside in Navi Mumbai. You must access the homepage. To find out your power bill, enter the consumer type and a 12-digit consumer number, followed by the Captcha code and the submit button. The majority of UPI applications and e-Wallets that make it easy to pay your power bill in Navi Mumbai also enable you view your electricity bills before you pay. Through e-Wallet, you may also view your power bill.
How Can I Apply On The MSEDCL Website For A New Electricity Connection?
The days of waiting in a long line with an application for a new connection and making many trips to the office for follow-up are long gone. You may now apply for a new electrical connection online. You may submit an application on the MSEDCL website whether you're searching for a new connection for home or professional use. It is the more convenient and straightforward method of obtaining a new electrical connection. Use the procedures listed below to apply for a new connection using the MSEDCL website:
Go to the Web Self Service page of MSEDCL.
Select "New connection request" from the menu on the left side of the home page.
On the right side of the screen, an application form will appear.
Before completing the application form, carefully read the instructions.
Complete the form's information requests.
Declare your acceptance of the terms and conditions.
At this point, select "Generate OTP" to obtain an OTP for verification. The identical OTP will be sent to both your register email address and cell phone number.
Type in the OTP and save your information.
Once all of your information has been store, an MSEDCL office will assess your application and get in touch with you within a few days.
KYC Details' update procedure
To enjoy a continuous energy supply after getting a new electrical connection, you must finish the KYC Process. The procedure to update the KYC information for your new electrical connection is as follows:
Go to the MSEDCL Web Self Service site.
Choose "Register / Update Mobile Number, Email, Aadhar number, TDS, and PAN No." from the menu selections on the left side of the main page.
To find the customer, enter the billing unit, consumer type, and consumer number.
How to File a Complaint on the Website of MSEDCL
You can file a complaint on the MSEDCL website if you have any issues with your electrical connection or services. The steps below should be follow to file a complaint with MSEDCL:
Go to a website that offers self service.
On the main page, click "Complaint Registration" in the menu on the left.
A screen will show a form. In the forms other fields, provide your consumer number.
To acquire the OTP to your specifies email address and mobile device, click the "Generate OTP" button.
Your form will be submit when the OTP has been input.
Your problem or issue with your energy connection in Navi Mumbai will be rectifies a few days after you submit your application.
MSEDCL Customer Service, Navi Mumbai
You can get in touch with MSEDCL customer service if your request for a new connection or complaint is not resolve within a few days.
Call 1912, 1800-233-3435, or 1800-102-3435 with any questions regarding online applications, or send an email to [email protected]
To contact the support desk about payments, email helpdesk [email protected]
Summary
One of Maharashtra's biggest power distribution firms is MSEDCL. It encompasses 457 cities, including Navi Mumbai, and 41,095 villages in Maharashtra. Thank goodness, customers no longer need to wait in line, pay off police officers, or come back again to the office for follow-ups on their electrical connection. For the convenience of its customers, MSEDCL has made a portal called "Web Self Services" available. Customers may monitor and pay their power bills, apply for a new connection, file complaints, and track the status of their applications using MSEDCL's WSS site. The user of this portal may also view the most recent government initiatives relating to the provision of power.
Also read: Maharashtra's Ready Reckoner Rate 2022
---
You're looking for Rental Properties in Thane we have the Best Rental Properties Thane like Ready to Move & nearby possession:  https://navimumbaihouses.com/property/search/rent/thane-all/
 If you want daily property update details please follow us on Facebook Page / YouTube Channel / Twitter
Disclaimer:
The views of this expressed above are for informational purposes only based on the industry reports & related news stories.
Navimumbaihouses.com
does not guarantee the accuracy of this article, completeness, or reliability of the information & shall not be held responsible for any action taken based on the published information.
Also Read
Buy Properties in Dombivli