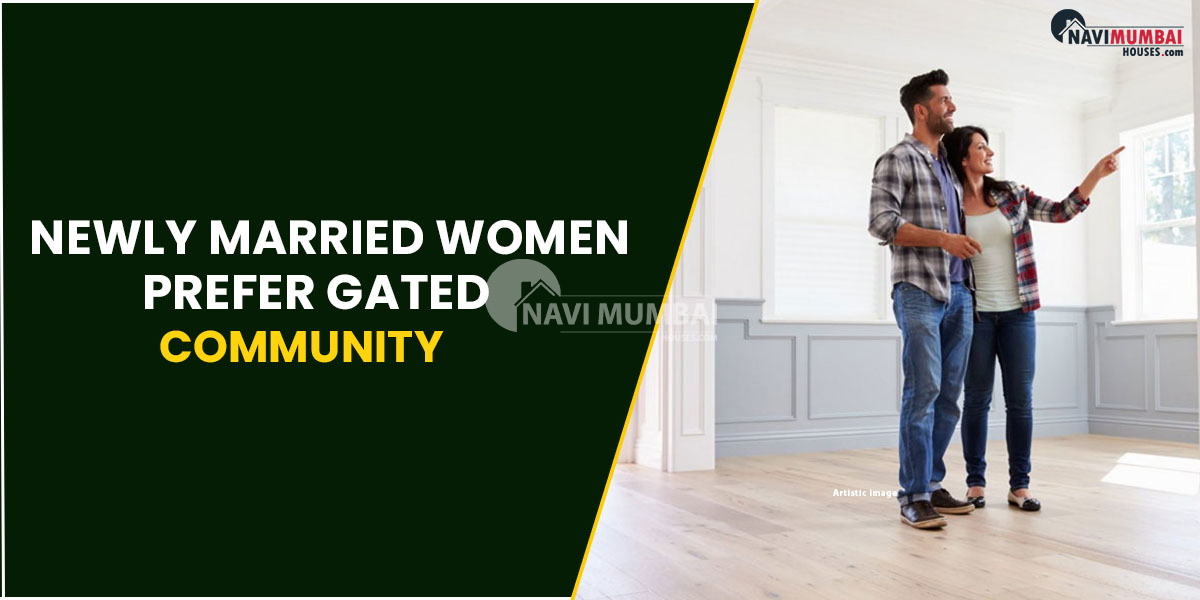 Newly Married Women Prefer Gated Community Living Rather Than Individual Homes
Gated Community: So you've made the decision to eventually take the leap and purchase a home of your own. At the same moment, you feel both anxious and exhilarated. People frequently experience conflicted emotions when making a house purchase. Although it makes you feel good, selecting the ideal home and making the necessary financial arrangements are difficult tasks. The abundance of choices available today has only made decision-making more difficult. An expensive real estate acquisition can leave the consumer with a strong sense of regret.
To solve this problem, you might search for a house that fits your family's requirements and preferences. Ladies in particular might view purchasing real estate differently and from a specific vantage point. Successful and monetarily autonomous women are increasingly purchasing their own homes in recent years. For married women who want to seamlessly balance their personal and work lives, a cosy house in a gated neighbourhood can be the ideal place to reside.
---
Are you looking flat for Sale In Panvel? 
---
Selecting a Gated Neighborhood as Your Home
When you decide to purchase a house, you begin thinking about how your ideal house should be. Should you purchase a pre-built condominium or flat? Is it preferable to purchase undeveloped property and then build a home there? How would living be like in that opulent gated community my acquaintance was swooning over? Budget is a key consideration, but if you can relax your spending restrictions, residing in a private community can satisfy all your needs. It offers you the ideal balance of security, opulence, and high-return opportunities that individual houses cannot.
Advantages of a Gated Community to Women
A gated community is a neighbourhood enclosed by high barriers and gates. The neighbourhood is tightly gated and off-limits to the general public. Because of this, the community's inhabitants experience a sense of protection and exclusivity that is uncommon in other kinds of domestic buildings.
A private community can benefit young married women in a number of ways because of its distinctive architecture. These advantages are enumerated as follows:
 Gated Community #1: Strict Protection & Safety
This is most likely the crucial aspect and advantage of a private community endeavour. It is constantly patrolled by a group of highly skilled security personnel. The general public is categorically forbidden entry, and transportation is limited. To keep an eye on interior activities and avoid theft, robberies, and accidents, sophisticated monitoring systems are put in place. Their security is of utmost importance given the increasing rates of violence against women.
 Gated Community #2: Convenient Location
When selecting the ideal site for their high-end residential ventures, builders take great care. A good gated community complex is frequently located near to places of employment, retail malls, educational institutions, and entertainment hubs. For working women who frequently find themselves pressed for time due to their numerous obligations, this ease is very helpful. Saving an hour of travel time twice a day can bring them a lot of ease & relaxation.
#3: Protects privacy
Women who purchase a house in a secured community can benefit from their seclusion 24 hours a day. No more putting up with prying neighbours and bothersome salespeople. Residents do not unexpectedly show up at your home because they value each other's time and private. In a gated neighbourhood, you can be confident that no stranger will knock on your door.
#4: Amenities & Facilities
The modern lady enjoys many benefits and advantages living in a gated neighbourhood. Within the residential complex are amenities like special gyms, swimming pools, spas and beauty salons, movie houses, sports stadiums, and retail malls. There is one location close to your house where all of these amenities are accessible, so you don't need to look for them elsewhere outside.
#5: Community Living
Gated communities provide a vibrant social scene that can help residents form strong bonds and friendships. Festivals, weekend get-togethers, and private gatherings are lavishly honoure in the enclave. As individuals with similar socioeconomic standing congregate, it can also open up fantastic business and networking possibilities for female entrepreneurs. In a gated community, there is never a boring time and assistance is always available.
#6: A wise financial decision
Ladies are managing their personal money more and more. A home in a gated neighbourhood may be a wise purchase that pays off handsomely down the road. There aren't many new housing-related initiatives being introduce. Such houses will always be in higher demand than they are available. In a large nation like India, exclusivity has a price. You can always anticipate sizable profits on your investment, regardless of whether you want to sublet or sell your property.
Purchasing a Property in a Gated Community: Some Advice
It is indeed smart to purchase a house in a lovely gated neighbourhood with all the amenities. But before you autograph the documents, there are a few things you should think about.
Only invest with reputable architects who have a proven track record of creating protected communities. Visit their previous initiatives and speak with the locals.
Location, position, and location are the three most important factors in real estate. Pick a project with a strong development potential that is located in a desirable area.
Verify and affirm that the initiative has received all necessary statutory permits. Ask a real estate attorney to verify all the property documentation.
Conduct a careful inventory of your assets. Land is a significant financial commitment, so your financial security is a key requirement.
Gated Community : Conclusion
Women place the greatest importance on their own protection and the general welfare of their households. The modern, aspirational lady who wants nothing but the finest suits the criteria for a high-quality existence in an elegant house in a gated neighbourhood. Since individual homes cannot provide this lifestyle, the notion of a gated community is perfect for both ladies and families as a whole.
---
You're looking for Buy Home In Kharghar we have the Best Buy Properties In Kharghar Like Ready to Move & Nearby possession: https://navimumbaihouses.com/property/search/buy/kharghar/
If you want daily property update details please follow us on Facebook Page / YouTube Channel / Twitter 
Disclaimer:
The views of this expressed above are for informational purposes only based on the industry reports & related news stories.
Navimumbaihouses.com
does not guarantee the accuracy of this article, completeness, or reliability of the information & shall not be held responsible for any action taken based on the published information.
Also Read
Rent Properties in Panvel