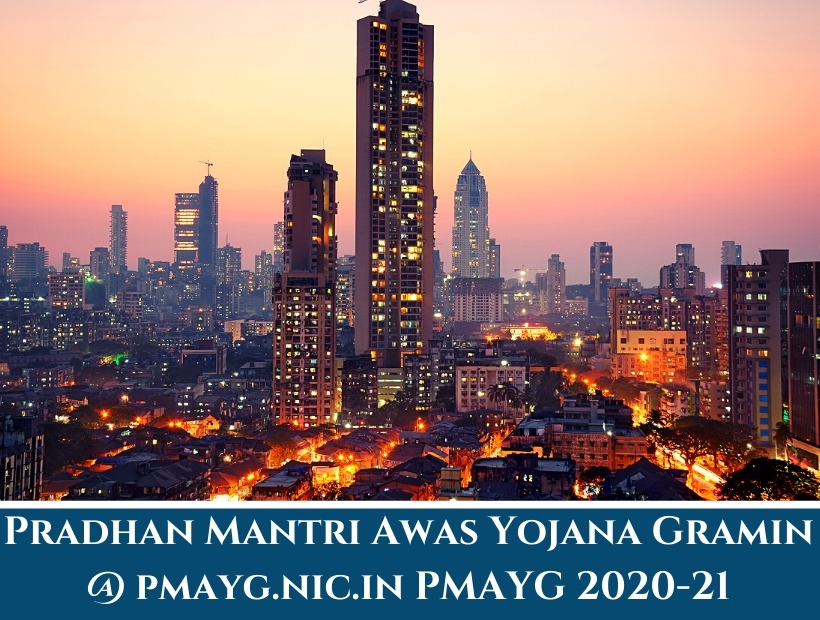 Pradhan Mantri Awas Yojana Gramin @ pmayg.nic.in PMAYG 2020-21
The Government of India's Pradhan Mantri Awas Yojana Gramin (PMAY-G) initiative aims to offer affordable homes to the rural poor. The PMAY-G scheme, PMAYG 2020-21,  which was first introduced in 1985 as the "Indira Awaas Yojana," was redesigned and reintroduced in 2016 by the present administration as part of their "Housing for All by 2022" initiative.
In its new guise, PMAYG aims to offer pucca dwellings to all eligible rural households in two phases, complete with all basic services including water, sewage, and electricity.
This plan, which is now in its second and last phase, promises to deliver 1.95 crore pucca dwellings across rural India between 2019 and 2022. If you want to apply for PMAYG 2020-21 online, here's all you need to know about the Pradhan Mantri Gramin Awas Yojana.
Let's start with the advantages of PMAYG, then go on to the eligibility criteria, beneficiary list, and documents needed to apply for Pradhan Mantri Awas Yojana Gramin online (PMAYG).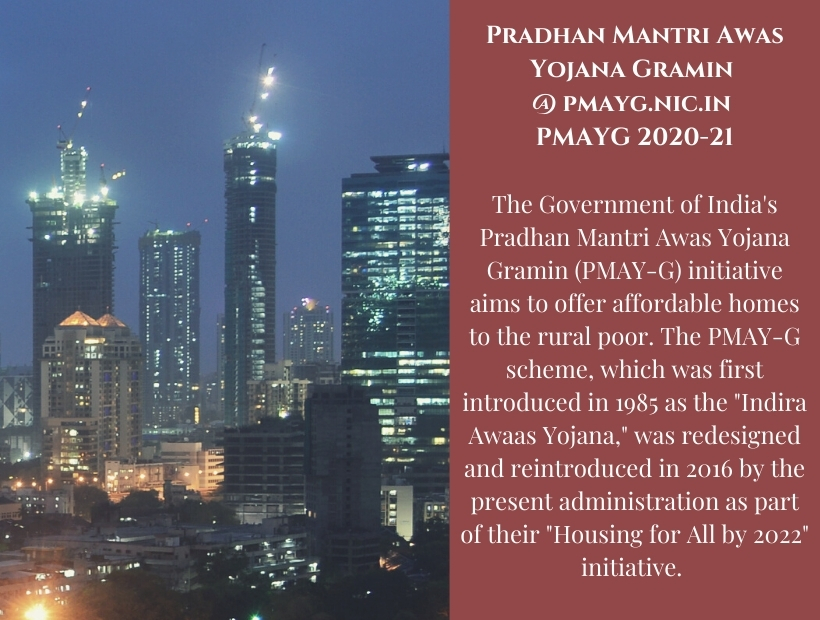 Key Objectives and Benefits for PMAYG 2020-21
The following are the scheme's main characteristics and benefits:
– Pucca houses for all: The Pradhan Mantri Awas Yojana Gramin (PMAYG) project aims to create 2.95 crore pucca houses in rural India by March 2022, divided into two phases: 1 crore dwellings in Phase 1 (2016-17 to 2018-19) and 1.95 crore houses in Phase 2 (2018-19 to 2022). (2019-20 to 2021-22).
– Up to Rs 1.3 lakhs in monetary support: The Pradhan Mantri Gramin Awas Yojana (PMAY-G) provides up to Rs 1.2 lakhs in monetary aid for building houses in plain areas and Rs 1.3 lakhs in hilly areas, North-East states, and specified other locations.
– Cost-sharing between the federal and state governments: The cost of building the houses will be split 60:40 between the federal and state governments. However, in other states, such as the North-East, Himachal Pradesh, Uttarakhand, and J&K, the ratio is 90:10.
– Additional toilet aid: Each beneficiary will receive an additional Rs 12,000 in toilet construction support, whether under the Swachh Bharat Mission or another initiative.
– Employment benefits: The Mahatma Gandhi National Rural Employment Guarantee Scheme, in addition to housing support, offers recipients with 90-95 days of employment under the PMAYG 2020-21 scheme.
– Housing unit size: Houses built under the PMAYG must have a minimum area of 25 square meters.
– Special borrowing facility: Beneficiaries can apply for a house loan of up to Rs 70,000 from any authorized financial institution.
– Housing typologies: Depending on topography, climate, culture, and other housing practices, beneficiaries can choose from a variety of house design typologies.
Eligibility for PMAYG in 2020-21
The following guidelines have been established by the government for identifying and selecting beneficiaries under the Pradhan Mantri Gramin Awas Yojana (PMAY-G) scheme 2020-21:
o No pucca house should be owned by you or your family anywhere in the country.
o You should have a spouse and unmarried children in your family.
o A two-wheeler, three-wheeler, or four-wheeler should not be owned.
Your family should not have any members who work for the government.
You should not have a refrigerator or a landline in your home.
PMAYG Scheme 2020-21 Beneficiaries @ pmayg.nic.in
Priority will be given to the poorest households among all those who are qualified. This priority will be determined based on the following socio-economic parameters:
o Families with no adult members between the ages of 16 and 59.
o Families with no literate adult member over the age of 25.
o Female-headed households with no adult members between the ages of 16 and 59.
o Families with a disabled person and no other adult in the household.
o Any landless family whose primary source of income is physical labor.
Is Gram Sabha verifying the PMAYG Priority List?
After the priority list is created, it is given to the Gram Sabha for verification of the facts that led to a home being designated as eligible. If the Gram Sabha discovers that the details provided were incorrect, it has the ability to strike that household's name from the list.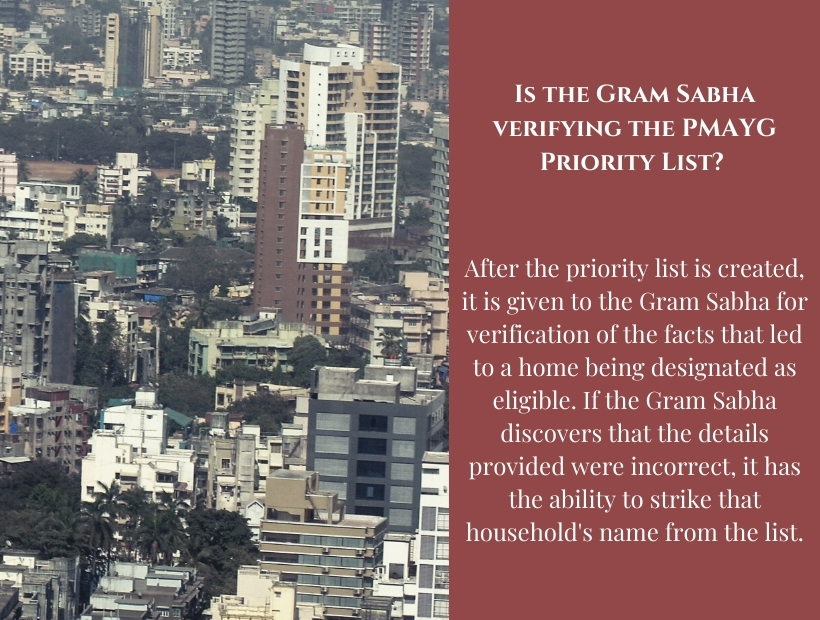 Required documents for the Pradhan Mantri Awas Yojana Gramin (Rural)
To apply for the PMAYG scheme, you will need the following documents:
– Identity proof such as Aadhar card or Voter ID
– Bank account details
– Swachh Bharat Mission registration number
– Job card number (as registered under MGNREGA)
– Consent to use Aadhar information
– An affidavit stating that you (or your family members) do not own a pucca house
What is the procedure for applying for Pradhan Mantri Awas? @ pmayg.nic.in Yojana Gramin
Despite the fact that the government selects the beneficiaries based on the Socio-Economic Caste Census of 2011 (SECC), you can still add beneficiaries and enroll for the PAMYG scheme by following the steps below:
– Visit the official website of PMAY-G: https://pmayg.nic.in/
– Fill in the required details.
– Enter your Aadhar card number and click on the 'Search' button to find the beneficiary name.
– Once you find the name, click on 'Select to Register'.
– Verify your auto-filled details and add the remaining details.
– Proceed by providing your consent form, bank account details, MGNREGA number, and Swachh Bharat Mission number.
– Your registration number will be generated.
How to Find Your Name in the PMAYG Beneficiary List
On the basis of SECC 2011 statistics, the government publishes an annual list of recipients. Follow these methods to see if your name is on the Pradhan Mantri Gramin Awas Yojana list:
– Visit the PMAY-G beneficiary list website.
– Enter your registration number.
– Click on 'Submit' to view the status.
One of the most important rural development programs launched by the government is the Pradhan Mantri Awas Yojana – Gramin. Keep an eye on the annual beneficiary list if you want to get a house under this scheme and if you are eligible.
---
We are the Real Estate Web Portal to Buy Sell and Rent properties in Navi Mumbai, Mumbai, and Thane. We can help you Buy Properties at Affordable Prices at your desired location. For more information, Call Us On +91 8433959100
If you want daily property update details please follow us on Facebook Page / YouTube Channel / Twitter
Disclaimer:
The views of this expressed above are for informational purposes only based on the industry reports & related news stories.
Navimumbaihouses.com
does not guarantee the accuracy of this article, completeness, or reliability of the information & shall not be held responsible for any action taken based on the published information.
Also Read
Buy Properties in Navimumbai