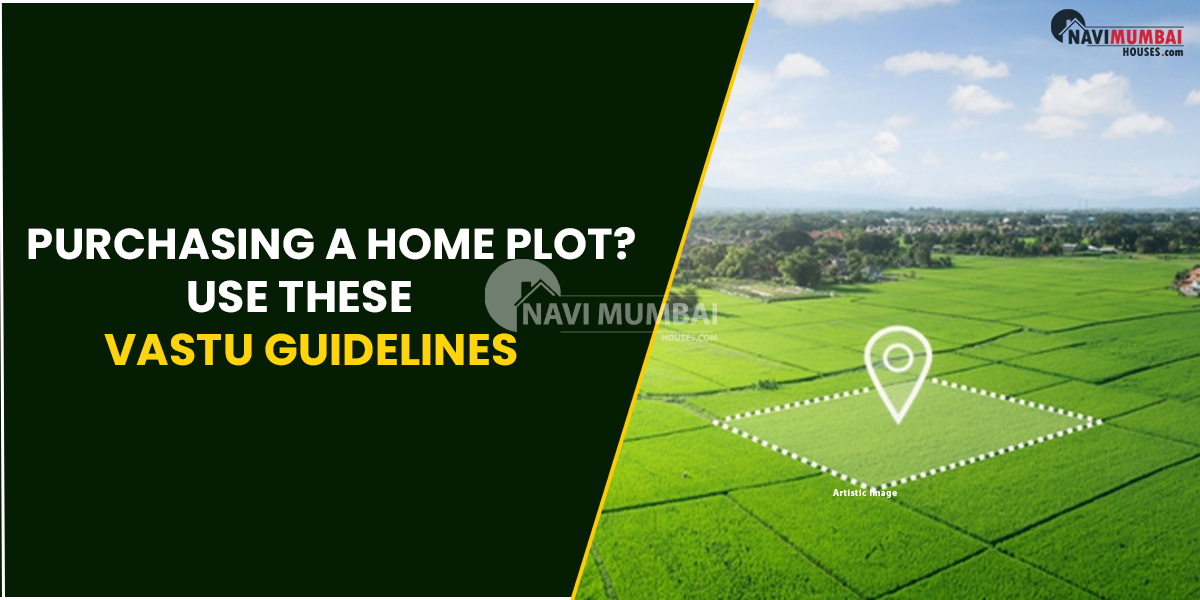 Purchasing A Home Plot? Use These Vastu Guidelines
Purchasing A Home Plot Kharghar: Vastu-compliant properties are thought to have higher levels of success, wealth, and happiness, which has led buyers to think that these properties are safer to purchase. It is now a crucial consideration when selecting a home. Residential areas should adhere to Vastu principles as well as homes. Residential property buyers can find important advice on navimumbaihouses.com that will ensure future advantages.
Vastu-compliance is an additional feature that is quickly catching up alongside high-end amenities that contemporary home purchasers look out for, such as a swimming pool and clubhouses. Vastu-compliant homes guarantee serenity and stability for better success in life and ward off bad forces by lining up with the five fundamental components of nature. Therefore, the residential plot should be in accordance with Vastu guidelines whether you decide to build a home on it now or later when values increase.
---
Are you looking flat for Rent In Kharghar?
---
Plots or built homes: which is more Vastu compliant?
Most Vastu specialists advise purchasing undeveloped land rather than built apartments or standalone residences. Vastu experts do not often have the opportunity to suggest adjustments that could help the property's Vastu be improved in constructed structures.
They are allowed to propose layouts for property parcels that best follow the Vastu principles. In other words, Vastu experts can provide designs to ensure that the design, layout, and spatial elements of the home are influenced from the start by this famous science.
Can Vastu standards of a residential plot be corrected?
A domestic plot's Vastu standards can be checked or adjusted in a number of methods, as follows:
Purchasing A Home Plot Kharghar: The ideal direction of the plot
The orientation of a domestic plot is the most crucial consideration. If you intend to buy a property, choose one that faces north because it is thought to be very fortunate. Plots with an east or west orientation are also options, but south-facing property should be entirely avoided.
The variety of soil is equally important as orientation. , According to Vaastu consultant, "Usually, land blanketed in lush vegetation or areas that are agriculturally fertile are deemed excellent for habitation, ensuring development and success. Corner sites are ideal for building homes because they offer wealth and happiness. For business building, lots bordered by roadways in all directions are ideal, but not for domestic use.
Purchasing A Home Plot Kharghar: Shape and size of the plot
A square or rectangular with a smaller front and a wider back are the ideal forms for a residential plot. The reverse is a resounding "No," though. Round, circular, triangular, and L-shaped areas should be avoided. It is crucial to inspect the land's edges as well.  That a plan with a cut in the northeast area is concerning because it resembles a headless corpse.
Purchasing A Home Plot Kharghar: Uniformity of the plot
Building homes should be done on flat ground whenever possible. If there are hills, plots with a northeast or southwest inclination should be taken into consideration because they are very favorable.
Westward hills should be avoided as they cause health issues and household inconsistencies. A valley around the allotment or a depression on the ground should be avoided because they are considered unlucky. Additionally, stay away from buying the plot that is sandwiched between two sizable plots because it represents destitution.
Purchasing A Home Plot Kharghar: Location of the plot
Avoid purchasing residential lots close to graves or hospitals as they are reservoirs for infectious diseases and bad energies. Avoid anything on the north or east side that prevents sunshine, such as a bridge, an electric pole, a hill, or a structure. However, since it prevents the entrance of negative forces, anything in the west and south can be jeopardized.
The water feature on the southwest side of the property should also be avoided because it connotes sadness. The property can be bought for residential construction if there is a lake or waterway close by that flows in a north-easterly direction.
Is purchasing "Shermukhi plots" recommended?
No, you shouldn't buy a Shermukhi property. Gaumukhiplots are excellent for business, according to experts.
Can I buy a property that faces south?
The best plots to buy face north, east, or west. An unlucky property is one that faces south.
Do you need to consider the soil's color when buying a home plot?
Yes, it does matter what color the earth is. Make sure the soil color is yellow for a domestic piece of property because it is lucky. Additionally regarded as excellent soil colors are crimson and white. Not excellent dirt is black or clay-based.
Can I purchase a plot with an extension in the northeast direction?
Yes, a plot with an expansion to the northeast, whether native or artificial, is lucky and prosperous. According to Vastu, extensions on any other side are bad.
---
You're looking for Rental Home In Kharghar we have the Best Rental Properties In Kharghar Like Ready to Move & Nearby possession: https://navimumbaihouses.com/property/search/rent/kharghar/
If you want daily property update details please follow us on Facebook Page / YouTube Channel / Twitter 
Disclaimer:
The views of this expressed above are for informational purposes only based on the industry reports & related news stories.
Navimumbaihouses.com
does not guarantee the accuracy of this article, completeness, or reliability of the information & shall not be held responsible for any action taken based on the published information.
Also Read
Rent Properties in Kharghar