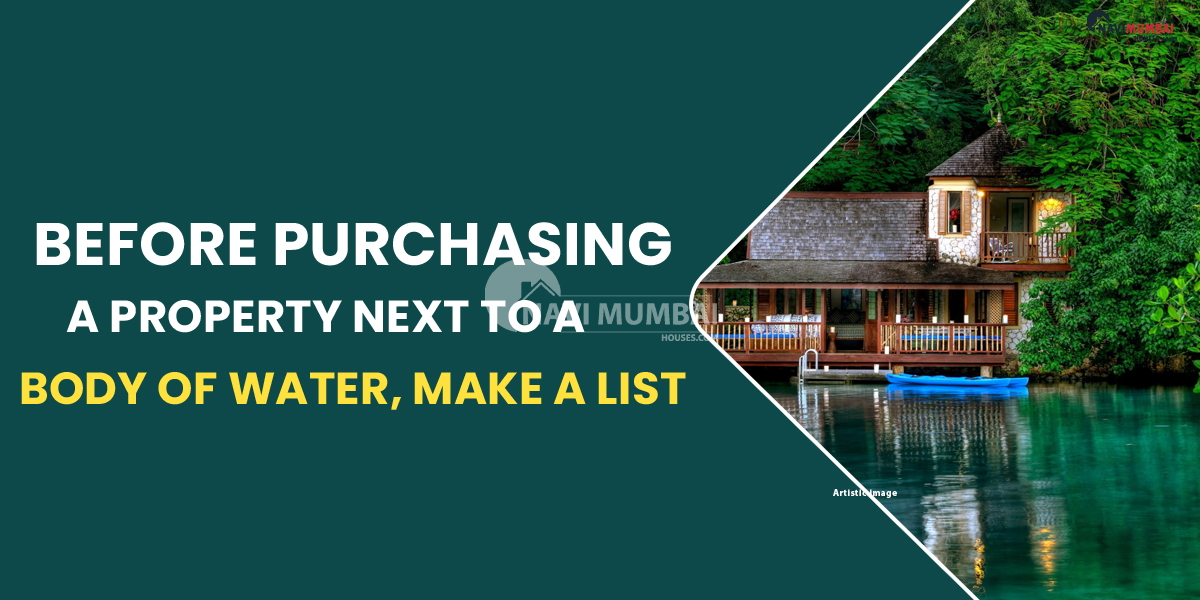 Before Purchasing A Property Next To A Body Of Water, Make A List
Many people are turning to lakeside or waterfront houses as second residences. These homes have recently been in great demand. But you should take a few safety measures before purchasing a house close to the ocean. A person's decision to buy a house is a significant one. Let's look at the checklist for purchasing property close to a body of water.
---
Are you searching flats for sale in Mulund?
---
What precisely is a waterfront home?
A waterfront home or property is one that is situated along the banks of a beach, river, canal, or stream. Such houses provide their residents with beautiful vistas. However, purchasing such property will require a substantial financial investment.
Checklist before Purchasing a Property Close to a Body of Water
Here is a check list to use before buying a property close to a body of water if you're thinking about doing so:
Verify that the property is not located in the buffer zone first. A lake buffer zone is a region set aside for environmental protection surrounding a lake. In this area, construction is strictly forbidden. The lake buffer zone in Bengaluru extends 30 metres surrounding the water feature. Make sure the property does not fall inside the buffer zone before purchasing one close to a body of water!
Second, make sure the property you intend to purchase is not located within 25 metres of either a storm water drain or the Rajakaluve. Rajakaluves are channels that transport extra water into a body of water, particularly during heavy rains or floods. Any blockage of the storm water drains causes serious issues with the drainage system of the city. Construction work is absolutely forbidden within Rajakaluve's 25-meter perimeter. Make sure the property of interest is not anywhere within this range by carefully checking.
Consider the scenario when you want to search for Karnataka. You can check the revenue map portal on the website of the Karnataka Survey Department to make sure that your property does not encroach on any buffer zones surrounding water features or storm water drains.
Thirdly, look to see if a watercourse is marked on your land or close to your survey number. If your property is near to a river or if there is a watercourse marked on your property, you will be in big trouble. You must maintain a 25-meter buffer zone from the watercourse's margin where such boundaries are discovered on or near a property. This implies that a buffer zone could be present on half of your land.
Make sure the land is government or private before you buy it. Both have unique sets of rules and difficulties.
It is simple to buy a property under the influence of promoters and real estate brokers and end yourself in legal difficulties later on. Therefore, it is always wise to use caution. Before buying a beachfront property, double-check the land records.
Visit the revenue department's website and use the maps there to double-check the location of your property. If not, physically go to the department and ask the staff members your questions. Download the Dishaank app if you're short on time; it has plenty of information.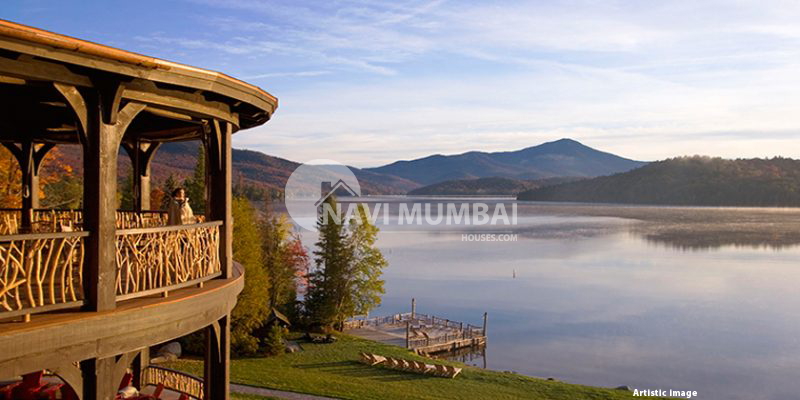 Rules for Building a House Close to a Body of Water
The state governments have established special regulations for building a home next to a body of water. Here is another item to add to your list before purchasing a property close to a body of water:
State
Rule ( Construction is banned in the following conditions) ( Construction is prohibited in the following cases)
Andhra Pradesh and Telangana
Outside of municipal body corporations' bounds and 50m inside of them, 100m from the river's edge. Fixing the boundaries is the responsibility of the irrigation and revenue departments.
30 metres away from the FTL limit for lakes, tanks, and kuntas in areas larger than 10 ha.
9 metres from any canal, vagu, nala, or storm water drain with a width of more than 10 metres that has a specified boundary.
Assam
From the river 15 metre.
15 metres from pond or even other notified bodies
Madhya Pradesh
30 metre from rivers/lakes/ponds/canals or flood affected areas
Chhattisgarh
Construction is not permitted within 100 metres of the Mahanadi Canal.
Bihar
From boundaries of Ganga no construction is allowed within 200 metre
Karnataka
No construction is allowed within 45 metres of river
In the Karnataka Green Zone, construction is not permitted.
Maharashtra
15 metres from the edge of the river mark
Document Checklist before Purchasing Real Estate Near A Water Body
The following set of papers should be readily available when purchasing real estate in India:
Title Act
Purchase and Sale Agreement
Building permit schedule
Ownership letter
certificates Khata
certification of completion
Encumbrance certificate
Allotment letter
Property tax receipts
NOC to build a house in the area
Disadvantages and Advantages of Purchasing Real Estate near a Water Body
Now that you are aware of the things to consider before purchasing property next to a body of water, it is critical to understand the advantages and disadvantages of doing so.
Advantages
Property value may increase:
Generally speaking, the price of a property next to a body of water is higher. This is due, in part, to the limited amount of land available for building homes surrounding these water features. Property values in these places have increased over time. If you sell the property after a few years, you might make money.
Positive Energy:
It is said that water, which represents optimism and purification, releases positive energy into the surrounding area. Additionally, buying or developing a home close to a body of water is not just about taking in the stunning scenery; it is also about the uplifting energy that it radiates and creates in the neighbourhood. According to study, the "blue mind effect" also contributes to higher serotonin levels, which lower stress levels and increase optimism & positive energy.
Uninterrupted Water Supply:
In the course of nature, groundwater travels along flow channels to streams, lakes, and wetlands before moving to places of water release from areas of water recharge. This guarantees constant groundwater levels and continuous water delivery to the regions near the body of water.
Privacy:
Due to the scarcity of housing options, the seclusion provided is unmatched. Additionally, a water body is situated on one side of the property, providing additional solitude.
Leads to Ecological Balance:
The fertile soil and steady groundwater levels along the waterfront support the growth of vegetation, which attracts a variety of migrating species and improves the area's overall beauty.
Beautiful views:
This is one of the reasons we purchase real estate next to a body of water. You are always treated to beautiful vistas at the property. The monsoon season is when the best ideas are presented. You may also admire the stunning dawn and sunset.
Maintain your fitness:
Homes near waterways may inspire you to live a healthy lifestyle because adjacent outdoor activities like sailing, kayaking, fishing, and skiing are available.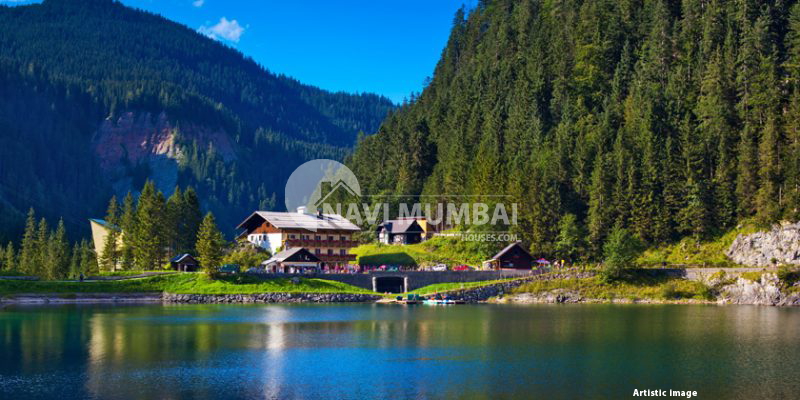 Disadvantages
Additional rules:
Purchasing a property close to the water comes with a number of rules. Various Coastal Regulation Zone (CRZ) & River Regulation Zone (RRZ) standards should be followed by your property.
High insurance costs:
Typically, homes near water sources have higher house insurance costs. The high recommendations are due to the likelihood of floods, hurricanes, and severe rain.
Corrosive elements:
Humidity, erosion, salty air, and mist can damage a house's inside and exterior. All of this will result in more frequent home upkeep than in locations in dry regions.
Tips from Vastu to Purchase Property Near Waterfront
Before purchasing real estate close to a body of water, you should also keep Vastu principles in mind. Purchasing a home close to water may reduce life's stresses and promote positive energy. According to Vastu, you will benefit if your home is oriented correctly. If not, you might have to deal with a difficult time in your life. The following table illustrates the location of the water body:
| | |
| --- | --- |
| Water Body Direction | Impact |
| West | Money gain |
| North east | Positively impact financial condition |
| East | Monetary gain |
| South East | Damage to son |
| North | Attracts money and happiness |
In conclusion, make a list before purchasing a property near a body of water.
Living next to a body of water provides beautiful views, but it is also good for your physical & mental health. Many people may have a dream of purchasing a home close to water. However, a few factors need to be taken into account when buying a house next to a body of water. We hope the checklist before purchasing a property close to a body of water helped you make your decision. If you have any more questions, please let us know by leaving a comment in the box below.
---
You're looking for Projects in Borivali we have the Best Properties In Mumbai Like Ready to Move:https://navimumbaihouses.com/properties/search/borivali/
If you want daily property update details please follow us on Facebook Page / YouTube Channel / Twitter
Disclaimer:
The views of this expressed above are for informational purposes only based on the industry reports & related news stories.
Navimumbaihouses.com
does not guarantee the accuracy of this article, completeness, or reliability of the information & shall not be held responsible for any action taken based on the published information.
Also Read
Buy Properties in Badlapur