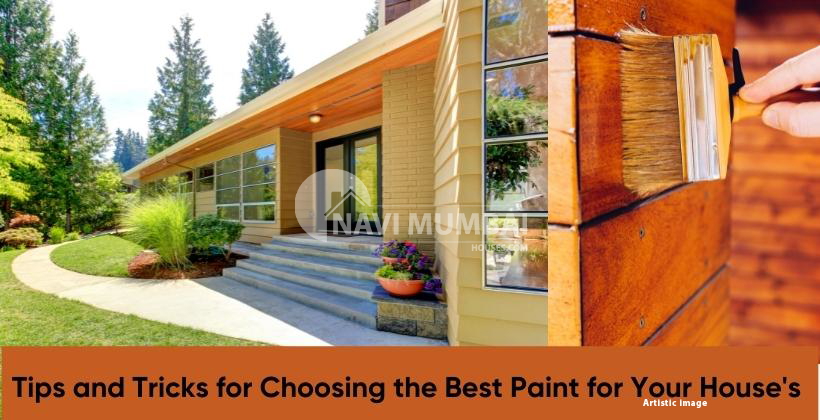 Tips and Tricks for Choosing the Best Paint for Your House's Exterior Walls!
Exterior Walls:- Your immediate environment has a direct impact on your emotions and daily mood. As a result, we usually dedicate more time and effort to our interior designs. Our homes' exteriors walls are supposed to represent ourselves and our personality.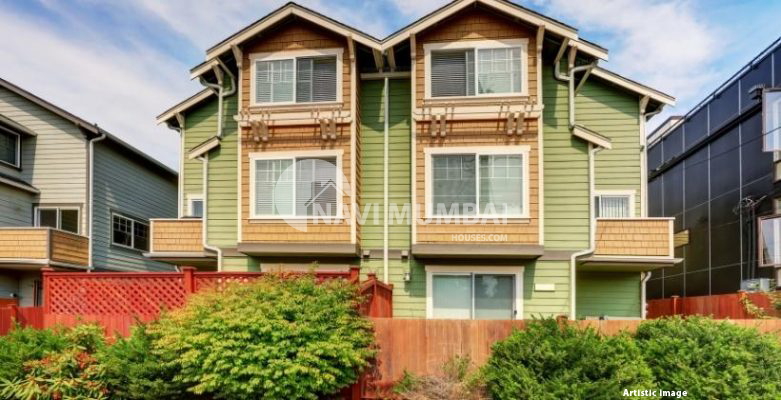 Even yet, we frequently overlook the fact that the outside of our homes gives visitors their first impression of our homes and the people who live there. Choosing the appropriate paint for Exterior Walls in the Indian environment, on the other hand, is not an easy process since various factors must be taken into account.
---
Are you looking for 4 bhk flat in kharghar?
---
What is Exterior Paint?
The exterior house paint we use in India must meet a number of requirements. Our house's siding is not only supposed to give it a fresh look, but it's also supposed to withstand harsh winters, hot summers, torrential rains, and a daily bombardment of UV radiation without cracking or peeling. It's also likely to last a long time.
Such miracles don't happen without a lot of money and effort. For the best effects, you'll need high-quality exterior paint and a clean, flat surface. For the new finish to stick, the paint must be filled with high-quality resins, pigments, and additives. Make this investment in both materials and labour to assure the greatest possible outcome.
The top ten finest paints for outside walls in India are discussed in depth in this post. Fences, doors and windows (including storm doors), external walls, and other exterior elements of your property can all benefit from the solutions now available on the market. But first, let's examine what exterior paints are and how they function.
What is the definition of exterior paint?
Exterior paint is used on the outside or outer side of a house, company, building, or other structure. These paints are designed to withstand fading and mildew. Regardless of their specific proportions, the main elements of most exterior paints are the same. The following are the basic components:
1 Solvents are liquids that evaporate fast and keep binders and pigments suspended.
2 Pigments are a blend of crushed minerals and synthetic dyes that give paint its colour and opacity.
3 Additives control the drying time, levelling, and mildew, among other things.
4 Binders: These resins mix after the solvents have evaporated to form the paint film visible on the paint's surface.
Keep in mind that using outdoor paint indoors is risky since it releases more volatile organic compounds than interior paint. It also has to be exposed to daylight to cure.
Painting the exterior of your home may be a tedious and time-consuming task. However, if you're a homeowner considering whether or not it's worth painting your outside walls, we have some excellent news for you. Exterior coatings provide more than just aesthetic value. As a result, if you're thinking of painting your outside walls, keep reading for the top nine reasons to do so:
Prevents Dust and Debris Accumulation
Dust and dirt will be kept at bay if your outside walls are well maintained. Protective dust paint is a good investment for older houses or areas with a lot of construction going on.
Provides external surface protection
Painting your outside walls with high-quality exterior paints will help protect your home from the elements, such as rain, dust, and strong sun rays. This will lengthen the life of your major structure and ensure that your home's walls are not only beautiful but also safe.
It shields the house's interior surfaces.
A fresh coat of paint on the exterior walls of your home might also help your inside walls. If your outside walls can withstand the weather, including the sun's rays and heavy rain, it will be easier to keep your inside paint looking new for longer.
Enhances Attractiveness Aesthetically
A fresh coat of paint may make your home appear more inviting and cheerful to visitors. To guarantee that your new colour does not clash too much, choose a hue that best fits your home's overall colour scheme as well as the adjacent homes.
It Aids You in Obtaining a Higher Price for Your Home
When your home's exterior is in good repair, it may increase its value significantly. Painting your outside walls is a great way to increase the value of your home if you're planning to put it on the market. It might also make your property 10 times more desirable to potential buyers.
Improves the Air Quality in the House
Painting your house walls with low-VOC paints can help you improve the overall quality of air inside, which can help you and your family live in a more comfortable atmosphere.
You will save money in the long run on maintenance.
While painting the exteriors of your home may appear to be an extra cost you'd rather avoid, it may save you money in the long run. Furthermore, if you employ a professional to paint your home, they will repair any little or major defects, such as waterproofing and weatherproofing, preventing future wall problems.
How to repaired Damage
When you repaint the exteriors of your home, you may uncover severe problems with the walls. Repainting your house may reveal flaws such as mould, mildew, and stains, which many homeowners are surprised to learn about. Professionals can simply solve these issues once they've been recognised. After the issues are fixed, repainting is required to prevent further damage. Seek guidance from waterproofing specialists before repainting your outside walls.
Prevents Wall Marks and Stains from Forming
A fresh coat of paint on your outside walls may not only correct problems, but it can also hide imperfections or stains that have collected over time. Furthermore, having dust on your outside walls is common in cities and areas with a lot of construction activity. Anti-dust exterior paints, which include a dust guard technology that prevents dust from clinging to your home's walls, can help avoid this.
Consider These Factors Before Choosing an Exterior Paint
As previously said, the exterior of your home is subjected to harsh weather conditions such as direct sunshine and rain. Furthermore, due to UV light exposure and other environmental factors, the life cycle of outdoor paint is frequently shortened. As a consequence, picking the right external wall paint and applying it correctly is crucial.
The following are some factors to consider while choosing Exterior Walls paint.
Select a Paint Color for Your Exterior Walls
What is the intensity of the colour you've chosen? What percentage of it will be exposed to the weather? These are some things to think about while selecting a paint colour. When it comes to choosing a colour scheme for the outside of your home, there is one basic guideline to follow. Although you may favour dark colours, using them to paint your outside walls is a bad idea. Heat is absorbed by dark colours, and dust accumulates rapidly. As a result, going with black for the exterior wall is a bad idea. Check to verify if the paint is made with resins and coloured with the right colourants to ensure that the colours remain vibrant for years to come.
Exterior Wall
Paint Coatings for Outside Walls
High resin content is common in the finest paints for exterior walls, which gives great elasticity, flexibility, and adhesion. Different coating methods are used for a variety of purposes, including Polite, Alkyd, Polyester, and Acrylic. Exterior wall coatings are decorative treatments for masonry surfaces on the outside of a structure. Outside wall coatings help to provide a pleasing surface on a structure's outside while also allowing for extended life spans, making them extremely hard-wearing and durable. Because acrylic paint is UV resistant, it is a fantastic choice. Paint, on the other hand, deteriorates with time when exposed to wind, rain, humidity, and sunlight. Select paint that is resistant to the most common weather conditions. If it rains for the majority of the year, for example, use oil-based paints to protect against wind and rain.
Use Low-VOC Paint on Your Outside Walls
Paint chemicals pollute the environment in three stages: when they are applied, when they dry, and when they are improperly stored and disposed of. One such source is VOC. VOCs, or volatile organic compounds, are carbon-based molecules that quickly evaporate or gasify. Paints, varnishes, and cleaning products may include them. Paints labelled "low-VOC" should contain less than 50g of volatile compounds per litre if they meet the Green Seal requirements. Because there is no universally accepted regulatory standard, the phrase "low-VOC" might mean different things depending on which body certifies it; nonetheless, 50g is a common threshold for external wall paints.
Elongation Qualities in Exterior Wall Paint
Internal strain has long been recognised as a major factor in the deterioration of outside wall paint. Coatings differ substantially in terms of flexibility and tensile strength. High-strength films are less flexible, as evidenced by epoxy, acrylic, and Poly siloxane coatings. The polyurethanes have a high degree of malleability. As a result, the elongation properties of external paint become critical. Elongation determines a material's flexibility and, as a result, its ability to resist deformation without breaking. Materials with a high degree of toughness are created by combining a high ultimate tensile strength with a high elongation.
---
You're looking for Purchasing New Homes in Navi Mumbai we have the best New Projects in Navi Mumbai Like Ready to Move & Nearby possession:  https://navimumbaihouses.com/properties/search/navi-mumbai-all/
If you want daily property update details please follow us on Facebook Page / YouTube Channel / Twitter
Disclaimer:
The views of this expressed above are for informational purposes only based on the industry reports & related news stories.
Navimumbaihouses.com
does not guarantee the accuracy of this article, completeness, or reliability of the information & shall not be held responsible for any action taken based on the published information.
Also Read
Buy Properties in Navimumbai