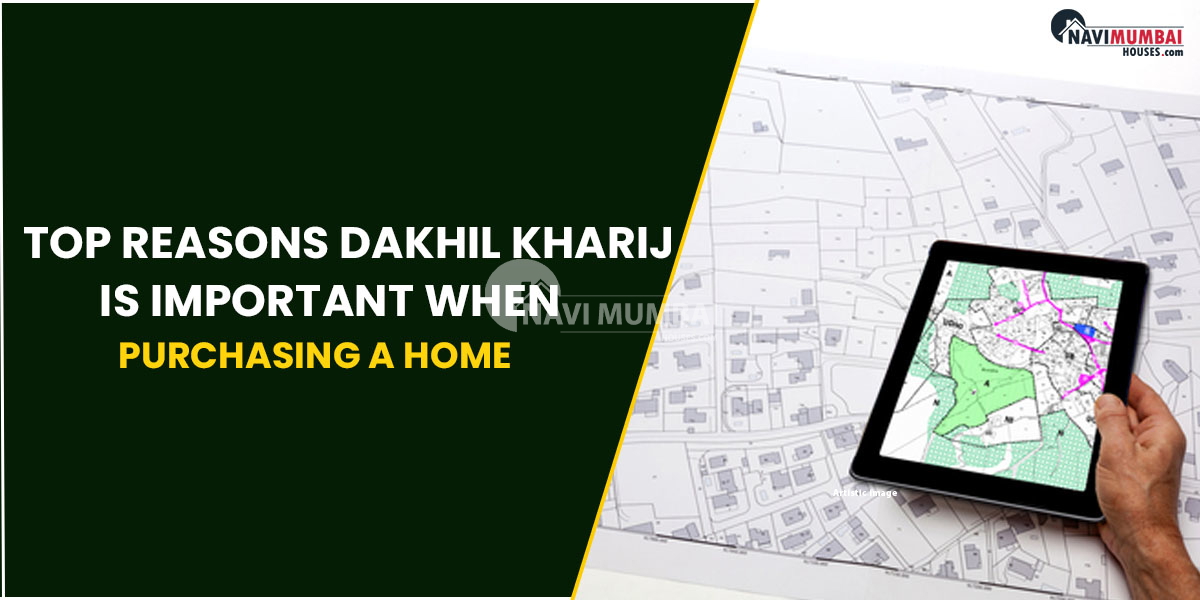 Top Reasons Dakhil Kharij Is Important When Purchasing A Home
The Dakhil Kharij is the key document in the transfer of property ownership. Most buyers primarily consider location and price when considering a home, sometimes ignoring the intricate paperwork needed. Dakhil Kharij, which means "land mutation," is one of the most important documents among them. Dakhil Kharij, or title transfer, is the procedure used to provide ownership of the property to the new owner. According to government regulations, property registration is only complete once the Dakhil Kharij is finished. This article goes into great detail about Dakhil Kharij, including what it is, how to buy it online, what it can do for you, how to monitor its condition, and much more.
---
Are you looking flat for Rent In Sanpada? 
---
What is Dakhil Kharij?
A buyer must update the land revenue government department's records after completing the property purchase procedure, including signing the selling deed. The act of shifting ownership of a piece of property from one person to another after a transfer or sale is known in Hindi as "Dakhil Kharij," or "mutation of property." Any time an asset is transferred, whether it is through a property sale or purchase, an inheritance, the death of a property owner, or a Power of Attorney purchase, Dakhil Kharij is required. The asset will be registered in official records under the owner's name when the mutation is finished. Dakhil Kharij permits the government to impose a real estate tax based on data.
Dakhil Kharij varieties
Agricultural and non-agricultural land mutations are the 2 forms of Dakhil Kharij.
Land mutation for agricultural purposes is necessary since without it, the title to the land cannot be transferred to another person. The prior owner will get compensation if the government seizes the property since the records do not reflect a change in name.
Non-agricultural Land Mutation:
Dakhil Kharij is recommended but not required for non-agricultural land. However, if the mutation is not made, an individual's ownership rights could be revoked. The former owner will also be responsible for paying the electricity bills and municipal taxes if Dakhil Kharij is not finished. It is advised to get Dakhil Kharij paperwork because they are now necessary for any real estate sale or acquisition.
Process of applying for Dakhil Kharij?
You must have the required documents, which differs from state to state, in order to apply for a land mutation document. Application forms and court fee stamps can be used to request changes to official records. This document needs to be accurately completed, signed, and delivered to the revenue department commissioner. The following papers must be submitted with it as well:
The latest property tax document receipt
Attested copy of the sale deed
Aadhar card copy
Housing society's No Objection Certificate.
An indemnity bond of requisite value on stamp paper
An affidavit of requisite value on stamp paper, attested by a notary
In case the property is inherited, the following documents must be produced:
A copy of will/succession/death certificate of the existing property owner
An indemnity bond of requisite value on stamp paper
Aadhar card copy
An affidavit of requisite value on stamp paper, attested by a notary
The latest property tax document receipt
For property purchase through a registered power of attorney, the following documents must be submitted:
Copy of power of attorney papers
A copy of the will
Receipt of payment made to sub-register
An indemnity bond of requisite value on stamp paper
An affidavit of requisite value on stamp paper, attested by a notary
The latest property tax document receipt
Once the application and the documents are verified, the Dakhil Kharij process will begin and get completed in 15 to 30 business days.
Things about Dakhil Kharij you should know
You will be subject to a minimum fine (ranging from Rs. 25 to Rs. 100) if you fail to complete Dakhil Kharij. The mutation can be completed whenever you choose, but you must be prepared to provide the mutation documents to the buyer if you ever decide to sell your home.
Mutation of property is significant because it provides a reliable form of ownership verification and a tax record, despite the fact that it is not legally binding.
The procedure and cost for applying for property mutations may vary from state to state, although they normally fall within a certain range.
Property remodelling is a continuous process. These documents must be regularly updated in order to guarantee the correctness of your property records.
Top Reasons to Have Dakhil Kharij Done
A few advantages of having Dakhil Kharij done are as follows:
It is the ultimate declaration of ownership. If the person does not submit a mutation application, the previous owner of the property will be regarded as the current owner, according official records.
Records from Dakhil Kharij can be used to stop fraud. Records of mutations can assist prevent such fraud when the former owner sells the property to someone else in particular circumstances.
After acquiring the property's mutation record, the individual can apply for power and water connections in non-agricultural areas such as residential buildings.
Any utility bill, including those for electricity, water, municipal property tax, etc., can be paid by the appropriate individual.
The government will only give compensation after reviewing the documents when it pays out compensation. An owner is unable to collect the designated compensation if he does not request mutation records.
Land records may be appropriately updated in official records with Dakhil Kharij's assistance.
Property may be sold more easily since the buyer can get the mutation record right away. If the property is not in the seller's name, the buyer may terminate the agreement.
The municipality will establish the relevant property tax duties after the property is registered under the mutation record, and the owner can avoid needless fines.
Summary of Dakhil Kgarij
The only document that provides absolute confirmation of ownership is the mutation certificate, also known as Dakhil Kharij. To avoid problems later, it is best to get it as soon as the property is purchased. Through the Dhakil Kharij web site, Dhakil Kharij applications may also be submitted online in a few simple steps. However, to complete the full application procedure, you must go to the neighbourhood municipal office.
---
You're looking for Buy Home In Kharghar we have the Best Buy Properties In Kharghar Like Ready to Move & Nearby possession: https://navimumbaihouses.com/property/search/buy/kharghar/
If you want daily property update details please follow us on Facebook Page / YouTube Channel / Twitter 
Disclaimer:
The views of this expressed above are for informational purposes only based on the industry reports & related news stories.
Navimumbaihouses.com
does not guarantee the accuracy of this article, completeness, or reliability of the information & shall not be held responsible for any action taken based on the published information.
Also Read
Rent Properties in Sanpada