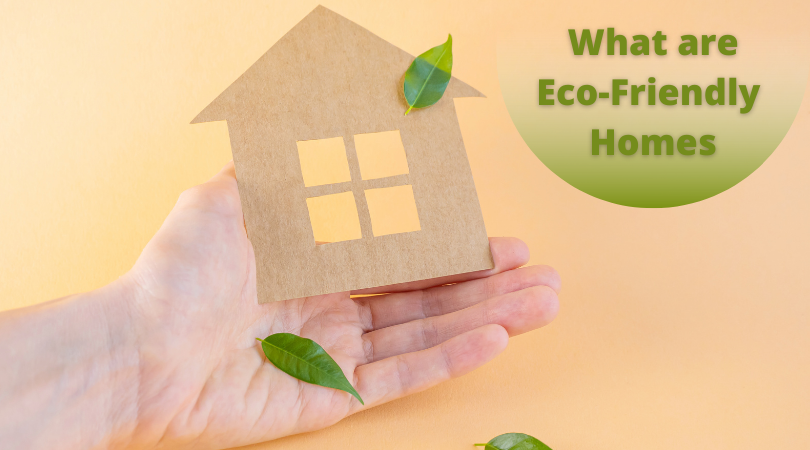 What are Eco-Friendly Homes? Why Are They in Demand ?
With the increase in the population and the increase in pollution, global warming is a challenging thing that every one of us is facing these days. If not taken proper precautions this might become more challenging in the coming years. To keep it to the minimum, government, builders, and individuals are coming forward to make life sustainable in various different ways. One of those things is eco-friendly homes also called greenhouses, self-sustaining houses, and so on.
What are Eco-Friendly Homes?
These are the houses that are particularly built by considering the thing that they will not harm the environment in any of its ways. These homes are eco-friendly, ecologically less harmful, and keep the surroundings clean to support the ecosystem. These homes are designed with materials that will not harm the environment, also they keep energy consumption to the minimum. And even many of them generate their own electricity in eco-friendly ways.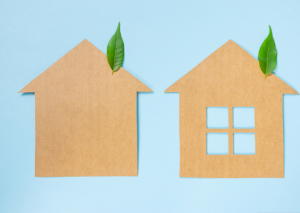 What are the Key features of Eco-friendly Homes?
The eco-friendly houses are build by developers as well as individuals. So it does not have any kind of standard features, all of them have different features which define themselves as eco-friendly houses in various different ways.  All these houses may have a few or all of the key features as mentioned below: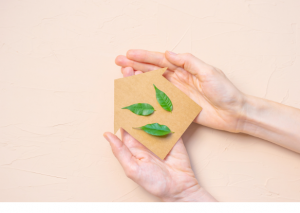 Has Its Own Energy Source
Eco-friendly homes have their own sources of energy like solar panels, biomass boilers, heat pumps, etc. Whereas regular homes are dependant on energy sources that are often non-renewable energy sources and are not eco-friendly. The initial investment for such energy sources is very high but once they are installed, the energy will be created at a minimal cost. Many countries like India are taking initiatives to encourage people to go with renewable energy sources, and they are promoting it by giving a huge amount of subsidies on such systems to be installed at their homes or offices.
Uses Smart Technology
One can also conserve energy with the help of adopting Smart Technology. Energy products with smart technologies are in boom these days. There are two main reasons behind it. One is the energy cost that is increasing day by day and the other is people who have become more sensitive and vigilant about eco-friendliness. With the help of smart technology, you can lessen carbon emissions and can save on your energy consumption by almost 50 %. Few examples are using smart inverter technology for air conditioners. Making use of lighting system which get auto switched off when no one is there in the room.
Smart technology makes use of technology in a much smarter way to keep the energy wastage to the minimum and substantially help you save the environment.
Has Proper Water Conservation System
Water conservation is another important key feature of  Eco-Friendly Homes. If we consider today's infrastructural development especially in India and China, we could see builders are adopting rainwater harvesting techniques for water conservations. These are the countries that are adversely affected because of global warming since they have the highest population than the other countries in the world.
Like rainwater harvesting the water can be conserved in many other simpler ways like you can make use of low-flow taps and water-efficient appliances, that will ensure the use of water to the minimum. The conserved water can be used for several non-drinking purposes like gardening, washing, and cleaning.
Have Five Star Rated Products
There are many electronics products available for sale with various different configurations and have different star ratings as per their energy consumption. So, if you want your house to be eco-friendly then make a wise choice. These 5 star rated products are costly but are energy efficient, they can help you save a lot on your energy bills.
Eco-friendly houses always make use of products that can save huge on energy consumption and five-star rated products are very good at saving energy.
Can I convert My Exiting Home into an Eco-Friendly House?
Yes, you can.
Here are some simple and effective ways to make your home eco-friendly.
Make Your Home Eco-Friendly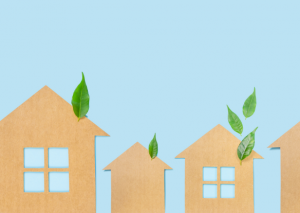 => Switch your home lightings to CFL or LED's as they can help you save a lot on energy
=> Make Provision for natural sunlight to avoid the usage of electric lights during day time.
=> Grow indoor plants to keep your home clean and fresh
=> If you have a garden at home, then nurture it with some natural compost that you can easily generate from your kitchen leftovers.
=> Make use of smart technology appliances for lower energy consumption.
=> Use faucets with low-pressure Waterflow taps
=> If possible install a rainwater harvesting system
Why Eco-Friendly Homes are in Demand?
Even though they seem expensive at the initial level they are indeed money savers. Since most of them are great at energy-saving and can even reduce your energy consumption to 50 %. If we will calculate the cost of the home versus the energy consumption, we can easily point out the differences that why they are more valuable and why investing in them is more meaningful.
Eco-friendly houses are the future of the housing industry as they can have more return on investment. The owners will benefit from better air quality, consistent home temperature, lower maintenance, and good health. Moreover, they will get great satisfaction that they play an important part in the global endeavour to protect the environment.
Follow us on our Facebook Page to Know more of such updates.
Disclaimer:
The views of this expressed above are for informational purposes only based on the industry reports & related news stories.
Navimumbaihouses.com
does not guarantee the accuracy of this article, completeness, or reliability of the information & shall not be held responsible for any action taken based on the published information.