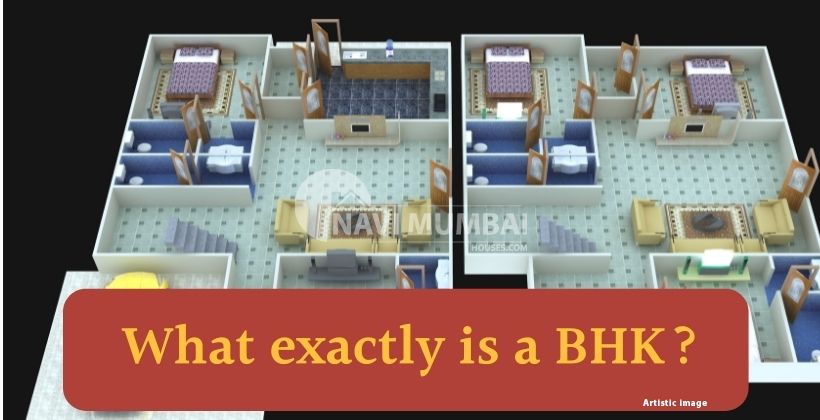 What exactly is a BHK?
In a unit, BHK stands for bedroom, hall, and kitchen. In this article, learn everything there is to know about the phrase.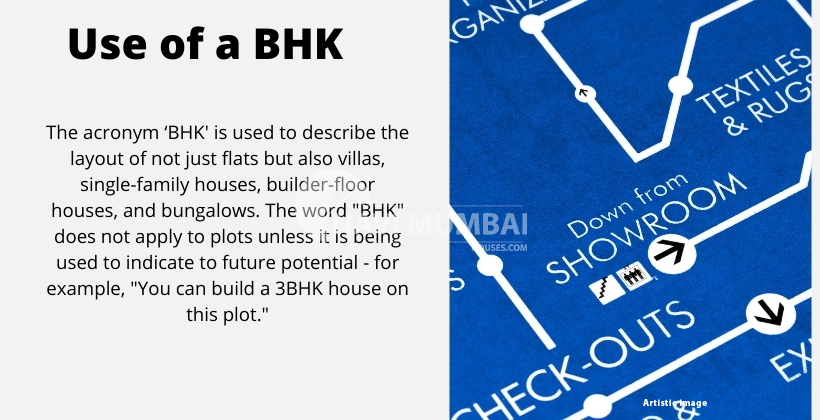 A house buyer must decide on the property's configuration, such as 1BHK, 2BHK, or 3BHK, in addition to their budget and geographical preferences. Before that, one must first comprehend what a BHK is.
---
Are you looking for Flats for Sale in Kharghar Navi Mumbai? Then you may contact Navimumbaihouses.com the biggest portal to Rent / Sale / New Projects properties in Kharghar and Navi Mumbai.
---
What does a BHK denote?
The abbreviation BHK stands for bedroom, hall, and kitchen. It's a metric for expressing the number of rooms in a building. A 2BHK, for example, indicates that the home contains two bedrooms, one hall, and a kitchen. A three-bedroom, one-bathroom flat has three bedrooms, a hall, and a single kitchen. Even if there are two bathrooms/toilets, sellers may or may not promote it that way, but the number of bedrooms will always be mentioned.
In short,
1BHK is 1 bedroom, hall, kitchen
2BHK is 2 bedrooms, hall, kitchen
3BHK is 3 bedrooms, hall, kitchen
4BHK is 4 bedrooms, hall, kitchen
All of them have a bath and toilet area, even though the acronym does not include a 'T' as in a toilet space. Some vendors may advertise their home as a 3BHK+2T home. The term "2T" here refers to two toilets. This is done to emphasize the advantage of having more room.
Use of a BHK
The acronym 'BHK' is used to describe the layout of not just flats but also villas, single-family houses, builder-floor houses, and bungalows. The word "BHK" does not apply to plots unless it is being used to indicate to future potential – for example, "You can build a 3BHK house on this plot."
What does 0.5BHK mean?
Developers have been experimenting with a variety of popular forms with house purchasers. A 0.5BHK may be suitable for extremely small families or solitary professionals. It refers to an apartment with a somewhat smaller bedroom than a conventional bedroom, a bath/toilet, and a kitchen.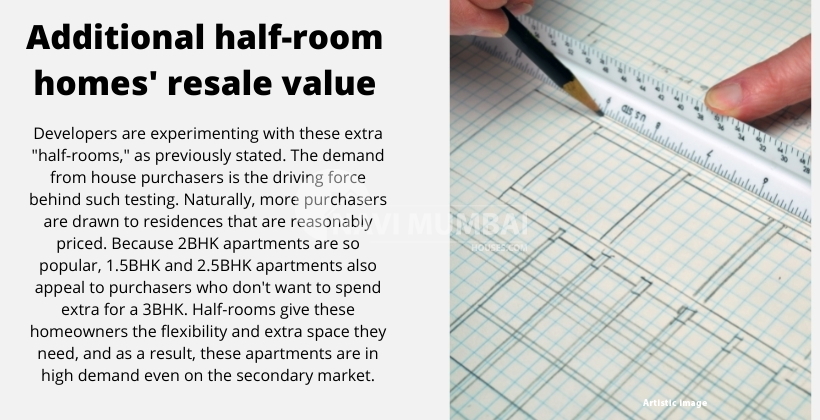 What does 1.5BHK mean?
A 1.5BHK property contains a large master bedroom and a smaller bedroom that may be utilized as a bedroom, study, library, servant room, or even a storage room.
---
Are you looking for 1 BHK Flats for Sale in Kharghar Navi Mumbai? Then you may contact Navimumbaihouses.com the biggest portal to Rent / Sale / New Projects properties in Kharghar and Navi Mumbai.
---
What is the definition of 2.5BHK?
Two bedrooms plus a tiny room, which may be utilized as a storeroom or servant room, make up a 2.5BHK home. Particularly in the Delhi-National Capital Region, such apartments are becoming increasingly popular (NCR). Mid-sized families with four to five people frequently like them since they provide the comfort of a three-bedroom home at a reasonable price.
Additional half-room homes' resale value
Developers are experimenting with these extra "half-rooms," as previously stated. The demand from house purchasers is the driving force behind such testing. Naturally, more purchasers are drawn to residences that are reasonably priced. Because 2BHK apartments are so popular, 1.5BHK and 2.5BHK apartments also appeal to purchasers who don't want to spend extra for a 3BHK. Half-rooms give these homeowners the flexibility and extra space they need, and as a result, these apartments are in high demand even on the secondary market.
What exactly is 1RK?
A 1RK unit is another option for people seeking for a compact apartment. 1RK stands for a unit with one room, a kitchen, and a bath/toilet space, which is popular in Maharashtra. As the acronym suggests, this unit has neglected the hall space.
This setup is ideal for those on a tight budget. It will also come in handy for regular travelers. Such people may not want to stay in a hotel for too long, and they may also not want to invest too much on property in a different city. For such specialists, a 1RK arrangement is ideal.
What should you know about the size of the property?
A 1BHK unit may appear larger than a conventional 2BHK apartment, while a 2BHK apartment may be mistaken for a 3BHK or even remodeled into a 3BHK unit. In other words, some builders may package a 1BHK house in an 800-sq ft space, while others may package a 2BHK in that size.
Why are there so many inconsistencies when it comes to a property's size? This is due to the fact that there are no defined regulations for a standard-sized property, and locales or property markets may develop an unspoken rule.
In Hyderabad, for example, you may be able to locate larger 2BHKs than in Mumbai. Size inconsistencies occur as a result of the scarcity of land in a certain area, the premium linked to a structure in that location, the overall construction cost and sale price, and so on.
There is a carpeted space and a built-up space.
When discussing the size of a home, it's crucial to consider the carpet area. The carpeted area is the real useable space in your home. It excludes the thickness of the interior walls, as well as the space required to construct the lobby, elevator, stairs, play area, and other amenities. Built-up space, on the other hand, includes the carpeted space as well as the space enclosed by the inner walls and the balcony.
---
At The Navimumbaihouses, we provide a diverse choice of homes with the greatest facilities in the greatest residential areas in Navi Mumbai, Mumbai & Thane. Our access to the greatest resources, openness and on-time delivery on promises ensure that you have the greatest home-buying experience possible.
If you want daily property update details please follow us on Facebook Page / YouTube Channel / Twitter
For more information please visit: https://navimumbaihouses.com/
Disclaimer:
The views of this expressed above are for informational purposes only based on the industry reports & related news stories.
Navimumbaihouses.com
does not guarantee the accuracy of this article, completeness, or reliability of the information & shall not be held responsible for any action taken based on the published information.
Also Read
Buy Properties in Navimumbai