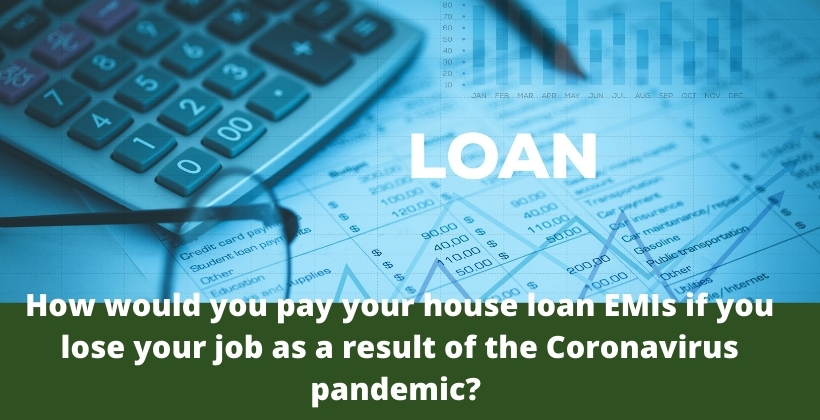 How would you pay your house loan EMIs if you lose your job as a result of the Coronavirus pandemic?
a house loan, Steps a property buyer can take if his income sources have been harmed as a result of the crisis are listed below.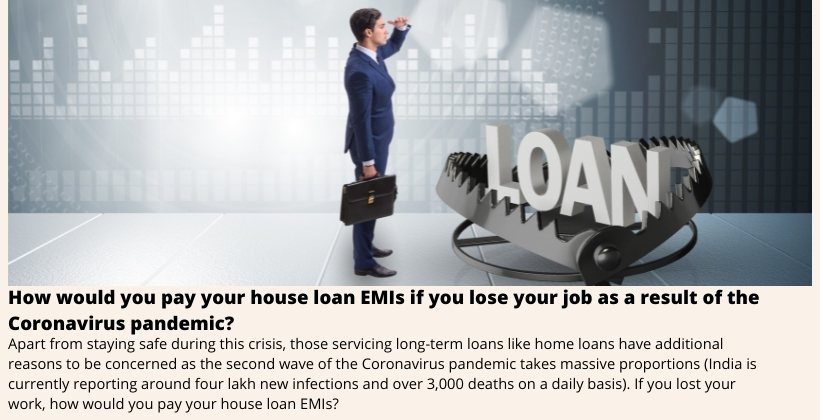 Apart from staying safe during this crisis, those servicing long-term loans like home loans have additional reasons to be concerned as the second wave of the Coronavirus pandemic takes massive proportions (India is currently reporting around four lakh new infections and over 3,000 deaths on a daily basis). If you lost your work, how would you pay your house loan EMIs?
In India, the majority of property purchasers rely on housing financing to complete their purchases. This signifies that a huge number of purchasers are under extreme duress as a result of the COVID-19 pandemic's human and economic disaster.
The second wave of COVID-19 and the resulting lockdowns, according to the Centre for Monitoring Indian Economy, has impacted nearly 75 lakh jobs, pushing the unemployment rate to a four-month high of 8% in April 2021.
---
Are you looking for a 1 BHK Apartment on sale in Kharghar Navi Mumbai? Then you may contact Navimumbaihouses.com the biggest portal to Rent / Sale / New Projects properties in Kharghar and Navi Mumbai.
---
So, if a property buyer in India's income sources have been harmed by the Coronavirus outbreak, what should he do?
"Ideally, a house loan borrower should save aside at least six months' worth of EMI in his emergency fund. According to Ratan Chaudhary, head of home loans at Paisabazaar.com, "included this will help the borrower to continue making his EMI payments even amid financial situations like job loss."
If an EMI holiday is offered, make use of it.
In the aftermath of the COVID-19, the RBI announced considerable assistance to house loan borrowers on March 27, 2020, by deferring EMI payments for a three-month period and lowering the repo rate to an all-time low of 4%. To offer further protection, the RBI extended the lending ban for another six months. For the period between March and August 2020, the RBI also recommended banks not classify late payments of long-term loans as non-performing.
While the sector anticipates the top bank to issue a "Moratorium 2.0" in the wake of India's economic shock caused by the second wave of the epidemic, the RBI, at least so far, is of a different mind. In April 2021, RBI governor Shaktikanta Das stated that a loan repayment moratorium was not required at this time,' claiming that firms were better equipped to deal with the issue. "We will monitor a scenario, its depth, seriousness, and effect, before adopting a decision," Das added, emphasizing that the central bank would not respond in a knee-jerk manner to a crisis.
If the RBI implements such a scheme, there are a few factors that recipients should be aware of. First and foremost, this is not an EMI holiday; you will be required to repay the money at a later date, with interest. A moratorium simply means that the RBI has granted you a few months' grace period, without the late payment being recorded as a "default" in your credit history. Furthermore, whether or not the advantage is granted to you is at the discretion of your lender, as is the amount of interest imposed for late EMI payments.
Assume your monthly mortgage payment is Rs 40,000. This amount will be added to the loan principal if it is not paid. The interest on the outstanding debt, as well as Rs 40,000, would be calculated in the coming month.
Not choosing this choice is not an option for a borrower who has been laid off. "While taking advantage of the moratorium will cost them more money in interest, it will offer them at least a two-month window to find work or get finances from other sources without negatively impacting their credit score," adds Chaudhary.
Money received as part of a severance package
Use the funds from your severance package in the following ways: When a moratorium period expires, a borrower must either arrange the funds to pay his house loan EMIs or face the typical consequences: the default will appear on your credit report, and the bank will levy a penalty for each default, in addition to the interest.
You may be obliged to pay the bill with money from your severance compensation at this time. This sum is theoretically equivalent to the wage for the number of months specified in your work contract as your notice period. If your notice period is two months, for example, you will get at least two months' income as part of your severance package. Because this is your only source of income, for the time being, you must be cautious with how you spend it. While you utilize this money to pay down your mortgage, for the time being, seek alternative choices in case you are unable to find work.
Use money from a fixed deposit (FD) or a recurring deposit (RD).
Make the most of your money: You might also use your FD and RD to make EMI payments because the interest rates on these are now lower than the interest rates on home loans (SBI FD interest rates are now 5 percent to 5.5 percent for a one-year term) (The SBI home loan interest rate on a loan of Rs 30 lakhs is 6.7 percent), and this is especially true if the loan is defaulted on.
"Those who have failed to save for house loan EMIs in their emergency fund might redeem their current fixed-income assets that are not related to any critical financial goals, such as retirement, children's education fund, and so on," says Chaudhary.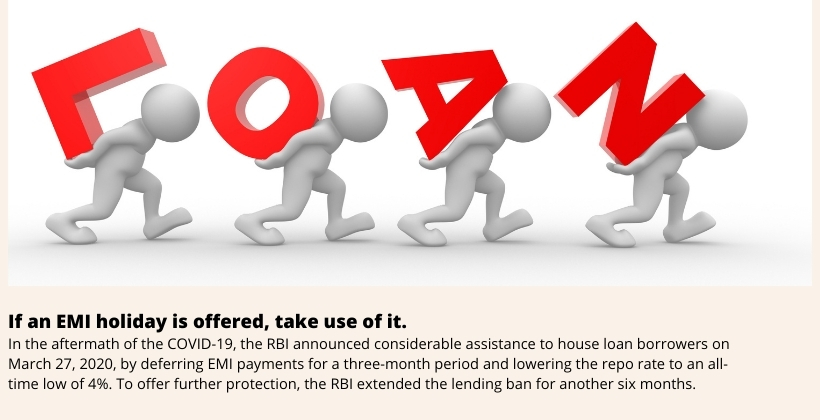 Withdraw your money from the Provident Fund (PF)
Make use of the money in your provident fund: On May 31, 2021, the EPFO announced the ability to withdraw a non-refundable COVID advance to assist its members through the second wave of the COVID-19. EPF members can now make non-refundable withdrawals from their PF account, up to 75 percent of their account balance, or the basic pay and dearness allowances for three months, whichever is less. This money might assist you to pay your house loan EMIs for a few months while you look for other options. The great aspect of the plan is that your request for PF money withdrawal will be handled within three days.
Last year, the Labour Ministry issued a notification on March 29, 2020, allowing the 60 million EPFO users to take a portion of their retirement funds.
Assets that are liquidated
Gold should be sold, and debt instruments should be liquidated. At this point, several debt instruments can be liquidated to pay off the house loan. You might also put up gold or jewelry as collateral to help pay off your house loan EMI. In the aftermath of the epidemic, gold prices are hitting new lows every day, so you might not receive what you want from the yellow metal — on May 3, 2021, the gold pricing for one gram of 22-carat was Rs 4,416, down Rs 31 from April 30, 2021.
You can also consider selling any cars, furnishings, or devices that aren't absolutely necessary right now.
You might also take out a loan against gold, which has an interest rate that starts at 7.25 percent and rises to 18 percent yearly. Banks would handle the loan request swiftly because it is a secured loan.
Equity investments should not be touched, according to Chaudhary, because doing so would imply transforming your theoretical losses into real losses. "The present equities market slump would have already lowered their holdings by at least 30%," he claims.
---
If You're Looking for a home in Navi Mumbai We Have the Best Option For You 1 BHK Flat for sale in Kharghar Navi Mumbai: https://navimumbaihouses.com/1-bhk-flats-for-buy-in-kharghar/
---
Borrow from friends and relatives.
Seek help from your family: Another alternative is to borrow money from relatives and friends who are in a position to lend you money for the time being. This option is beneficial because:
You won't have to pay interest on the money, and you'll be able to find more willing and less scrutinizing lenders than you would at a bank.
You won't be charged interest if you don't pay it back within a certain amount of time.
However, be realistic about the time frame in which you expect to return the funds, or you risk straining your personal connection.
Loan secured by an insurance policy
If you need to borrow money and don't have any other options, your life insurance policy may be able to help. You have the option of taking out a loan against your insurance coverage. This debt would be fairly reasonable, aside from the fact that your insurance company would be able to release the loan swiftly (it already has all of your information). The interest rate on a loan secured by an insurance policy is significantly lower than that of a personal loan.
If you're paying an EMI, there are a few things you shouldn't do.
As you deal with difficult situations in your life, there are few things you should avoid doing:
Avoid the lender at all costs: The borrower's first step should be to notify the bank of any job loss.
Avoiding them now would be the worst thing you could do. Genuine borrowers should have little trouble persuading the bank to renew the loan. The EMI amount might be decreased, for example, by extending the term.
Expect a pay raise: Finding a job in a terrible employment market may be a difficult task. You should not be put off by a job offer that pays the same as, if not less than, your previous wage package. Keep in mind that this is just temporary. When things return to normal, you might be able to locate a job that matches your skills and profile.
---
At The Navimumbaihouses, we provide a diverse choice of homes with the greatest facilities in the greatest residential areas in Navi Mumbai, Mumbai & Thane. Our access to the greatest resources, openness and on-time delivery on promises ensure that you have the greatest home-buying experience possible.
If you want daily property update details please follow us on Facebook Page / YouTube Channel / Twitter
For more information please visit: https://navimumbaihouses.com/
Disclaimer:
The views of this expressed above are for informational purposes only based on the industry reports & related news stories.
Navimumbaihouses.com
does not guarantee the accuracy of this article, completeness, or reliability of the information & shall not be held responsible for any action taken based on the published information.
Buy Properties in Navimumbai