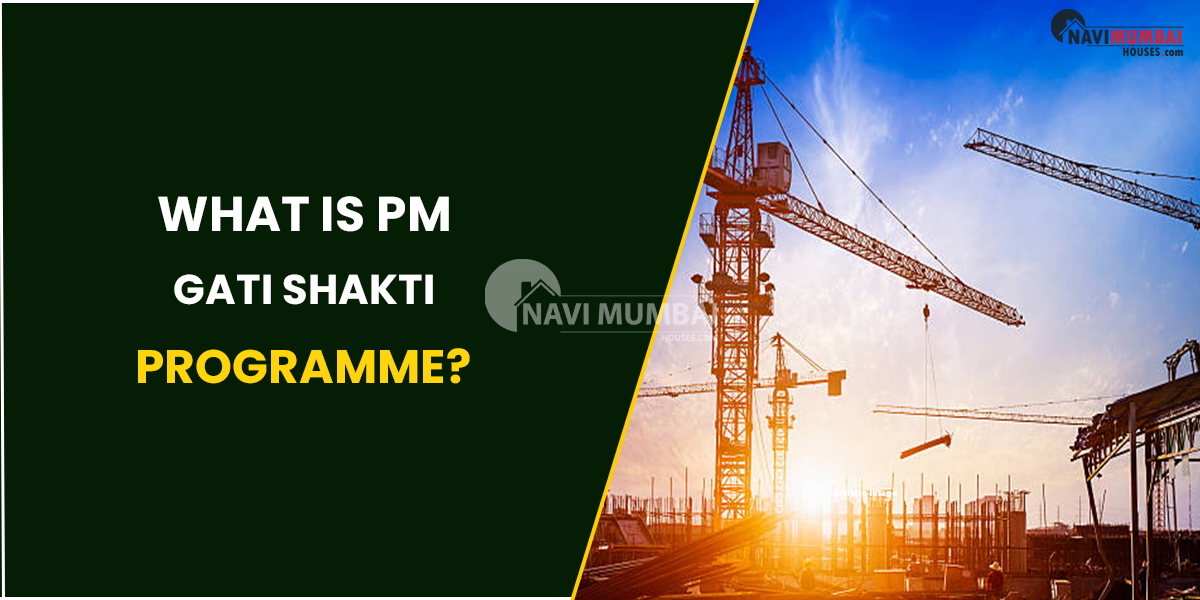 What Is PM Gati Shakti Programme?
PM Gati Shakti programme: The National Infrastructure Masterplan that India recently unveiled is explain in full here.
An initiative of the national government, the Pradhan Mantri Gati Shakti National Master Plan, aims to transform India's infrastructure. On the 75th anniversary of India's independence, Prime Minister Narendra Modi announced the beginning of the Gati Shakti Yojana, a Rs 100 lakh crore initiative to create "holistic infrastructure" across India.
Here is all you need to know about the strategy, which is predicted to reduce infrastructure project delays and increase India's market competition.
---
Are you looking New Project In Navi Mumbai?
---
PM Gati Shakti programme : Date of Release
The Pradhan Mantri Gati Shakti (PMGS) programme, introduced by Prime Minister Modi on October 13, 2021, aims to break down interministerial silos and consolidate the planning of infrastructure projects.
A top priority mission is Gati Shakti.
Finance Minister Nirmala Sitharaman stated that Gati Shakti is one of the four top goals for the administration led by Prime Minister Narendra Modi on February 1, 2022. The FM stated that the Gati Shakti master plan's cornerstones will include top-notch, contemporary infrastructure, logistical synergy among various means of moving both people and products, and the placement of projects.
According to Piyush Gupta, MD, Capital Markets and Investment Services, India, Colliers, "The Gati Shakti national master plan, spruced up by seven engines of infrastructure, will go a long way in developing multi-modal network to create world-class infrastructure with full support on planning, financing, innovation, and technology."
The administration has made infrastructure development and improvement a top priority. The Gati Shakti mission will support the government's efforts to remove different obstacles and shorten the time it takes for such projects to be completed. "We are building a structure for the upcoming 25 years. The 21st century's development plans will benefit from this national master plan's gatishakti (power of speed), which will speed up its timely completion.
After unveiling the proposal, Prime Minister Modi made a statement. When it comes to world-class infrastructure. "We want to design and deliver an integrated strategy that has a plug-and-play approach," the PM continued.
Gati Shakti: Describe the process.
A centralised platform will be establish to bring together the infrastructure projects that 16 federal ministries and departments. Including those in the fields of railroads, roads and highways, petroleum and gas, power, telecom, shipping and aviation, etc. Have planned and started.
The Gati Shakti platform, which also aims at a centralised transportation and logistics grid. Would enable easier information flow and speed up the project clearance process by establishing greater cooperation across various ministries.
Large-scale infrastructure projects like Bharatmala, Sagarmala, UDAAN. Expanding the railway network, inland waterways. And Bharat Net are among those that will now be implemented in accordance with the guidelines set forth in the Gati Shakti master plan.
The Gati Shakti masterplan will work to achieve the three primary goals: improved prioritisation. Optimal resource usage, timely creation of capacities; and resolution of issues like fragmented planning, standardisation, and clearances. This is also anticipated to result in the generation of millions of jobs.
Gati Shakti mission: primary goal
The Pradhan Mantri Gati Shakti programme will assist India in luring investment from all over the globe for developing the country's infrastructure. With the overarching goal of making products created in the country more competitive by reducing logistical costs and enhancing supply chains.
It is important to note that the costs associated with logistics and the supply chain currently make up around 12% of India's GDP. When compared to the worldwide average of 8%, this is significantly higher. Excessive reliance on road transportation as well as underuse of air. Rail, and waterways are contributing factors that drive up costs. Overall, these characteristics increase Indian production rates relative to those of other nations.
"Interministerial delays, approval delays, and communication gaps between numerous stakeholders hindered the expansion of India's infrastructure. This frequently resulted in sluggish decision-making, delays, and cost overruns, which slowed down infrastructure-led growth. The Gati Shakti Plan consolidates infrastructure projects in designate corridors and will assist different ministries in planning projects jointly without being hindered by the intricate/lengthy approval processes. According to a note from Brickwork Ratings, which also claimed that the plan would change the game for infrastructure development.
"The PM Gati Shakti scheme is a groundbreaking project that will streamline collaboration among several ministries, states, and agencies. Ease planning, and lower total implementation costs. Initial platform limitations may exist. But once they are resolve, this method has the potential to revolutionise the way infrastructure is develope. According to Vipula Sharma, senior director of ratings at Brickwork Ratings (BWR).
PM Gati Shakti programme: PM Gati Sghakti plan goals
The numerous goals that will be attain by the Gati Shakti plan are liste below:
As the length of the national highway network approaches 2 lakh kilometres, the capacity of the roads will grow.
With 200 new airports, heliports, and water aerodromes planned, aviation will experience a significant boost.
Railway cargo capacity will grow to about 1,600 tonnes by FY25.
With the transmission network to be expanded to 454,200 circuit kilometres, access to power will be made easier.
By FY25, renewable energy capacity will climb to 225 GW.
In the same year, around 17,000 km of gas pipelines will also be finish.
Villages will get 4G access by FY22
20 brand-new mega-food parks
In Tamil Nadu and Uttar Pradesh, there are 11 industrial corridors and two new defence corridors.
202 fishing hubs, harbours, and landing areas
Trade Minister evaluates PM Gati Shakti development
On January 2, 2023. Senior officials from 8 infrastructure ministries met with Minister of Commerce and Industry Piyush Goyal to discuss the status of the PM Gati Shakti mission. It was disclose at the review meeting that the NPG had assesse and recommended the execution of up to 61 infrastructure project proposals in the upcoming years.
---
You're looking for Buy Home In Thane we have the Best Buy Properties In Thane Like Ready to Move & Nearby possession: https://navimumbaihouses.com/property/search/buy/thane-all/
If you want daily property update details please follow us on Facebook Page / YouTube Channel / Twitter 
Disclaimer:
The views of this expressed above are for informational purposes only based on the industry reports & related news stories.
Navimumbaihouses.com
does not guarantee the accuracy of this article, completeness, or reliability of the information & shall not be held responsible for any action taken based on the published information.
Also Read
Projects Properties in Navi Mumbai