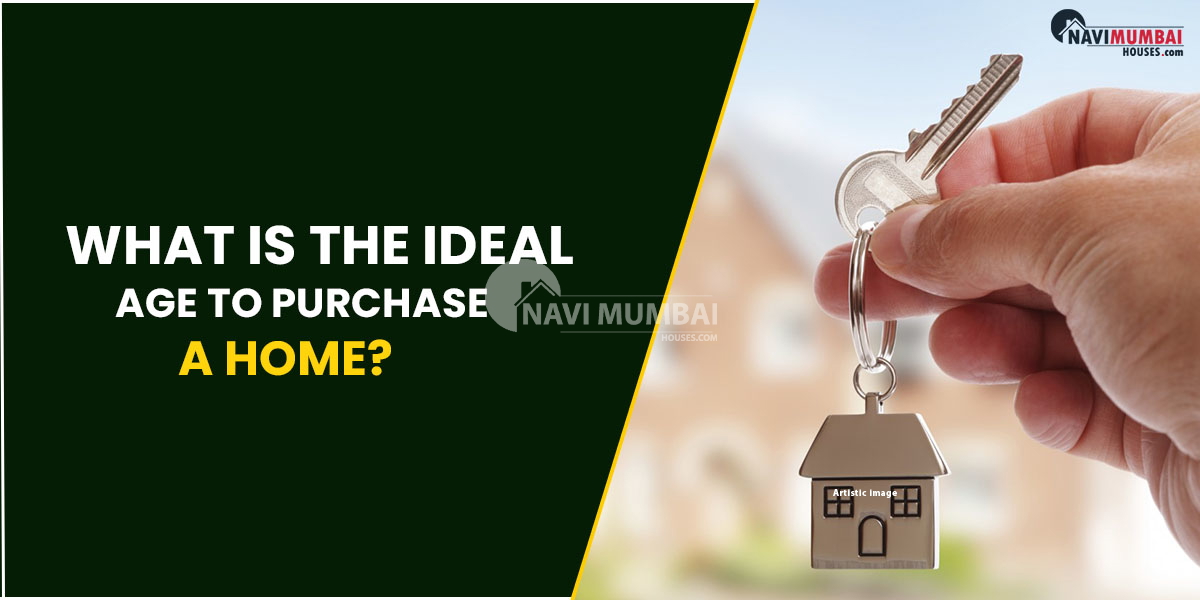 What Is The Ideal Age To Purchase A Home?
Ideal Age To Purchase A Home : Numerous studies on the ideal age to purchase real estate have been released. But is there really a best age to engage in the real estate market, or does it just matter where you are in life? Many professionals agree that whether or not you are prepared to purchase a home should depend on your cash situation! Continue reading to learn how age and house possession are related.
For many people, owning a house is a fantasy. While some attempt to make this an actuality by beginning to save early, others immediately begin to purchase things. But almost everyone is curious as to when one of life's most significant choices should be made. Navimumbaihouses.com consults specialists to determine what they believe is the ideal age to purchase real estate.
---
Are you looking 2BHK flat for Rent In Kharghar? 
---
Buying at an early age (25-30)
Their buying power is rapidly increasing as a result of growing average salaries in India. Financial advisors and organizations are increasingly observing young people under 25 joining the purchasing cycle. "Buying a home at a young age has no drawbacks because it is a family possession. However, the percentage of the loan at a later time can be decreased if one can put off the choice and save more money to pay for the property as the down payment. The goal is to limit the debt sum to a minimal.
"It is typically observed that for married couples with kids, a house purchase takes a back seat to their kids' schooling. But for a single person, it's usually their primary concern.
Ideal Age To Purchase A Home
However, bear the following things in mind if you are thinking about purchasing a house at such a young age:
To ensure that you can use this money instead of your savings in the event of a disaster or job loss, you should have an emergency fund that can cover your expenditures for at least 8 to 10 months, including the Equated Monthly Instalments (EMI).
If you are single, you should have term life insurance that covers at least 125 percent of your entire mortgage. The amount should be 200 percent of the house credit taken out, though, if you are married. This will guarantee that the house loan balance is paid off in the event of an unexpected event and that your family's future expenditures are covered.
Avoid attempting to prepay the debt before the five-year period because there are several financial advantages.
Since it may have an impact on your living, EMIs shouldn't be more than 30% of your monthly income.
Try to save money equivalent to the EMI, and spend it for a minimum of five years in a financial instrument. You might consider paying off the debt early once you've built up a capital.
Ideal Age To Purchase A Home: Buying at a later stage (40+)
The possibility of paying for a house out of funds rather than taking out a mortgage is the biggest benefit of purchasing a home later in life. A long-term investment that has been considered can assist with this. As technology and lifestyle continue to advance, it's possible to locate a decent bargain with more amenities.
But there are some drawbacks to waiting until later in life to start shopping. An individual begins to think about retirement after 40 years, so they start saving money for it. If a house credit is taken out at this time, it might cause him problems when he retires.
That "People buying a house later in life might not get longer loan tenures." At this age, banks typically do not permit debts longer than 15 years.
You might also need to take into account other objectives, like your kids' marriage and schooling.
Ideal Age To Purchase A Home: The ideal age (30-35)
Ideal age, "when you have saved 30–40% of your home budget and are able to easily service the balance amount through EMI either individually or jointly with your spouse." Remember to cover your health and life risks, as well as the emergency fund you need to put aside (equal to at least six months of your weekly expenditures).
When young people in urban areas are between the ages of 30 and 35, they typically achieve the above equation. Additionally, compared to earlier in life, the income would be greater now, and a bank loan for 20–25 years might be available.
Because people don't prepare, people regretting their actions in both situations. "People who put off planning for a goal like a future house purchase lament it because they end up compromising on the other objectives. Many people also purchase homes at young ages without making plans for debt repayment or a disaster fund.
It all comes down to how well one has prepared for the objectives outlined. No matter where you are in the investment process. Purchasing a home can go much more smoothly with careful preparation and steady direction.
---
You're looking for Rental Home In Kharghar we have the Best Rental Properties In Kharghar Like Ready to Move & Nearby possession: https://navimumbaihouses.com/property/search/rent/kharghar/
If you want daily property update details please follow us on Facebook Page / YouTube Channel / Twitter 
Disclaimer:
The views of this expressed above are for informational purposes only based on the industry reports & related news stories.
Navimumbaihouses.com
does not guarantee the accuracy of this article, completeness, or reliability of the information & shall not be held responsible for any action taken based on the published information.
Also Read
Rent Properties in Kharghar