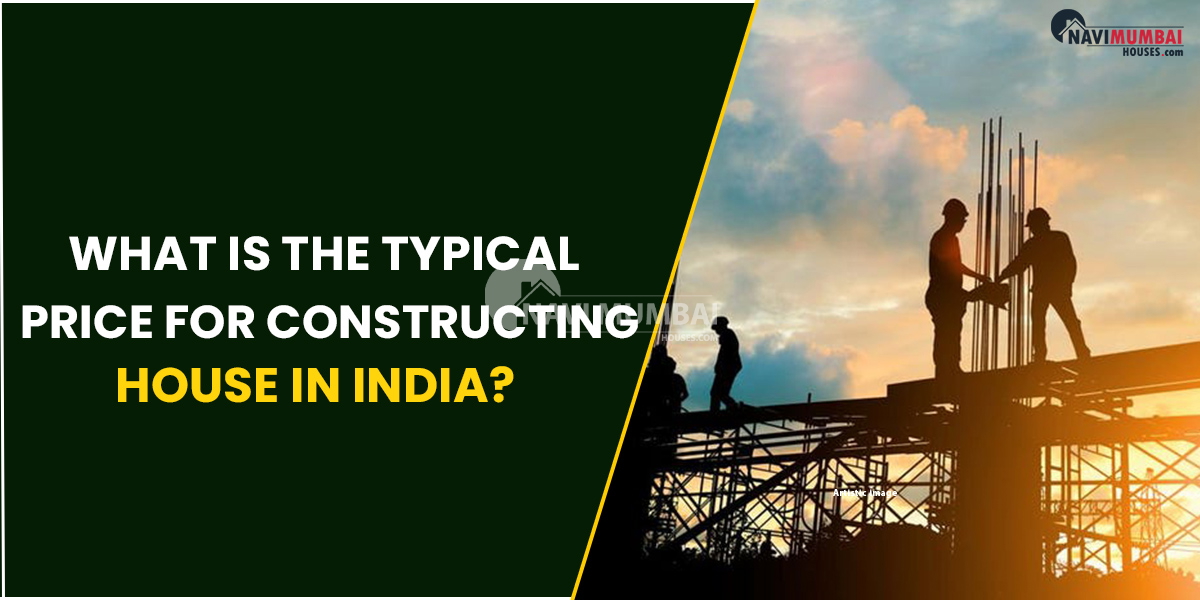 What Is The Typical Price For Constructing House In India?
House In India : Many people favor homes that are individually designed and built. However, before you start, be aware of the procedure' direct and indirect expenses. An investment estimate would be very helpful even though these costs might differ between States depending on the location, labor costs, and basic material outlays. Continue reading to find out how much it costs to build a home in India.
Despite having a wide range of perks and utilities, dwelling units in gated communities are typically not custom-made. As a result, autonomous house constructions are more popular because they give residents the freedom to design their homes however they see fit. However, building a home presents unique difficulties. To prevent financial mismanagement, extreme patient and meticulous building estimates are needed. In most cases, homeowners are either ignorant of the growth expense or careless about it. As a result, a variety of problems could materialize, ranging from cost inflation to poor building quality. navimumbaihouses has compiled the important factors to take into account when determining the typical cost of building a home in India to assist in the process.
---
Are You looking Flat For Rent In Kharghar? 
---
Average cost of construction in India (March 2023)
| | |
| --- | --- |
| Expenses | Average Expenditure for a 1,000 sq ft home |
| Architect | Rs 15,000 onwards |
| Brick wall construction (without RCC) | Rs 800 per sq ft |
| Brick wall construction with RCC) | Rs 900 per sq ft |
| Civil work | Rs 1,500 per sq ft |
| Electrician/Plumber | Rs 2,500 per sq ft |
| Raw material cost | Rs 7 lakh onwards |
In India, constructing a 1,000 square foot home can run you around Rs 12 lakh. This may change depending on the location and other elements like the abundance of labor, the quantity of raw materials, and the standard of the furniture you're using.
However, the typical price may vary significantly between States. For instance, in Tamil Nadu, the price to build a 1,000 square foot home typically ranges from Rs 14 lakh to Rs 16 lakh. However, depending on the civil and closing costs, it might differ. Depending on whether you want to create an affordable or luxurious house, the expense of construction per square foot in Tamil Nadu typically varies from Rs. 1,500 to 5,000. The sum for building a house also includes the costs for finishing and civic work.
While finishing costs range from Rs 600 to Rs 1,900 per square foot separately, municipal costs in the State range from Rs 900 to 1,300 per sq ft. Each of these costs adds up to roughly Rs 1,500–3,000 per square foot. To put things into context, it will cost more than Rs 20 lakh to build a 1,000 square foot condominium in Tamil Nadu that is not furnished.
House In India: Factors affecting building costs
Here are a few of the key elements that can affect how much it costs to build a home in India.
Planning and Design
The expense of building is significantly influenced by design and planning. Long-term savings can be achieved with careful preparation and a well-designed home. Working with a seasoned architect is crucial if you want to produce a design that is both visually appealing and cost-effective.
House In India: Material Quality
The expense of construction can be greatly influenced by the quality of the products used. High-quality materials may be more expensive up front, but they can save money over time by lowering upkeep costs and lengthening the life of the building.
House In India: Location
The expense of building is significantly influenced by location. Building a home in a large metropolis can be more expensive than building one in a smaller community. Location also affects the pricing and availability of workers and supplies.
House In India : Labor
Depending on the market and the region, work costs can change. There might be a shortage of qualified workers in some regions, which would raise labor expenses. Working with a trustworthy contractor who has access to expert personnel at a fair price is crucial.
How should a building site be chosen?
The choice of the home's site is a vital element that is just as significant as the anticipated building cost in determining the required investment for the project.
Plot-related information aids in understanding the project's built-up and carpet areas, so it is one of the first stages in determining the typical cost of building.
According to industry specialists, the appropriate property should have the accompanying title deed and encumbrance papers, as well as utility invoices from the prior proprietor. The customer must also carefully examine the type of property the plot belongs to, whether it is agricultural or not. A change of land use approval will be necessary in order to use the property for residential building. In order to guarantee compliance with the current construction norms, the buyer must also have a clear understanding of the plot's Floor Area Ratio (FAR).
House In India: How are building expenses determined?
House In India: Plot structure
The plot plan is the first stage in building a home. Here, a design plan for the chosen plot is created by a builder or artist. A plan sketch typically shows the rooms, kitchen, bathrooms, staircases, porches, terraces, storage areas, parking, and any other spaces you might want to include. The price charged by the architect or design engineer, however, is based on the size of the property and is in return for the services provided.
For instance, the planner might bill between Rs 15,000 and Rs 20,000 for a spot measuring 1,000 square feet. However, there may be a small variation in frequencies between places.
3BHK Rental Flat In Navi Mumbai
Regulatory laws and norms
Different places have different building codes, which could lengthen project timelines and raise construction costs. For instance, if your property is situated in an ecologically sensitive area, you must request building approval from the local agency or gram panchayat that has authority over your property. Cost overruns and postponed project dates could come from this.
Additionally, in order to receive approvals, strict construction regulations in some places must be followed. For instance, stilt parking is essential if you're going to construct a two-story home in Delhi. If this clause is missing from your construction design, the municipal authority will reject it.
The expense of building a home primarily relies on two factors, structural work and finishing work, The house's framework is part of the structural work, which also includes the doorways, windows, wooden cabinets, carpeting, roofing, designs for the walls, and painting.
Depending on the location and building spot, the total cost of construction can range from Rs 1,000 per square foot to Rs 5,000 per square foot.
3BHK Rental Flat In Navi Mumbai
House In India-Civil cost
The expense of basic materials used to build the foundation, walls, roof, border wall, parfait, floor work, and plastering is a significant component of the building cost. Bricks, cement, concrete, sand, and reinforced cement concrete (RCC) reinforced steel are the primary basic components. However, estimating the quantity of basic materials is typically challenging because it heavily relies on the structure's design. Additionally, labor costs, contracting fees, and shuttering costs are included in the civil expense.
Hire a worker with expertise in the building industry, it should be noted. There are many difficulties in civil building, and there may be instances where the contractor must make quick choices. Consequently, the knowledge would make things simpler and less complicated.
Brick wall building without RCC columns typically costs between Rs 800 and Rs 900 per square foot. Contrarily, the cost of building a masonry wall with an RCC support is between Rs. 900 and Rs. 1,000 per square foot.
The expense of labor, which differs across regions, accounts for a sizeable part of the cost of building a home. The labour cost across residential, commercial or industrial projects ranges around Rs 140-200 per sq ft for building a structure; however, it is around Rs 70-100 for finishing assignments like tiling, electrical fitting, plumbing, painting and putty, door framing and fabrication, and miscellaneous work like curing, repair, and storage.
Around Rs 10–12 per cubic ft. is the labor expense for excavating the soil to prepare the location. It is crucial to remember that the costs stated are only intended to serve as an estimate to help determine a more precise building cost.
House In India- Finishing cost
As previously stated, finishing work includes pop work, grillwork, doors, windows, wooden work, electric fittings, and sanitation fittings. Depending on the facilities included, the finishing expense typically ranges from Rs 500 per sq ft to Rs 3,000 per sq ft.
Additionally, labor expenses such as that of an electrician, sewer, tile mason, woodworker, painter, and polisher are included in finishing costs. A house's building expenses primarily consist of the cost of the civil work as well as the finishing costs. As a result, according to Kuntal, the price to build a house of 1,000 square feet can range from approximately Rs. 1,300 to Rs. 5,000 per square foot.
Typically, architects, contractors, or other expert estimating companies provide figures for building costs. The caliber of the building components, however, is a crucial consideration when it comes to self-evaluation.
Types of raw resources for building and their prices
The raw elements for building are separated into three groups, C, B, and A.
C Class: Involves using inexpensive fittings, low-grade cement, steel, and low-grade stones and sand for building. Typically, it costs Rs 7-8 lakh to build a 1,000 square foot C-class home.
B Class: This kind of construction uses medium-quality building supplies, such as steel, mortar, and furnishings and fittings. In contrast to C class, a 1,000 square foot home constructed with B class materials would cost between Rs. 10 and Rs. 11 lakh to finish.
A Class: Because this kind of building requires the finest materials, the price to build a 1,000 square foot home can range from Rs 15 lakh to Rs 25 lakh.
2BHK Rental Flat In Navi Mumbai
Furthermore, the construction cost may also be influenced by external factors, such as:
Construction delays owing to the non-professional attitude of the contractor, labour strikes, or holidays
Increased rental costs of the building equipment
Inefficient use of equipment that results in overhead costs
A rise in the material prices
A rise in the labour charges
Although the aforementioned scenarios may or may not occur, it is always preferable to be ready for unexpected difficulties and plan a budget appropriately to ensure a trouble-free building process. The flexibility of 15-20% of the total building cost should be kept, according to experts, in case there are any unforeseen situations during the process. Additionally, when determining expenses, homeowners must factor in the Goods and Services Tax (GST) on building supplies.
2BHK Rental Flat In Navi Mumbai
Impact of macro factors on construction costs
The COVID-19 pandemic and the conflict between Ukraine and Russia have greatly increased India's construction expenses. The typical cost of building a home in India has increased by up to 25% due to factors such as rising fuel costs, a labor scarcity, and the high cost of essential input materials like steel, cement, stone, and plywood. The expense of shipping has been a major contributor to the increase in building costs in India as crude oil prices increased to USD 96 per barrel.
Although the process of building a house may seem drawn out and require careful planning of costs and resources, it is highly advised to break down the requirements in order to prevent unexpected costs when the project is actually being carried out.
How can building expenses be decreased?
Here are some recommendations for lowering the total expense of construction in India:
Sources that are nearby. Choose materials that are readily accessible locally, whether it be cement, bricks and blocks, doors and windows, tiles, restroom fixtures, or pipelines. You'll spend much less on transit.
When determining the building expense, take the Goods & Services Tax into account. Building supplies are taxed at a rate of about 28%, which can dramatically increase the cost of your building project.
Take an extended view. Use high-quality building components to reduce the need for ongoing repairs and upkeep. Future expense savings can also be achieved by using greener options. You can think about a time period of 30 to 50 years.
Before choosing a builder, consult with several and obtain quotes. You would acquire a better understanding of market prices and your own negotiating position as a result. If you are supplying the building supplies, you can reduce labor costs by hiring fewer or more individuals at once.
Building a home may appear to be a labor-intensive procedure that consumes a lot of time and energy. For homeowners who want to live in a place that is tailored to their wants and preferences, however, this might work marvels. Additionally, if raw materials and costs are regularly scrutinized, your house is more likely to be of excellent quality and need fewer repairs in the long run. However, it is advised to seek expert help to make sure that every stage of the building is carried out correctly and without any errors.
---
You're looking for Buy Home In Navi Mumbai we have the Best Buy Properties In Navi Mumbai Like Ready to Move & Nearby possession: https://navimumbaihouses.com/property/search/buy/navi-mumbai-all/
If you want daily property update details please follow us on Facebook Page / YouTube Channel / Twitter
Disclaimer:
The views of this expressed above are for informational purposes only based on the industry reports & related news stories.
Navimumbaihouses.com
does not guarantee the accuracy of this article, completeness, or reliability of the information & shall not be held responsible for any action taken based on the published information.
Also Read
Rent Properties in Navi Mumbai