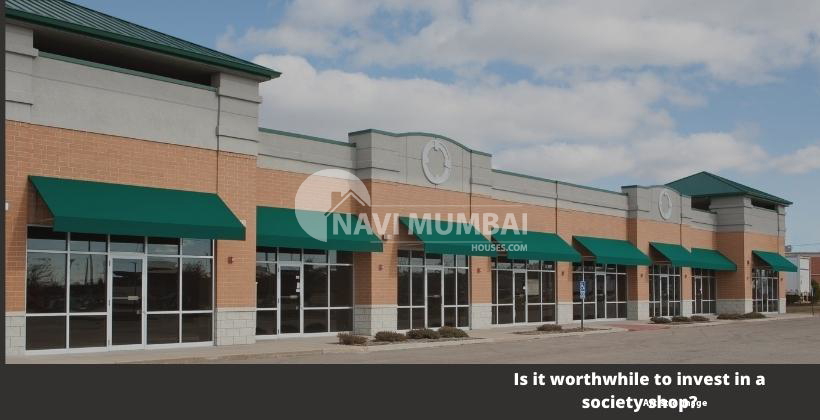 Is it worthwhile to invest in a society shop?
Convenience stores are a godsend in a housing society. What may appear to be a benefit to a large number of occupants of high-rise buildings, however, is sometimes bad business for investors. Many dysfunctional commercial units within housing societies are telltale symptoms of this, whether due to exorbitant rents or crowded competition.
---
---
Due to high real estate expenses, investors frequently argue that society stores are not worth the investment. The complaints are frequently justified. How could a developer sell commercial flats in an affordable housing complex for Rs 18,000 per sq ft when the average residential unit is Rs 3,500 per sq ft? In such instances, the investors may not break even for an indeterminate period of time.
Take Greater Noida West, for example, a residential market with around 3.5 lakh future flats. Every housing society has a store, and there is a massive oversupply. Rajesh Singh purchased two businesses for Rs 50 lakh each, with the hope of generating Rs 50,000 in monthly rentals. This expectation of 12% rental income is not unreasonable. However, there appears to be an oversupply given that only about 1.5 lakh flats in the micro-market were ready for occupation. He is only earning 6% rental yields with little potential for capital appreciation. He claims that tenants leave the stores with complains of business losses on and off.
Advantages of society shops
Convenience to residents
Quick home delivery
No uncertainty with online delivery timings
Saves time and fuel
Disadvantages of society shops
High real estate cost
Difficult to achieve break-even, with daily-use items
Vast online choices versus limited inventory with society shops
Competing businesses
What is the purpose of society shops?
The primary goal of society stores is to provide convenience to inhabitants. They are designed so that residents do not have to leave the building to obtain their daily necessities. The commercial FAR (floor area ratio) is now regulate at 2 to 5, depending on the society's size.
However, it appears that the intention is to invest and profit rather than to be served. So far, no developer has offered the society stores on a lease basis. All of them, without exception, are part of the outright sale concept.
Given the high real estate cost of doing business per square foot, the question for investors is that the society shops are worth the price. Must the price of society stores be capp in line with the cost of housing?
Society shops: What is an ideal price?
If these businesses have a price cap, they make little financial sense from a developer's standpoint. These shops are in more demand since they are a profitable investment. "A developer must devote resources, time, and inventory to build these businesses in strategic locations. We feel that the greatest judge for determining the pricing based on location, size, and footfall is market forces. Furthermore, there is no statutory entity that can impose a price cap or ensure that the price cap is followed,"
Price is a significant but not the primary regulating consideration. Another significant aspect for commercial real estate developments is location. Society stores offer a distinct benefit in terms of location, as they are strategically position within the housing complex and receive more foot traffic. The convenience that these establishments provide to locals is their major selling point, shop on rent in mumbai.
"The majority of these stores are expensive. The demand & footfall that these establishments may generate determine if they are worth the price. It also depends on the manager's ability to manage the inventory and keep the goods moving. Prices at society shops should be capped in proportion to their location and potential footfall. Furthermore, classifying these stores as commercial is unfair because they are create to meet the needs of the community. If these convenience stores were more reasonably priced, there would be more demand."
Factors that could make society shops lucrative for investors
Price capping of real estate
Lease model by developers in large format townships
Long-term leasing
Tax benefits like residential units
Lower maintenance and upkeep cost
Loading that is similar to residential units
Should you invest in society shops?
Having larger shopping malls in residential neighborhoods often exacerbates the problem. There may be concerns about noise, security, and privacy. However, before making a buy commitment, an investor should consider the following metrics:
The first question is that the catchment area is large enough even for stores to operate. Are the society shops able to serve the local societies as well?
An investor should also consider the possibilities of society shops in comparison to local kirana businesses, as well as any nearby high streets or malls.
The pricing of the society shop in relation to the housing sector should also be consider. The inhabitants' purchasing power is crucial for shops to succeed in housing societies. The investment vs. return equation also applies to reasonable rental potential.
The area's future development potential is the fourth factor to evaluate. Capital appreciation is more likely in a developing area than in a saturated micro-market.
Finally, the percentage of loading must be checked by the investor. When it comes to society shops, developers frequently go up to 50% loading, as opposed to 25%-35 percent loading on residential apartments.
---
Disclaimer:
The views of this expressed above are for informational purposes only based on the industry reports & related news stories.
Navimumbaihouses.com
does not guarantee the accuracy of this article, completeness, or reliability of the information & shall not be held responsible for any action taken based on the published information.
Also Read
Buy Properties in Navimumbai