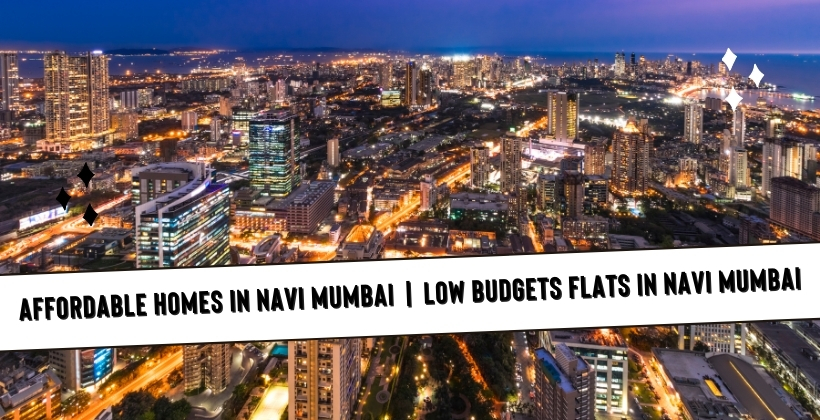 Affordable Homes in Navi Mumbai | Low Budgets Flats in Navi Mumbai
Navi Mumbai Affordable Homes are the best homes for those who want to buy a home in Navi Mumbai. These affordable houses are available at low budgets and they come with amenities that make daily life easy and comfortable. Affordable housing projects in Navi Mumbai are designed in such a way that it is possible for people of all income levels to buy one or more homes here. You can find some good residential builders near you by checking out our list, which we have compiled after extensive research on this topic.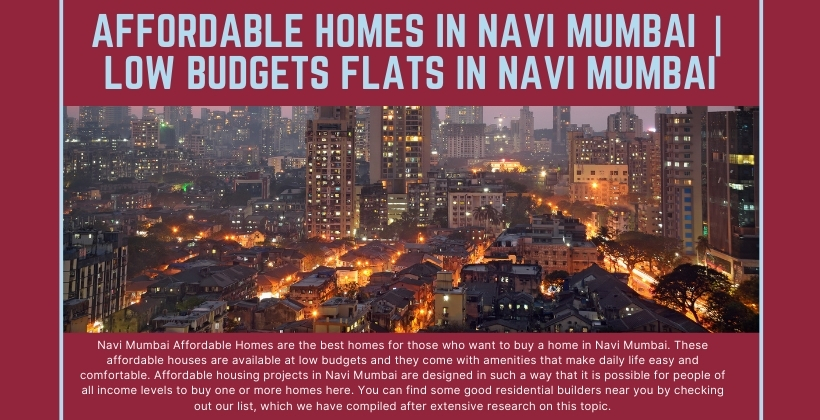 Over the last decade, the Navi Mumbai area has seen significant growth. It has numerous regions that have undergone significant transformations and have become highly desirable places to reside. Because of its planned infrastructure and job opportunities, Navi Mumbai, like Mumbai, attracts individuals from all across the country. However, these factors have also led to a growth in the city's population and an increase in real estate values to some extent. Since then, several parts of Mumbai have surpassed capacity. As a result, numerous micro-markets have sprouted up in Navi Mumbai.
Affordable Houses in Panvel:
New Panvel is home to the majority of Panvel's recent projects. CIDCO is important in the development, Flat for sale in kharghar, administration, and upkeep of New Panvel. New Panvel, like Old Panvel, is a Navi Mumbai node. Despite the fact that New Panvel residents used to elect a representative to the Panvel Municipal Council, the Municipal Council had no authority or management over any administrative or development activity in the city.
The Panvel Municipal Corporation has been in charge of New Panvel since October 2016.
The construction of New Panvel began in 1970 to satisfy the housing needs of people working in adjacent industrial MIDC zones including Taloja, Rasayani, Patalganga, and Pen.
New Panvel is ideally positioned on the Mumbai-Bangalore National Highway (NH-4) on the eastern side and just west of the Mumbai-Pune Expressway on the western side. By road and rail, it is well connected to the rest of India.
New Panvel is split into two sections: East New Panvel and West New Panvel (commonly known as Khanda Colony). There are 19 and 23 sectors in each of them, respectively. Panvel and Khandeshwar have their own railway stations.
The projected Navi Mumbai International Airport, which is located near Ulwe, a Navi Mumbai node, is just next to New Panvel. There are several schools, universities, hospitals, general stores, and businesses in the area. New Panvel is also a famous location for Vada Pav, a popular dish.
Property price in Panvel: 
| Locality in panvel | Buy Rates | Starting Rental Rates |
| --- | --- | --- |
| New Panvel | Rs. 5,610 - 7,522/sq. ft. | Rs. 5,650 |
| Panvel | Rs. 5,865 - 7,310/sq. ft. | Rs. 7,914 |
Flat for Sale in Kharghar is a Navi Mumbai smart city node that is administered by Panvel Municipal Corporation. Raigad district's northernmost point is where it is located. The City and Industrial Development Corporation was in charge of its creation (CIDCO).

In Kharghar, CIDCO Navi Mumbai is planning a tiered complex with a pyramid-shaped center hub of high rises, similar to the Bandra-Kurla Complex (BKC). When the central park and golf course are included, the new building will cover 200 hectares. On 125 hectares of land, the true business center will be built. Cidco has chosen to create a tiered structure, with the outside fringe receiving 1-2 FSI and the center receiving 3 FSI. Around half of the land (120 hectares) has been set aside for high-rises with a 3 FSI pyramid-shaped construction. Corporate plots will be auctioned off, with the wealthier companies fighting for the center of the corporate park. In contrast to BKC, shops and commercial premises will be constructed to provide nightlife,
Affordable Prices in Kharghar: 
| Locality in Kharghar | Buy Rates | Starting Rental Rates |
| --- | --- | --- |
| Kharghar sector 1 to Sector 21 | Rs. 8,288 - 9,775/sq. ft. | 14000 above |
| Kharghar sector 35 beyond | Rs. 6,630 - 7,352/sq. ft. | 10,000 above |
Flat for Sale in Taloja is a census town in the Raigad district of Navi Mumbai city, Maharashtra, India. advanced infrastructure hub Panvel Municipal Corporation governs this expansion of the Kharghar node. Taloja is the beginning location for the Navi Mumbai Metro Phase I, which begins at Pendhar. CIDCO divides Taloja into two phases: Phase I and Phase II,
Property price in Taloja: 
| Locality in Taloja | Buy Rates | Starting Rental Rates |
| --- | --- | --- |
| Taloja | Rs. 4,462 - 5,440/sq. ft. | Rs. 4,862 |
| Taloja Panchanand | Rs. 5,312 - 6,120/sq. ft. | Rs. 7000 |
| Taloje Majkur | Rs. 4,208 - 4,548/sq. ft. | Rs. 5,500 |
| Taloja Pethali Paon | Rs. 5,208 - 4,548/sq. ft. | Rs. 6000 |
Flat for Sale in Ulwe (also known as Ulwa, Ulva, or Ulawe) is a Navi Mumbai node located between Belapur and Nerul. CIDCO is the company that created and maintains it. It is situated in the Raigad district of Maharashtra. It will shortly fall under the jurisdiction of the Panvel Municipal Corporation.
Ulwe features a sports complex that includes a football field, badminton court, hockey rink, swimming pool, and indoor stadium. Due to its geographical position and closeness to the under-construction Navi Mumbai International Airport, the Seawoods-Uran railway line, and a projected Trans-harbor link from Sewri to Chirle village in Nhava Sheva, property rates in Ulwe have skyrocketed[clarification needed.
Reliance Industries Ltd. has large land tracts in Ulwe, on which large residential and commercial activities are planned to begin. The Bamandongri railway station, named for the hamlet community in the node, is the nearest station.
Ulwe is a rapidly expanding node of Navi Mumbai, with several structures and developments under construction. Buildings for CIDCO are also being erected in the area. Ulwe is close to the Navi Mumbai international airport. A maritime link between Sewri and Nhava Sheva is being considered, basic, no-frills amenities are affordable homes in ulwe Navi Mumbai.
Affordable Price in Ulwe:
| Locality in ulwe | Buy Rates | Starting Rental Rates |
| --- | --- | --- |
| Ulwe | Rs. 6,630 - 7,650/sq. ft. | Rs. 6,018 |
| Sector-3 Ulwe | Rs. 6,502 - 7,182/sq. ft. | Rs. 5.500 |
| Sector-9 Ulwe | Rs. 7,098 - 8,245/sq. ft. | Rs. 6500 |
| Sector-10/B Ulwe | Rs. 6,842 - 7,905/sq. ft. | Rs. 7000 |
Q. What are the important tips for buying a home in Mumbai?

A. 1. Determine what type of home and location you want.
2. Then decide on the type of flat you want: 2BHK, 3BHK, etc., based on the size of your family and their/your needs.
3. As it is a big decision in buying a property, set a budget or a maximum amount you want to spend. If you want to take out a house loan, please review your financial situation for at least the next five years, as home loan EMIs are quite expensive.
4. Begin looking for projects that match your budget and specifications. Consider the society you want to join as well as the costs of maintaining it. Please consider the maintenance personnel as well as the security of the society you are forming.
5. Please have a look at both old and new work. Then weigh the options and determine which is best for your family.
6. If you have to wait for a project that is excellent, I would advise you to do so.
7. Please include your CA in every transaction you undertake when distributing funds to avoid any legal or tax concerns.
8. Remember and consider what you're paying for. Please bring a little sum of money in cash and another in the form of a check. Remember to maintain track of your balance sheet in order to save money on taxes.
9. Congratulations, you've made your decision now.
10. After all of this, you and your family may contentedly live in your new house. I hope the suggestions are useful.
Q. Should I rent or buy a house in Mumbai
Purchasing a home in Mumbai will force you to check your wallet or savings account frequently. People go to Mumbai, which is known as the Mayanagri, to test their luck. The development of numerous IT firms has increased the standard for real estate properties, thereby raising rental real estate property pricing to new heights.
Renting a home, apartment, or PG in Mumbai is preferable to purchasing since the cost of real estate properties will take your breath away.
Property in Mumbai is so expensive that you'll need to save thousands and crores of dollars to realize your goal of owning a home in such a cosmopolitan city.
The advent of rental listing sites such as www.navimumbaihouses.com may assist you in obtaining precise data about rental homes as well as their exact cost to some extent.
A 1 BHK house in Mumbai costs between 50 and 60 lakhs, which is way too expensive for the outskirts of popular neighborhoods. Before you buy something, think about it.
We are the Real Estate Web Portal to Buy Sell and Rent properties in Navi Mumbai, Mumbai, and Thane. We can help you Buy Properties at Affordable Prices at your desired location. For more information Call Us On +91 8433959100
If you want daily property update details please follow us on Facebook Page / YouTube Channel / Twitter
Disclaimer:
The views of this expressed above are for informational purposes only based on the industry reports & related news stories.
Navimumbaihouses.com
does not guarantee the accuracy of this article, completeness, or reliability of the information & shall not be held responsible for any action taken based on the published information.