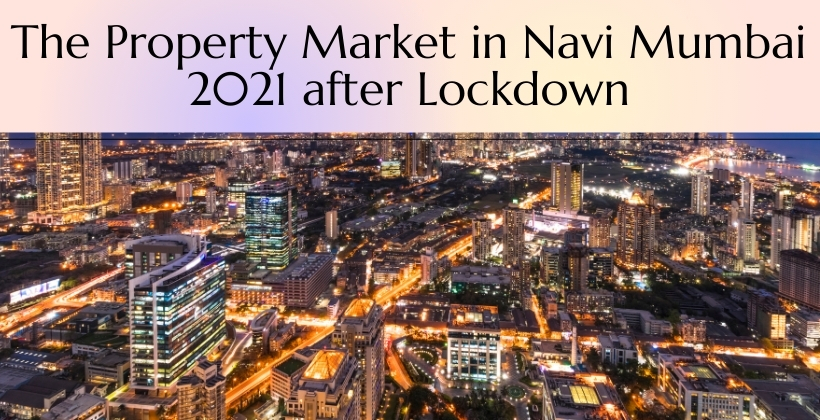 The Property Market in Navi Mumbai 2021 after Lockdown
The property market in Navi Mumbai has been on a constant decline for the last few months. Flats for sale in navi mumbai the property market saw its best days during the last quarter of 2018 but now it is going through a lockdown and property rates are expected to drop even further. This post talks about what property prices were like before the lockdown and how they might change in 2021 when things get back to normal.
Navi Mumbai 2021 Property Market after Lockdown
Some reason I explain to you what property market is currently in Navi Mumbai after the second wave of Covid-19 pandemic
Property rates in Navi Mumbai have been continuously declining for the last few months and are expected to drop even further with a property market lockdown. Earlier, property rates had peaked during the last quarter of 2018 but now they will be going down from here on out as things
During the April-July season of 2021, property rates in major Indian cities soared, owing to the second wave of the Coronavirus epidemic, which put pressure on supply and forced builders to raise prices.
It is possible property prices in Navi Mumbai will also rise again during the April-July season of 2021, thereby ending a property market lockdown.
In other words, it's very likely property rates will stay low for the next few months and then go back up to previous levels by July as the business returns to normalcy.
Price growth: City-wise break-up
Even though the impact of the Coronavirus-related economic problems on property prices in India's megacities was minimal, the second wave of the COVID-19 pandemic is expected to have a significantly greater overall impact, notwithstanding industry groups' optimistic predictions, in the various city are City-wise break-up & annual growth.
| City | Average price as on July 2021 (in Rs per sq ft) | Annual growth in % |
| --- | --- | --- |
| Airoli | Rs. 10,200 - 12,112/sq. ft. | 3 |
| Belapur | Rs. 9,648 - 11,688/sq. ft. | 2 |
| Kharghar | Rs. 8,288 - 9,775/sq. ft. | 3 |
| New Panvel | Rs. 5,610 - 7,522/sq. ft. | 2 |
| Vashi | Rs. 13,600 - 16,362/sq. ft. | 2 |
According to a Reuter's survey released on May 21, 2021, the second COVID-19 wave will have a severe impact on Asia's third-largest economy, predicting real estate sector prices will decline by up to 5% to 10%.
The real estate sector lockdown is expected to end in the April-July season of 2021, with property rates rising again as things return to normalcy and business resumes after a short delay. Henceforth property buyers are advised not to panic-buy during the lockdown period: it's possible they will end up paying more property than they otherwise would have.
The second wave, according to a recent study report by QuantEco Research, would damage the Indian economy by encouraging individuals to save rather than spend. Because property purchases need large sums of money, demand for dwellings in the time after the second and third waves in India will be muted.
As a result of the stress on demand, the values of properties may be severely affected.
– Property market in Navi Mumbai
Know the current situation real estate sector is up down because of Carona virus outbreak property is expected to go up property market in Navi Mumbai
property prices before lockdown property rates after lockdown and return to normalcy 2021 advise buying the property during lockdown so you can use the online website (portal) to help you to purchase property
– Real estate markets property prices before lockdown
Shortly I explain to you before 2018 it was property price is very increasing month by month in Navi Mumbai. it's the right time to invest in property in Navi Mumbai if you want to purchase homes in Navi Mumbai so we can help you to the right way to buy property at an affordable price so please visit our website NaviMumbaiHouses & search your preferred location in Navi Mumbai
– forecast for real estate industry property rates after lockdown and return to normalcy 2021
Unlike the first wave, which highlighted the importance of homeownership over other assets in the case of a pandemic and so functioned as a demand propeller for the housing sector, the second wave of the Coronavirus may actually undermine the demand momentum created by the first wave.
Nonetheless, India's housing affordability has considerably improved since 2015. JM Financial Institutional Securities Ltd stated in a report dated July 24, 2021 that home affordability in India had improved over time, owing to the fact that yearly wages have been economic growth while property prices have been relatively steady since 2015.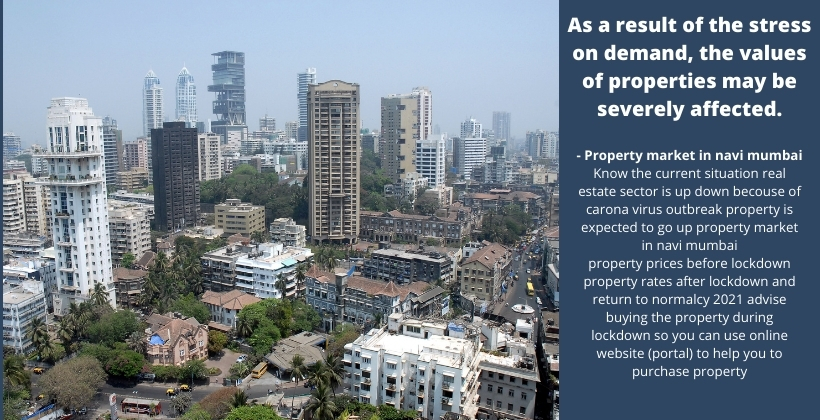 Real estate developers & residential property market
The real estate industry is one of the most well-known in the world. Housing, retail, hospitality, and business are the four subsectors. The expansion of this industry is aided by the expansion of the corporate environment, which has increased demand for office space as well as urban and semi-urban lodging. In terms of direct, indirect, and induced impacts in all sectors of the economy, the construction industry ranks third among the 14 key industries.
After agriculture, the real estate sector creates the second-highest number of jobs in India. This industry is also projected to attract greater non-resident Indian (NRI) investment, both in the short and long term. The most popular property investment destination for NRIs is likely to be Bengaluru, followed by Ahmedabad, Pune, Chennai, Goa, Delhi, Mumbai and Dehradun.
In the second half of 2020 & 2021, 86,139 housing real estate assets units were launched in India's top eight cities. From October to December 2020 & 2021, home sales volume in India's eight major cities increased by 2x to 61,593 units, compared to 33,403 units in the previous quarter, housing affordability indicating a healthy recovery following the strict lockdown imposed in the second quarter due to the spread of COVID-19 across the country.
An increase in rates of raw material may boost property prices
Iron prices have risen by Rs 20,000 per tonne in the previous three months, representing an almost 50% increase. Aside from that, copper and aluminum prices have risen, putting upward pressure on building expenses. The rise in raw material prices will put the brakes on the recovery of the real estate sector, said Ashok Mohanani, president of NAREDCO-Maharashtra. "At a time when the real estate industry is already feeling the pressure of the second wave and lockdown restrictions, the rise in raw material prices will put the brakes on the recovery of the real estate sector," he said.
FAQs property market in Navi Mumbai 2021
Q. The next big real estate battle: Thane or Navi Mumbai?
A. Despite the work from home (WFH) trend, urban clusters that will develop as the new "homes" will most likely be near to the major city, where a visit to the office once or twice a week will be possible. From that vantage point, Thane and Navi Mumbai are worth seeing.
Q. What will be the impact of COVID-19 on the housing market?
A. the Coronavirus epidemic is expected to reduce home demand in the short run.
Q. Will COVID-19 impact property prices?
A. Because the overall cost of projects is expected to rise, prices are unlikely to alter significantly.
Q. Why Indian real estate market will bottom out in 2021
A. In the aftermath of the viral outbreak, housing sales may suffer as firms reduce employees to offset losses.
Q. Why property prices in India might not drop after COVID-19?
A. the Indian developer community has been in a tizzy since union minister of commerce and industry Piyush Goyal declared on June 3, 2020, that builders needed to sell home projects at lower rates and get rid of unsold stock. The minister added in a stern message to the community that the government may grant certain circular rate concessions to ease their load, but that they must be more cooperative in lowering costs.
Q. What should an investor do?
A. Housing prices in a few of India's megacities have dropped significantly. While anticipating immediate appreciation is not a good idea, the current situation does provide investors the option to invest in residential real estate at a cheap price point. Because prices are unlikely to fall further, this might be an excellent chance for purchasers provided they can come up with the finances. Housing finance is also accessible to purchasers and investors at comparably inexpensive costs, as house loan interest rates are now at record low levels.
Navi Mumbai Property Trends & Rates after Lockdown, Commercial / Residential March – 2021
We are the Real Estate Web Portal to Buy Sell and Rent properties in Navi Mumbai, Mumbai, and Thane. We can help you Buy Properties at Affordable Prices at your desired location. For more information Call Us On +91 8433959100
If you want daily property update details please follow us on Facebook Page / YouTube Channel / Twitter
Disclaimer:
The views of this expressed above are for informational purposes only based on the industry reports & related news stories.
Navimumbaihouses.com
does not guarantee the accuracy of this article, completeness, or reliability of the information & shall not be held responsible for any action taken based on the published information.
Also Read
Buy Properties in Navimumbai