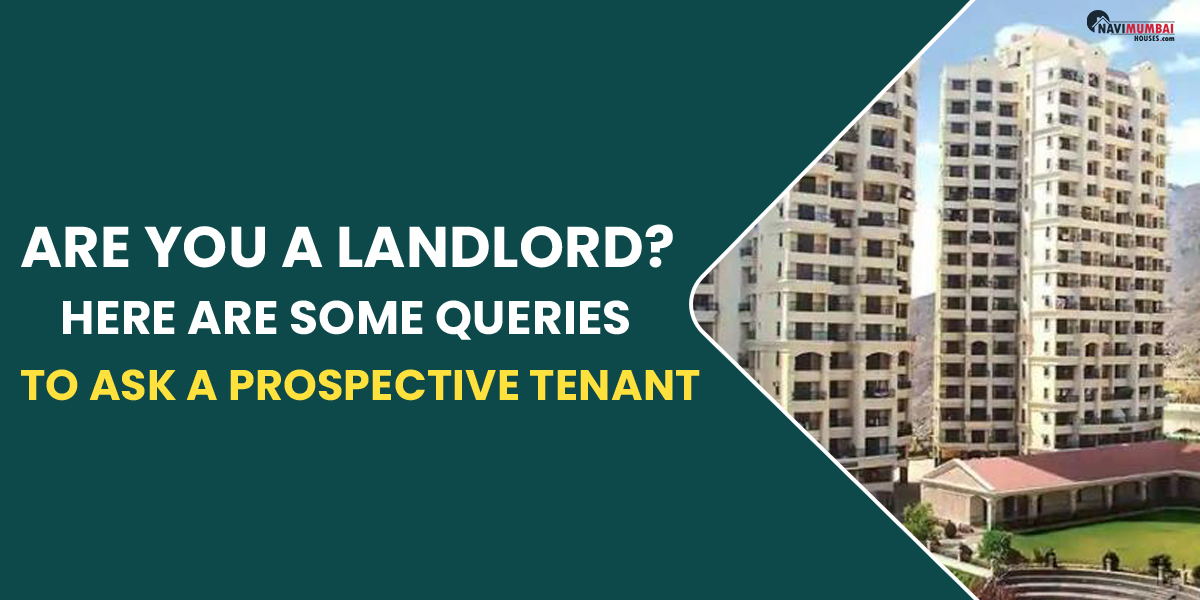 Are you a landlord? Here are some queries to ask a prospective tenant.
You should be prepared with a list of questions that will help distinguish between legitimate applicants and those more likely to cause problems down the road when a prospective tenant visits your home. These important queries to ask a potential tenant
It's crucial to confirm that a prospective tenant won't mistreat your home and will pay you your rent on time before entrusting them with your real estate asset. You can save yourself the time and stress of entertaining possible tenants who might not be a good fit by using the following questions to ask them.
---
Are you looking for rent house in tilak nagar?
---
What made you decide to move to a new house?
This is a wonderful opening query because you want to find out their real motives for relocating. Acceptable responses include a change in employment, an expanding family, or a desire for more space. However, issues with the landlord or neighbours, as well as being evicted from a previous property, should be viewed as warning signs. Even though the potential tenant might not always be truthful, this question is nevertheless important to ask. If someone has previously been evicted, there are potential issues you should investigate and pertinent questions to ask as a landlord. If the person was asked to leave the prior property because they were making too much noise or creating damage, they are unlikely to modify their ways in the future.
What day would you be moving in?
This inquiry can reveal a great deal about the tenant. It might not be good news for you if someone is eager to move in. Most landlords need a 30-day advance notice before terminating a lease, so if a tenant wishes to move in, say, immediately, they might be breaking their lease agreement with their current landlord. A responsible tenant will begin their search far before the time they want to move in. Nevertheless, before assuming a breach of contract, explain the circumstances with the candidate.
How many people are expected to stay there?
"You can find out how many people will be relocating in with the tenant. In the lease agreement, it is advisable to list the names of all tenants. Ideally, you should search for a bedroom that can accommodate no more than two people. A smaller population will result in less wear and tear on the apartment.
What is your annual salary?
It can be challenging to ask this question since some tenants might feel awkward responding to it. But it can assist you in figuring out whether the applicant will be able to afford the apartment and make on-time rent payments. That you never rent your property to a person whose monthly income is less than 2.5 times the monthly rent. Other employment-related screening questions could be:
How long have you been at your current job?
What is your position in the company?
Have you been hired for a time-bound contract?
What are your daily working hours?
Do you work in rotational shifts?
Can you provide a security deposit and one month's rent in front?
This can partially replace the inquiry into their financial situation. When signing the lease, experts advise asking the tenant if they are willing to pay the first month's rent and the security deposit. You may find it difficult to receive your monthly rent on time if they seem hesitant or offer to pay in installments.
Do you have the names of your former landlords on hand?
If a potential tenant is hesitant to give references, they might be hiding something. The following inquiries can help you somewhat decipher the facts even though their present landlord might not be telling you the complete story:
How long was the tenancy?
Has the tenant always paid the rent on time?
Were there any major damages or maintenance issues?
Have the neighbours of the tenant ever complained to you?
Why is the tenant leaving?
What kind of lease term are you searching for?
The best starting lease length is six or eleven months. If a tenant demands less, you would not want to go through all the trouble again.
Do you own a pet or pets?
Some landlords may not rent to a tenant who has a pet. Pets shouldn't be the only factor to eliminate a potential tenant from your list, but they could add further risk as they could scratch furniture or cause other harm.
Things to keep in mind
A person's impairment should not be brought up in conversation. Additionally, it's best to refrain from making tenant selection decisions based on racial or religious preferences as a landlord.
Give the tenant a chance to address any concerns they may have regarding the apartment, location, or neighbourhood once you have concluded your inquiries.
Request that the applicant complete an application form and affix a copy of their identification, utility bills, bank statement, and office ID. The latter will validate their assertions about employment. The tenant's ability to pay will be verified by a bank statement, and you can validate the former address by requesting utility bills.
---
You're looking for Buy Homes in Kharghar we have the Best Properties In Navi Mumbai Like Ready to Move: https://navimumbaihouses.com/property/search/buy/kharghar/
If you want daily property update details please follow us on Facebook Page / YouTube Channel / Twitter
Disclaimer:
The views of this expressed above are for informational purposes only based on the industry reports & related news stories.
Navimumbaihouses.com
does not guarantee the accuracy of this article, completeness, or reliability of the information & shall not be held responsible for any action taken based on the published information.
Also Read
Rent Properties in Mahim