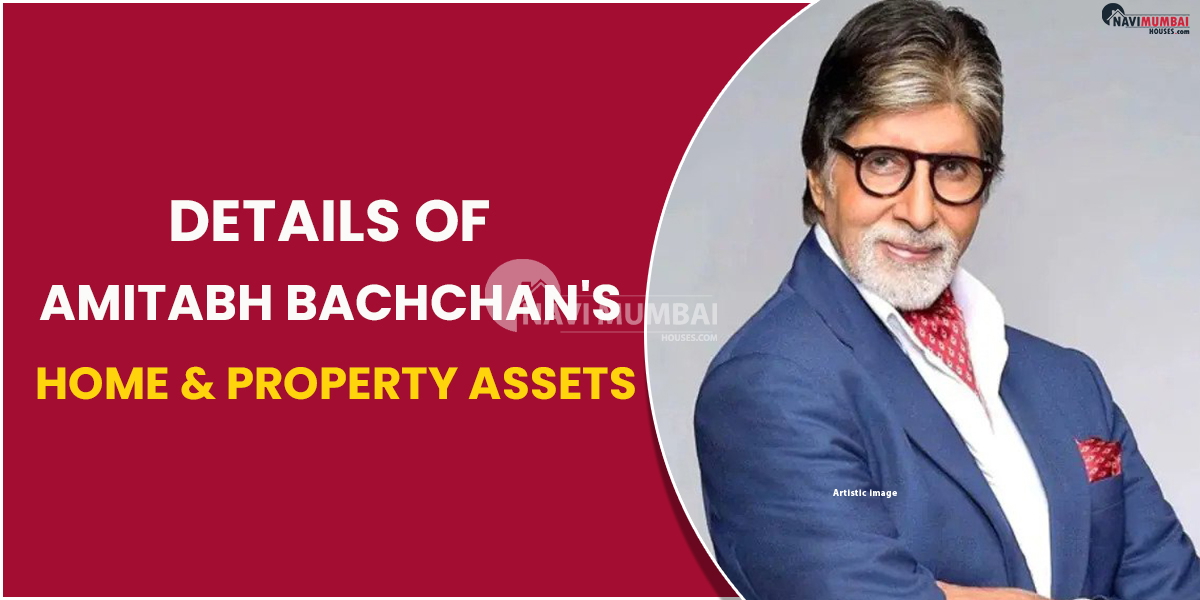 Details of Amitabh Bachchan's Home & Property Assets
House Name of Amitabh Bachchan
Celebrities have been using social media more and more since the epidemic to communicate with their following and admirers. Amitabh Bachchan, an Indian megastar, is not an exception; he frequently posts photos for his followers. Instagram users saw images of Amitabh Bachchan's residence, known as "Jalsa." The actor posted a photo of the home gym he uses to demonstrate his exercise routine.
He had also previously uploaded a little video clip showing his granddaughter celebrating her graduation at Amitabh Bachchan's home. While it appears that Big B has long enjoyed posting lovely images of his Jalsa home, relatively few people are aware of his real estate investments in homes beyond borders. Here is a peek at Amitabh Bachchan's house, his interests in real estate, the net value of the homes he owns, and other fascinating information.
---
Are you looking for buy flats in kalyan?
---
Jalsa: Amitabh Bachchan's Home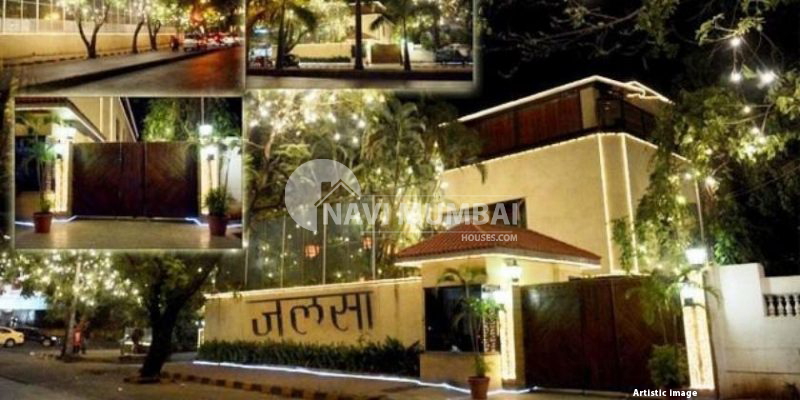 Jalsa, a twin-story bungalow, is the name of Amitabh Bachchan's residence. The Jalsa House is located next to the JW Marriott in Juhu, Mumbai, and it has a total square footage of 10,125 square feet. Amitabh Bachchan received Jalsa House as payment for his major part in Ramesh Sippy's directed and produced smash movie "Satte pe Satta." Jalsa House is tastefully decorated and combines elegance, coziness, and warmth. It mixes earthy stone and wood to balance the contemporary interiors and includes floor to ceiling windows, mirrored shelving, and shelves.
Amitabh Bachchan's two-story house, Jalsa, is a large residence for a family. The Bachchans' lavish touch is visible in antiquities, with various silver and brass things decorating the house, despite the rooms' general modest tone.
Artwork at Amitabh Bachchan's Home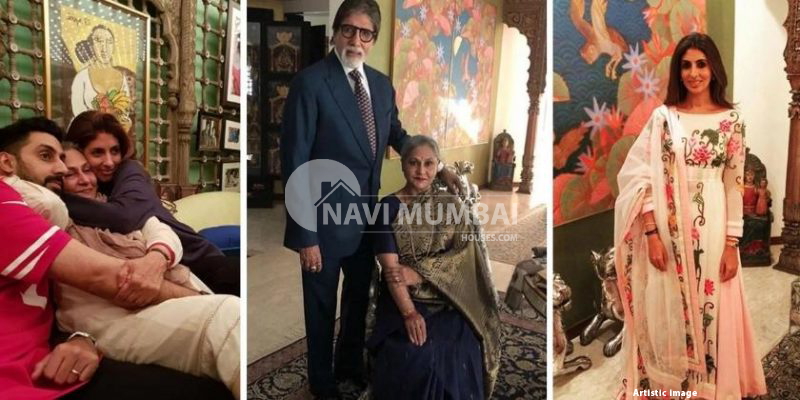 The Bachchan family enjoys art, and they have several large and small-scale works of art by well-known painters at their house. Amitabh Bachchan and his family published a family photo with artwork of a bull painting in the background on social media during the previous Diwali season. The bull represents strength, wealth, and hope.
The painting is reportedly by the late artist Manjit Bawa. The picture, titled "Bull," is thought to be valued roughly Rs 4 crores, although no formal confirmation has been made on any art websites. One of Bawa's best-known pieces is the oil on canvas, which is 137 x 172 cm (53.9 x 67.7 inches) in size.
Amitabh Bachchan's Home Office and Study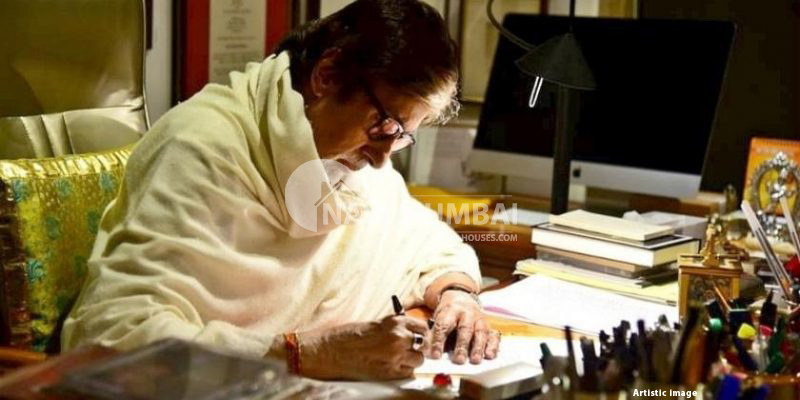 It is commonly known that Amitabh Bachchan enjoys reading and writing. He holds meetings and script-reading sessions with filmmakers at his office and study at home. Amitabh Bachchan loves to stand at a tall, specially made table in the study room of Jalsa and work there. In addition, the space features a desk, a library, and a cozy couch. With paintings and pictures, the wooden wall complements the décor.
Recording Studio at Amitabh Bachchan's Home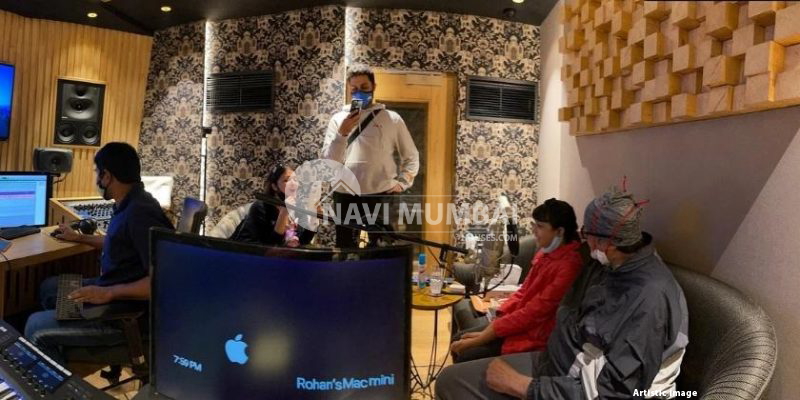 A music studio is located in the home Jalsa, which is near to the bungalow Janak. The famous person uploaded a picture of his recording studio, called "Saptaswar." And now that there would be an endeavor to head out to work in the early morning, although in the safe haven of "saptaswar," to dub, recite, and give voice to a video of a known acquaintance from a neighboring state, he wrote: "Saptaswar: sapt – 7; swar – notes of music. The place for the 7 notes of music. The environ of the recording studio in Janak. A small little square that can only hold about two and a half people. A memorial for tranquilly and inspiration for the arts.
Temple in
Amitabh
Bachchan's
Residence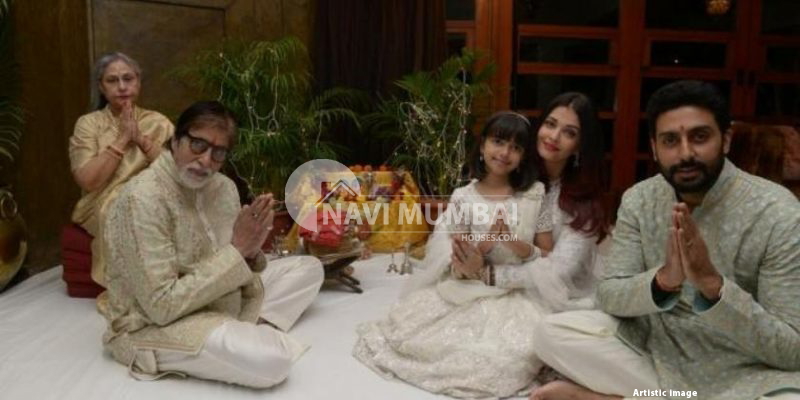 Amitabh Bacchan frequently posts pictures of Ganesh Chaturthi, Saraswati Puja, and Diwali Puja on social media. According to legend, the temple's idols are adorn with elaborate gems. One of the walls is covered in a massive floor-to-ceiling Tanjore mural depicting gods, while the base is decorated with several metal lotuses.
Gym in Amitabh Bachchan's Home
The actor is renowned for his rigorous exercise routine. Amitabh Bachchan's home gym is outfitted with the newest machines, including Olympic bars, bench presses, treadmills, and dumbbells.
Amitabh Bachchan's Home's Balcony and Terrace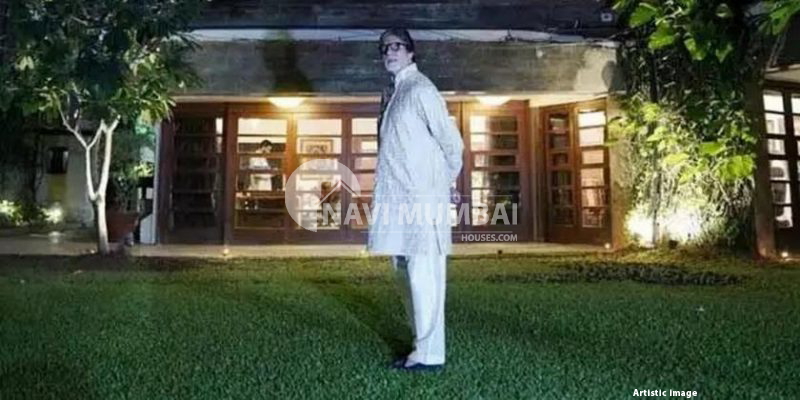 In addition to Jalsa, Pratiksha also has a well-kept garden that is a verdant, luscious green. Big B has planted a number of trees himself and enjoys reading the morning papers while relaxing in the yard. The family lights the Holi bonfire and celebrates holidays like Diwali in the lawn. The family spends time on the terrace at Jalsa, where they also perform the rites associated with Karva Chauth.
Amitabh Bachchan's Mansion for Sale in South Delhi
Amitabh Bachchan received Rs 23 crore for the sale of his "Sopaan" home in the Gulmohar Park neighborhood in South Delhi. The 2100 square foot house's register was finish on December 7, 2021. This residence was once occupied by Teji Bachchan's parents Harivansh Rai Bachchan and Teji Bachchan before they relocate to Mumbai with him. The transaction was carry out in accordance with the going market pricing. . The Amitabh Bachchan residence will be demolish since it was an outdated building, and the group intends to build a new one to meet their needs in its place.
Price of Amitabh Bachchan's Home
Amitabh Bachchan has purchased a 5,704 square foot duplex residence in the Atlantis skyscraper for around Rs 31 crore. The house was bought in December 2020, but it wasn't register until April 2021. As part of the Maharashtra stamp duty reduction plan, the superstar paid Rs 62 lakh in stamp tax, which is 2 percent of the property's worth.
Amitabh Bachchan Rental Properties
Kriti Sanon, an actress, is the tenant of Amitabh Bachchan's Atlantis duplex.
Actress Kriti Sanon has taken up the lease on Amitabh Bachchan's duplex property, which is located of floors 27 and 28 of the Atlantis building on Lokhandwala Road in Andheri (West). Four parking spaces come with the unit.  Kriti Sanon has paid a security deposit of Rs 60 lakh and would pay a rent of Rs 10 lakh each month. According to the records, the lease period for the leave and licensing agreement was two years, beginning on October 16, 2021, and ending on October 15, 2023.
Vatsa and Ammu are lease to SBI by Amitabh Bachchan
The bottom floor of Amitabh Bachchan and his son Abhishek Bachchan's homes, Vatsa and Ammu, in Juhu, Mumbai, has been lease to State Bank of India (SBI) for 15 years for a price of Rs 18.9 lakhs per month. These two bungalows are close to Jalsa, where Amitabh Bachchan and his family dwell.
The rent property is about 3,150 square feet. A leasing agreement was file on September 28, 2021. According to the records, there would be a 25% increase in rental prices every five years for the next 15 years.
As a result, the initial rent will be Rs 23.6 lakhs after five years. The subsequent rate would be Rs 29.5 lakhs after ten years.
For this sale, registration fees of Rs 30,000 and stamp duty of Rs 30.86 lakh were paid. SBI has made a 2.26 crore rupee deposit as part of the agreement. Before Amitabh Bachchan leased the building to SBI, it was occupied by Citi Bank, who left the building in June 2019 when their leasing agreement expired.
Also Read: Ankita Lokhande House with Vicky Jain-House Tour
Pratiksha's Amitabh Bachchan Bungalow
Amitabh Bachchan's home is called "Pratiksha," and it is one of the most well-known sights in Mumbai's Juhu neighborhoods. Amitabh Bachchan purchased it as his first home in the city. Jalsa is within a few hundred meters from Pratiksha. The location of Abhishek Bachchan and Aishwarya Rai's wedding was Pratiksha home. Senior Bachchan and his family used to reside here in the Juhu Ville Parle Development Scheme, but following the passing of his parents. They moved to the "Jalsa" mansion. Bachchan has spent a lot of time in this home, which he still frequents for some leisurely time.
Since 2004, Amitabh Bachchan has owned the "Janak" home in Juhu. It has a gym inside and is utilize as an office. In addition, Amitabh Bachchan and his son jointly own a home behind the "Jalsa" mansion that has a living area of 8,000 square feet and was purchase for Rs 50 crore in 2013.
Big B also owns the ancestral home of his family in Allahabad, which has been transform into an educational trust. The majority of Harivansh Rai Bachchan's early years were spent in this house. Which belong to the late poet and father of senior Bachchan.
In addition to this, Amitabh Bachchan has a luxurious villa in the French town of Brignogan-Plage. Abhishek Bachchan, his son, reportedly also has a lavish property in Dubai's Jumeirah Golf Estates. This 5,600 square foot mansion costs something in the neighborhood of 35 million dirhams.
Flats of Amitabh Bachchan
In addition to lavish houses, Big B also has a number of flats spread around the nation. There are two flats in Juhu and one in Gurugram included in this. The wife of Big B, Jaya Bachchan, also owns two residential complexes in Bhopal, Madhya Pradesh. Aishwarya Rai Bachchan, his daughter-in-law, paid Rs 5 crores for a magnificent apartment on the 37th level of Worli's Skylark Towers in 2013. After two years, in 2015, the former Miss World paid Rs 21 crores for another five-bedroom home in Signia Isles.
 Plots of Amitabh Bachchan
Amitabh Bachchan owns a plot of property in the Barabanki and Lucknow districts that is worth Rs 3 crores. He also has a non-agricultural piece of property in Ahmedabad that is worth Rs 15 lakhs. The older Bachchan also owns a commercial structure in Juhu with a Rs 25 crores market value.
---
You're looking for New Projects in Kalyan we have the Best New Projects Kalyan like Ready to Move & nearby possession: https://navimumbaihouses.com/properties/search/kalyan/
If you want daily property update details please follow us on Facebook Page / YouTube Channel / Twitter
Disclaimer:
The views of this expressed above are for informational purposes only based on the industry reports & related news stories.
Navimumbaihouses.com
does not guarantee the accuracy of this article, completeness, or reliability of the information & shall not be held responsible for any action taken based on the published information.
Also Read
Buy Properties in Thane