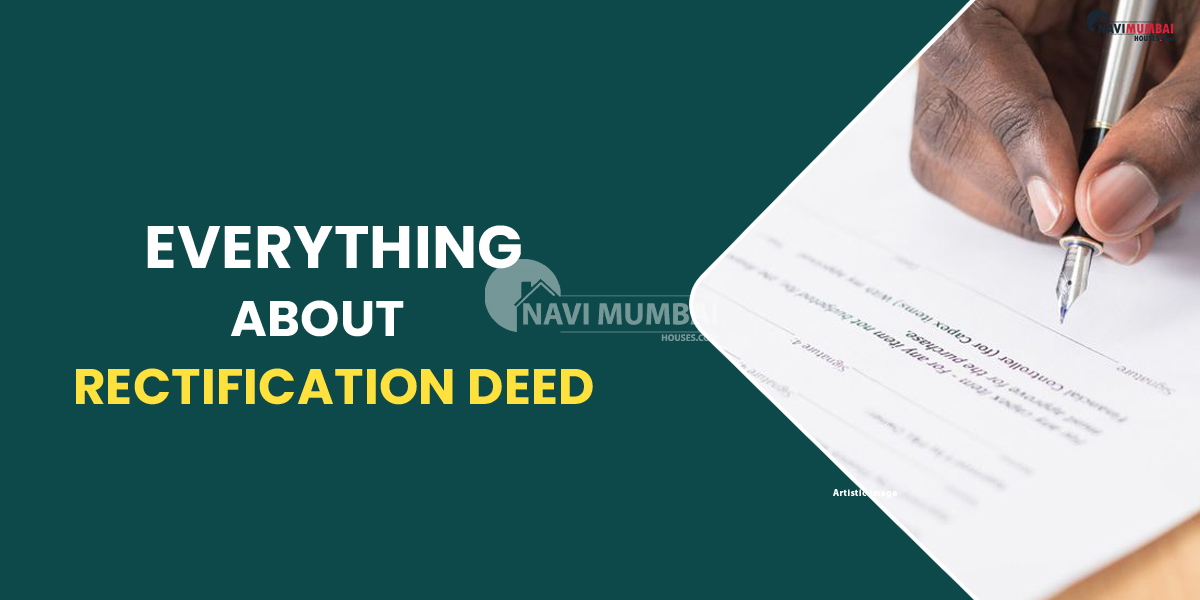 Everything About Rectification Deed
Real estate purchases require a lot of laborious paperwork, which might result in small mistakes. However, if these mistakes are not fixed right away, the validity of the documents may be questioned. Such inaccuracies in real estate documentation can be fixed by buyers and sellers using a rectification deed. Continue reading to learn more about rectification deeds and how to fix such errors.
---
Are you searching flats for sale in Mulund?
---
You must have a rectification deed (or deed of rectification) prepared and recorded whenever you discover an error in your sale deed or other property-related document. This is the accepted legal procedure to repair these mistakes. The correction deed is explained in detail below:
What exactly is a rectification deed?
You can repair any flaws or mistakes in legal documents like sale deeds and title deeds by using a rectification deed. A rectification deed, confirmation deed, additional deed, or amendment deed are all terms used to describe it. According to Section 17 of the Indian Registration Act of 1908, rectification deeds are a valid means of fixing mistakes in legal documents. It needs to be registered to become enforceable by law.
In what circumstances is the use of a rectification deed necessary?
There is a lot of information in the property acquisition agreements, so any small inaccuracies, such as typos or math mistakes, must be corrected right away to avoid any ownership challenges. A rectification deed can be made to do this. In addition to typos, the sale deed may need to be amended by adding crucial information or omitting unimportant aspects, in which case a supplementary deed is necessary. The registration of a rectification deed would be barred by legal mistakes or unauthorized changes to the original deed. Similar to this, one must make sure that neither party's interests are changed in the rectification document.
How should a rectification deed be recorded?
If you can convince a sub-registrar that the original document contained an error, he will accept your request for rectification. Both parties to the contract must concur on the suggested changes before the rectification deed can be registered, and both parties must attend in person at the sub-office. Registrar's the buyer & sellers are specifically referred to by both parties. If the prior owner(s) have passed away, you may get in touch with their legal heirs to resolve the situation. However, if you are unable to locate the legal heir, you may be able to complete a rectification deed without a seller if you have the supporting records the sub-registrar requires.
A rectification deed's scope and restrictions
Errors that a rectification deed can fix
spelling errors
Repetitions
Complex sentence structuring
Typing mistakes
Numeric mistakes
The rectification deed's restrictions
It cannot be used to alter the documents' legal terms, such as the nature of the transaction or the initial intents of both parties.
Errors that are the sub-responsibility registrar's
Changes in property location lead to shifts in jurisdiction.
Stamp duty mistakes
A rectification deed's charges
A correction deed can be registered at the sub-office registrar's for a charge of Rs 100. This is only accurate if the original documents only have a few minor typographical and spelling errors. The office may demand greater fees and classify the transaction as a new one if the document needs to be altered significantly.
How long does it take to complete a rectification deed?
The law makes no mention of how quickly a mistake or error should be fixed in any document. Imagine if one of the parties to the transaction learns that the title document contains errors or other discrepancies. In that scenario, they should alert the other party to the error and have it fixed by drafting a rectification deed.
It is crucial to get problems fixed as soon as possible because these documents serve as evidence of your ownership over an asset. If the errors are not fixed, your status as the owner may be in jeopardy.
How do you draught a deed of rectification?
At the office of the sub registrar
Both parties must physically show up at the sub-office registrar's where the sale deed was previously registered if they discover an inaccuracy. They must submit a request for document revisions to the official along with any necessary supporting evidence. Both parties will also be required to produce two witnesses each for the registration of the rectification deed if significant changes to the original document are necessary.
Online method
Online execution of a rectification deed is another option. You must go to the State Land Revenue Department's website to get the process started.
Here are some States' official websites.
Delhi: http://revenue.delhi.gov.in
Gujarat: https://services.india.gov.in
Maharashtra: https://gras.mahakosh.gov.in/igr/
Bihar: http://bhumijankari.bihar.gov.in
Karnataka: https://kaverionline.karnataka.gov.in
Tamil Nadu: https://tnreginet.gov.in
Many legal phrases are unfamiliar to the majority of us. Therefore, mistakes could be made in the act. Therefore, a correction deed can be create to fix these mistakes. To avoid such errors when creating the selling deed, you can also seek advice from an expert.
---
You're looking for Projects in Malad we have the Best Properties In Navi Mumbai Like Ready to Move:https://navimumbaihouses.com/properties/search/malad/
If you want daily property update details please follow us on Facebook Page / YouTube Channel / Twitter
Disclaimer:
The views of this expressed above are for informational purposes only based on the industry reports & related news stories.
Navimumbaihouses.com
does not guarantee the accuracy of this article, completeness, or reliability of the information & shall not be held responsible for any action taken based on the published information.
Also Read
Buy Properties in Nalasopara