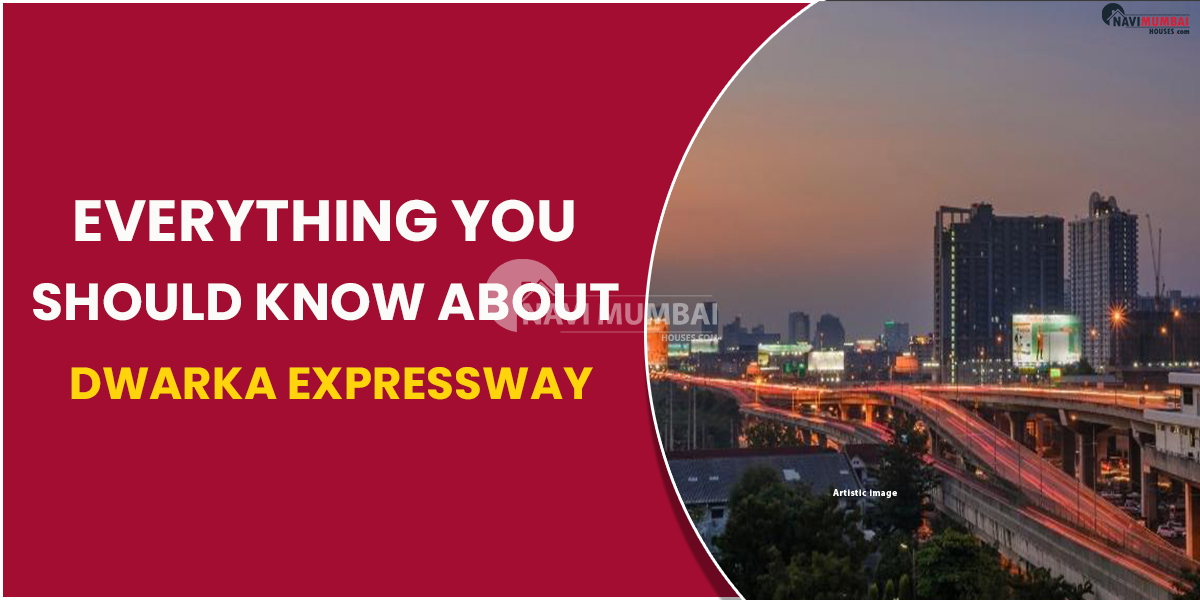 Everything You Should Know About Dwarka Expressway
The much anticipated 29.10 km long Dwarka Expressway, which will connect Mahipalpur in Delhi to Kherki Dhaula via New Gurgaon in Haryana, is now under development. The project, which is scheduled to be finished in December 2022, has already boosted real estate sentiment in various industries and is projected to expand the growth potential after it is finished.
The Northern Peripheral Road (NPR), often known as the Dwarka Expressway, was once slated to be an 18 kilometer length without any traffic signals. The project was expected to be finished by 2012; however obstacles with land acquisition caused delays. Inexplicable problems including tree transplanting, lawsuits, pandemic-induced lockdowns, and successive building restrictions to reduce air pollution slowed the work even though 14 km of the original 18 km were finished by 2016. However, several additional routes to the project's scope were planned and approved throughout time, bringing its length to the present 29 km.
Construction on the remaining section of the Expressway in Gurgaon eventually started in November 2019 after years of delays, while it did so in Delhi in September 2020. The 19 km-long Gurgaon patch is now under development and expected to open in December 2022, while the 10 km Delhi patch will require some more time.
---
Are you looking for flats for sale in diva?
---
| | |
| --- | --- |
| Estimated total expense | Rs 8,662 crore+ |
| Overall length | 29.10 kilometers |
| Lanes | 8 lanes + local service lanes |
| Owner | Indian National Highways Authority (NHAI) |
| Status | Currently being built |
| Deadline For Completion | (Gurgaon stretch) 2022-end; mid-2023 (Delhi stretch) |
| Important Details | 20 basement foot crossings, 2 rail over bridges/underpasses, 11 vehicle underpasses, 20+ flyovers/bridges, and a 2.5 m wide two-wheeler path |
Dwarka Expressway: Overview of the Project
A highly anticipated project of the Haryana Urban Development Authority (HUDA) is the Dwarka Expressway
The Gurgaon-Manesar Master Plan, 2031 has identified it as a key focus point.
An area of one kilometer has been set aside for the building of a railway over bridge along the project as part of an agreement between Indian Railways and the Haryana Urban Development Authority (HUDA).
Because it would provide direct access to the Indira Gandhi International (IGI) Airport and Gurgaon, the project will have an advantage over other expressways.
It will greatly increase traffic flow between Gurgaon and Delhi.
Following the court's ruling in September 2013, HUDA has provided the petitioners in communities around the Dwarka Expressway with fair compensation and land space.
The Delhi Metro Rail Corporation (DMRC) suggested a metro rail line along the project, however it has not yet received clearance. By doing this, metro connectivity between Gurgaon and Delhi would be made easier.
At Delhi's IGI Airport, Terminal 3 (T3) will be accessible by a five-kilometer tunnel known as the Delhi Airport Tunnel Expressway.
 Route Map of Dwarka Expressway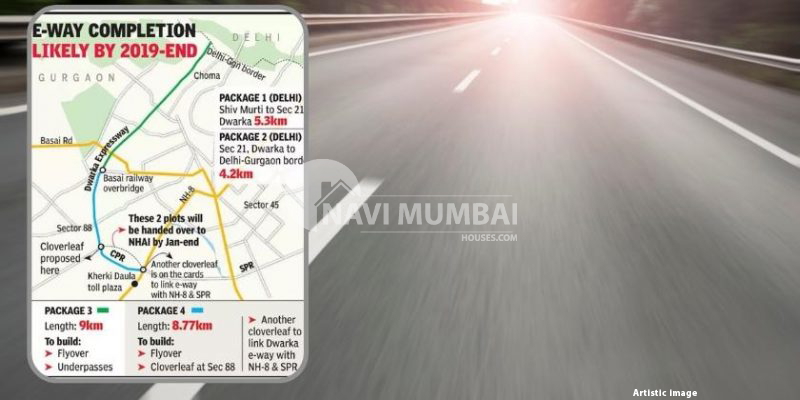 The 29-km long Dwarka Expressway follows the following route alignment:
Delhi
Mahipalpur- begins at Shiv Murti on the NH-48's 20-km marker.
Airport Indira Gandhi International
Dwarka
Railway station in Bijwasan
Haryana
Gurgaon's New Palam Vihar
Kherki Daula Toll Plaza ends here and connects to the Southern Peripheral Road (SPR) and the Delhi-Mumbai Expressway
Details of the Dwarka Expressway's phases
The project was previously broken up into four parts (referred to as a package here), two of which were located in Delhi and Gurgaon. One phase, nevertheless, was later added to it.
| | | | | |
| --- | --- | --- | --- | --- |
| Phases of Dwarka Expressway | Scope | Length | Status | Details |
| Package 1 for the Dwarka Expressway | Shiv Murti near Mahipalpur and the IGI Airport to the Bijwasan Road Underbridge (RUB) | 5.90 km | Undergoing Construction | It will be a component of Delhi's future west side UER II Expressway. Additionally, it will serve as Vasant Kunj's connection to the western terminus of the upcoming Rangpuri Bypass, located at Nelson Mandela Marg |
| Package 2 for the Dwarka Expressway | RUB to Delhi/Haryana Border in Bijwasan | 4.2 km | Undergoing Construction | It links to the International Exhibition and Convention Center (ECC) project at Sector 25 Dwarka, which is now under development. |
| Package 3 for the Dwarka Expressway | Border between Delhi and Haryana to Basai Rail Overbridge | 10.2 km | Undergoing Construction | On a single pier, it has an 8.5 km, eight-lane flyover. An extra ROB is being added to Basai ROB. |
| Package 4 for the Dwarka Expressway | ROB from Basai to Kherki Dhaula | 8.8 km | Undergoing Construction | The Expressway finishes at SPR on its southern end and merges into Connecting Peripheral Road (CPR) at that point. To link it to NH-48, a cloverleaf interchange is being built. |
| Package 5 for the Dwarka Expressway | Airport accessibility from the Dwarka Expressway and T3 tunnel | 5 km | There is a pending tender. | – |
Dwarka Expressway: Real Estate Effects
Numerous residential real estate buildings have been developed because to the Dwarka Expressway's Gurgaon section. Sectors 83, 84, and 99-113 along the route are residential, whereas Sectors 105, 106, 109, 110, 110A, 111, 112, and 113 are commercial.
Numerous residential projects are being built along the Dwarka Expressway by renowned real estate developers. The Dwarka Expressway has expanded the options available to both homeowners and real estate investors. Both Gurgaon and Delhi are highly populated cities that draw working professionals from all across the nation. Property prices are high in both locations as a result of the existing real estate availability not keeping up with demand. However, because they are significantly less expensive than those in Gurgaon and Delhi, the burgeoning housing complexes along the Dwarka Expressway are thought to be able to meet the expanding demand.
Looking at the scope of real estate along Dwarka Expressway, several renowned developers.  These developments, which cater to mid-segment and high-segment groups and provide 2 BHK, 3 BHK, and 4 BHK flats with house prices ranging between Rs 20,000 per sq ft and Rs 50,000 per sq ft, are dispersed in different areas along the Expressway. As the expressway's completion date approaches, most of these sections have seen significant price increases. There are various initiatives here for affordable housing. These regions have excellent e-way connections to Delhi and Gurgaon. The rental demand in these places isn't on par with that in more developed neighborhoods, but it is anticipated to increase as the stretch becomes more accessible.
Dwarka Expressway: Current Traffic
March 2019: Nitin Gadkari, a minister for the Union, laid the foundation on March 8, 2019. The majority of the building contracts have already been given out, and work is anticipated to start soon.
August 2019: The Delhi Government authorized Package 2 of the Dwarka Expressway, and preparation work for Package 2 began.
February 2021: Accomplished more than half of the building work. Additional routes have been suggested and are likely to be approved by August 2021.
March 2021: By August 2022, the expressway is anticipated to be completed.
September 2021: By September 2022, the expressway's cloverleaf segment is anticipated to be finished.
Update on Dwarka Expressway
By December 2022, the 19 km length in Gurgaon is expect to be operational and is nearly finish. Although the last 10 km of the Delhi length have not yet been declare complete, there are many rumors that with the current rate of construction, it might be accessible to the general public by the middle of 2019. Only then will the whole stretch of the Dwarka Expressway be operational.
Connectivity is a key consideration when purchasing a property, whether it is from an investment standpoint or an end-user perspective. This is the reason why individuals seek to buy property near busy expressways. People benefit from excellent connection and well-planned, world-class infrastructure, thus these regions are always on purchasers' radars. Due investigation and careful financial planning should always be done before investing in any property. The Dwarka Expressway is also anticipate to gain from ribbon development.
---
You're looking for New Projects in Thane West we have the Best New Projects in Thane West like Ready to Move & nearby possession:  https://navimumbaihouses.com/properties/search/thane-west/
 If you want daily property update details please follow us on Facebook Page / YouTube Channel / Twitter
Disclaimer:
The views of this expressed above are for informational purposes only based on the industry reports & related news stories.
Navimumbaihouses.com
does not guarantee the accuracy of this article, completeness, or reliability of the information & shall not be held responsible for any action taken based on the published information.
Also Read
Buy Properties in Kharghar