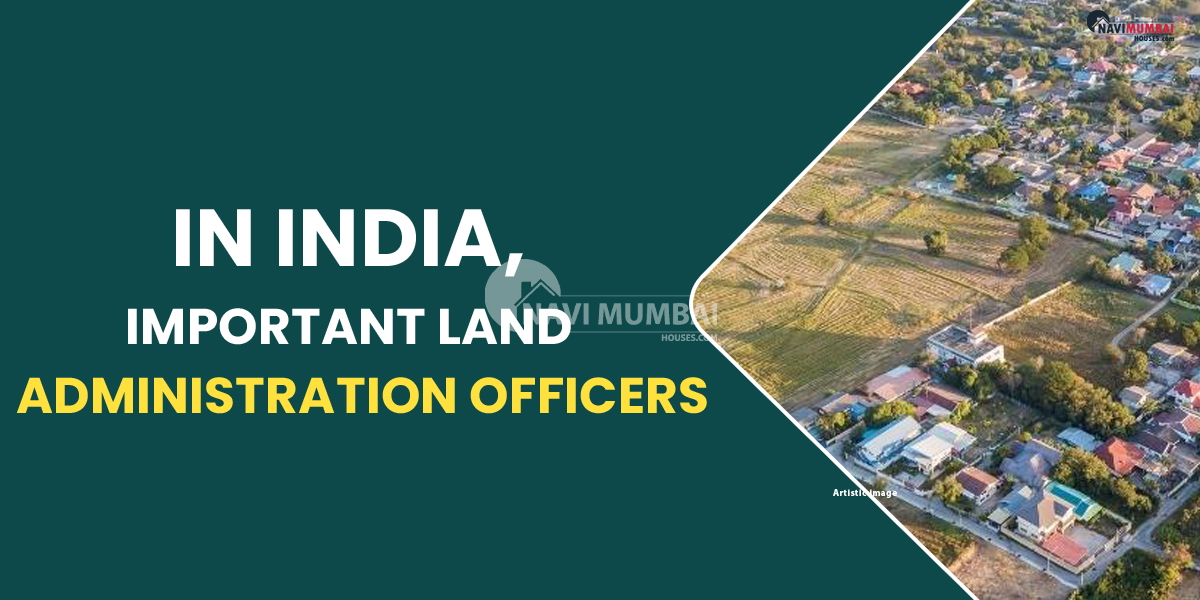 In India, Important Land Administration Officers
The government has a variety of officers who deal directly with land administration issues to ensure a seamless process, whether it is the upkeep or protection of land records, the verification of changes in land use, or the transfer of land between parties. Let's look at it.
---
Are you looking for new construction in mumbai?
---
In India, buying land is still regarded as one of the best investments. Although it is a valuable asset, keeping up with land records and resolving land-related disputes is a difficult task. As a result, the government has appointed some land administration officers who are responsible for overseeing India's land resources.
Patwari
The Patwari is one of the most essential officers directly involved with land concerns, although functioning at the lowest level of land revenue administration. A Patwari is assign to a specific tehsil (an administrative division), and he is in charge of keeping track of the local land records. The following are a patwari's main responsibilities:
Maintenance of village land accounts and records
Measurement of agricultural and undeveloped land
Collection of revenue information
Land dispute resolution
Collection of tax revenue and irrigation dues
Maintenance of crop yield records
Keeping the land records up to date
In addition to the aforementioned responsibilities, the Patwari is the initial point of contact for issues involving rural land. He serves as the ultimate referee in all disputes involving land ownership. Without the approval of a Patwari, no land can be bought or sold in the area in question. Typically, he answers to the Revenue Inspector.
In describing the nature of the position, Ashok Kumar Jangir, a Patwari in Rajasthan's Dausa district, said, "In rural regions, the Patwari continues to be the first point of contact for any land-relate concern. The upkeep of land records is now done on the cloud or computers thanks to India's digitalization of land records. Despite this, a Patwari's primary responsibilities continue to be manual record inspection and updating.
Revenue Inspector (RI)
The official below a Patwari in the hierarchy is a revenue inspector. He is in charge of several mandals or tehsil. He mostly helps the Tehsildar & Naib Tehsildar with their responsibilities in relation to land matters.
His main responsibilities include managing Patwari's, routinely inspecting and verifying land records, & reporting to higher-ups on the state of crops, rainfall, & water. Among other things, conducting land measurement surveys, documenting hail damage or other tragedies, reporting instances of agricultural land being divert to non-agricultural use, certifying mutation in situations of encumbrances, and creating a boundary markers inspection register.
Tehsildar Naib
A Tehsildar's deputy is known as a Naib Tehsildar. He serves as a conduit between the Tehsildar, Patwari's, and Revenue Inspector. Typically, he oversees two or more revenue rings. With the aid of Patwari & Revenue Inspectors, he provides land records and aids the Tehsildar in the performance of his duties. He works with land division, mutagenesis, jamabandis, and delineation. He oversees the collection of village taxes, provides reports on their suspension or remission as needed, and executes the civil court's directives pertaining to the attachment of agricultural land. Additionally, a Naib Tehsildar who directly answers to the Tehsildar participates in the region's agricultural inspection activities.
Tehsildar
Tehsildar is the highest authority in a tehsil in terms of revenue collection. He has extensive authority and duties with relation to keeping land records up to date and collecting money from the relevant circles. In a Tehsildar's office, all land sales and purchases are document. The Tehsildar's office is the first to notify higher administrative authorities in the event of a natural disaster and crop loss. Additionally, he makes sure that the region has enough food grains and seeds. Tehsildar also aids in upholding law and order within his sphere of influence.
Sub Divisional Magistrate (SDM)
He typically works for the state civil service. A Tehsildar reports to the SDM and provides regular reports on the tehsil's state of affairs. He is inform on the income collection, crop yield status, land measurement, land-use change, and other land-relate issues. In some States, he also serves as a magistrate for civil cases. However, an SDM's principal responsibility is general administration, and their work jurisdiction extends beyond matters pertaining to the property. His superior is the ADM (Additional District Magistrate).
Additional District Magistrate (ADM)
Typically a senior State administrative services officer, he is subordinate to two to three SDMs. He often performs supervisory duties and serves as a liaison between the district and municipal governments.
District Magistrate (DM)
He typically works for the Indian Administrative Services (IAS). That he is the district's chief administrative officer. He is in charge of the district's overall administration in addition to the revenue division. He has the authority to monitor and get a report on the state of law and order in any area of the district.
The Sub-registrar and Registrar are additional significant officers in relation to the registration of a property, in addition to the aforementioned officers. The necessary stamp duty and registration fees must be paid before the sale of real estate may be consider final. In the absence of payment of these obligations in a Sub-office, registrar's a transaction is not record in the government's books.
---
You're looking for Buy Homes in Kharghar we have the Best Properties In Navi Mumbai Like Ready to Move: https://navimumbaihouses.com/property/search/buy/kharghar/
If you want daily property update details please follow us on Facebook Page / YouTube Channel / Twitter
Disclaimer:
The views of this expressed above are for informational purposes only based on the industry reports & related news stories.
Navimumbaihouses.com
does not guarantee the accuracy of this article, completeness, or reliability of the information & shall not be held responsible for any action taken based on the published information.
Also Read
Sale Properties in Andheri