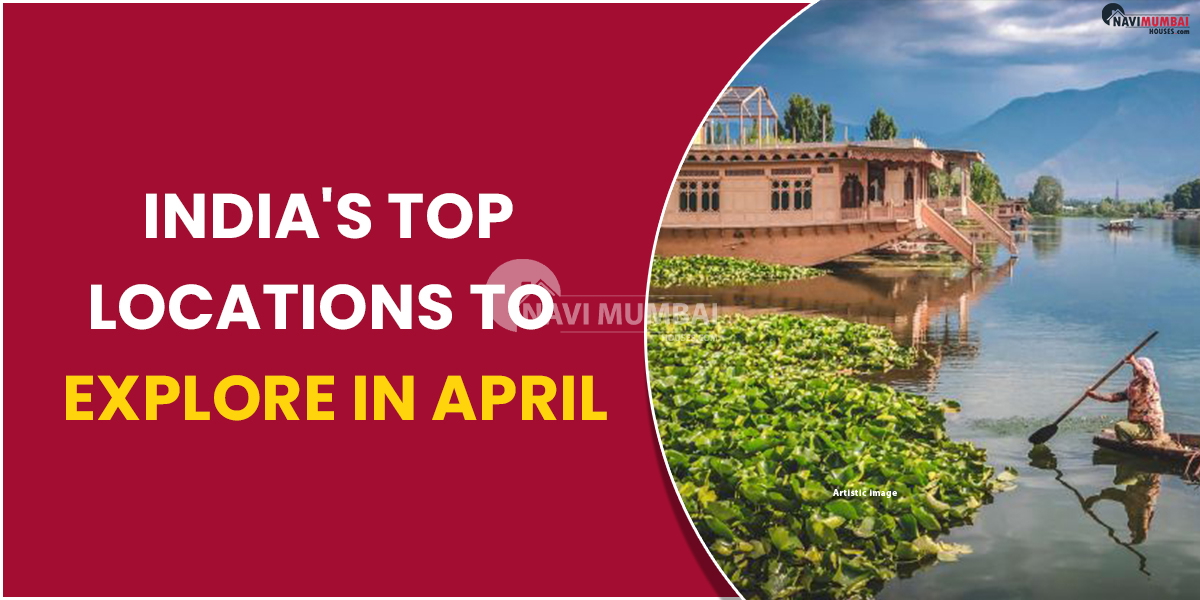 India's Top Locations to Explore In April
 Locations to Explore In April: The best time to travel to some of India's most stunning locations is in April. The weather is wonderful, and the skies are clear. The top destinations in India to visit in April are listed below. These locations won't let you down no matter where you go in India.
---
Are you looking for flat for rent in mumbra?
---
Top 15 Destinations in India to visit in April
Dalhousie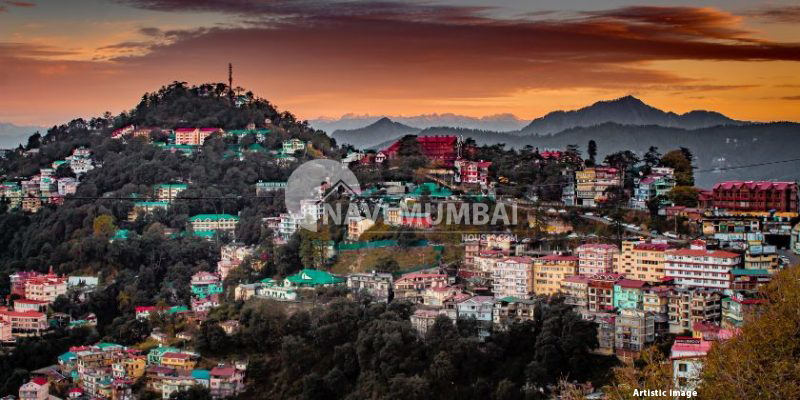 Dalhousie, a hill town in Himachal Pradesh, is the ideal destination for a spring vacation. The town is colder than other areas of the country because it is located at a height of 2,000 m. Dalhousie is a wonderful place to visit any time of year, but April is especially lovely because the flowers are in full bloom. Dalhousie is the ideal location if you're searching for a quiet area to unwind and take in the outdoors.
By train: The most practical and economical way to go to Dalhousie is by train. The Chakki Bank railhead in Pathankot is roughly 71 kilometers away from Dalhousie. Dalhousie is well connected to the Indian towns of Jammu, Delhi, Jaipur, Bhatinda, Ahmedabad, and Jodhpur by express, deluxe, and fast trains.
By air: The only domestic airport that is within 75 kilometers of Dalhousie is Pathankot, which exclusively connects to New Delhi. The second closest airport is Gaggal Airport, which is located in the Kangra district and is located around 140 kilometers from the town.
By road: You may also drive your own vehicle to Dalhousie thanks to the well-maintained roads and highways that connect to it. The most popular routes from New Delhi are often through Karnal, Ambala, Ludhiana, Jalandhar, and Pathankot. Due to the mountainous terrain, the distance between Dalhousie and Pathankot is about 72 kilometers.
Kasauli
Kasauli, a lovely village in the foothills of the Himalayas, comes to life in the spring. The flowers are in bloom, and the air is crisp and chilly. Kasauli is the ideal location if you're seeking for a place to unwind and admire the beauty of nature.
By train: Kalka, which is 40 kilometers away, is the closest railroad station. Rail connections exist between Kalka and important cities including Amritsar, Delhi, Kolkata, and Mumbai.
By air: The closest airport is at Shimla, 35 kilometers distant. It has regular flights to Kullu and Delhi. Chandigarh, which is 65 miles away, may easily be reached via Kasauli. Chandigarh has flights to Dharamsala, Bengaluru, Srinagar, Kolkata, and Indore in addition to Delhi and Mumbai. Delhi International Airport is the closest airport (320 km).
By road: Kasauli is well connected to Chandigarh and Delhi by car, and both cities offer frequent bus service to Kasauli. While Delhi is five and a half hours away by car from Kasauli, Chandigarh is only an hour away.
Mussoorie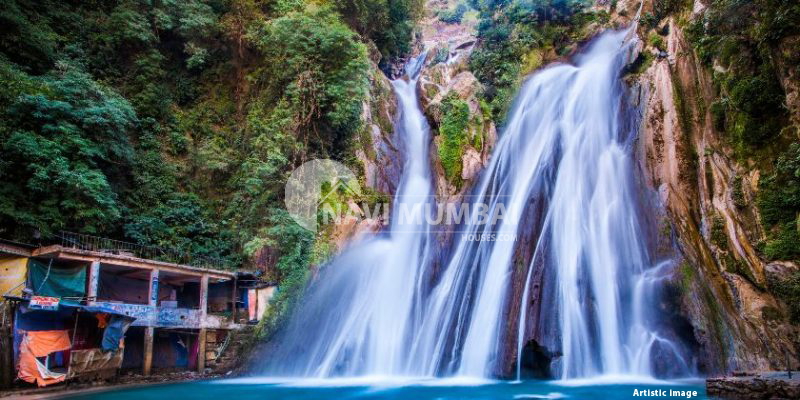 The Queen of Hills, Mussoorie, is a popular destination in India in April. The waterfalls, flowers, and charming shrines in this high-altitude village in Uttarakhand draw many travelers every year. In April, you may avoid the crowds and take in the attractions in quiet.
By train: Dehradun Railway Station, 36 kilometers from Mussoorie, is the closest train station. Trains run to Dehradun from distant and nearby places like Delhi, Kolkata, Jammu, and Amritsar. Visitors can travel to Dehradun by train and then take a taxi or bus to Mussoorie.
By air: Dehradun Jolly Grant airfield is 59 kilometers from Mussoorie. The airport at Dehradun makes it simple for travelers to get to Mussoorie. To go to the popular tourist destinations in Mussoorie, buses and other local transportation are accessible from the airport.
By car: The state government and commercial buses offer frequent service from Mussoorie to adjacent cities like Delhi, Dehradun, and other important towns in Uttar Pradesh and Uttarakhand. Buses go often and everyday to Mussoorie, so customers can choose one that works best for them.
Munnar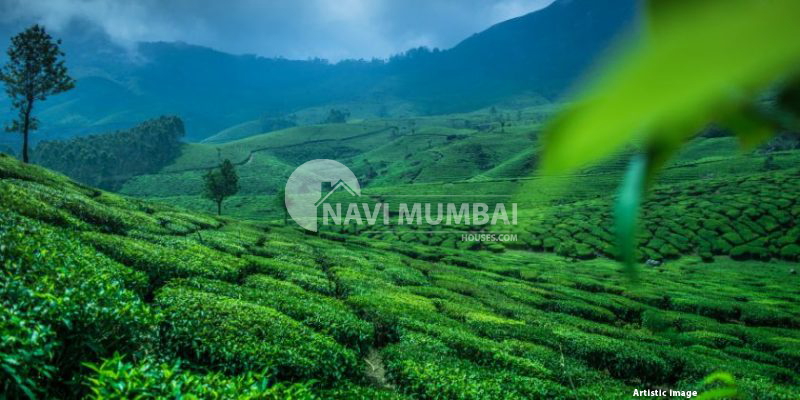 Look no further than Munnar if you're seeking for the greatest destination in India to visit in April. This hill town in Kerala is renowned for its beautiful beauty and comfortable climate. The best time to visit is in April because of the pleasant weather and blooming flowers. Additionally, there are lots of things to keep you occupied, including bicycling and hiking as well as visiting tea farms and waterfall exploration.
By train: The closest train stations are in Kochi or Ernakulam. Trains from many regions of India, including Delhi, Bangalore, Mumbai, Kolkata, Mangalore, etc., converge at the station. But it's over 120 kilometers from Aluva Railway Station to Munnar.
By air: The closest airport, Cochin International Airport, is around 125 kilometers distant from Munnar. The airport is conveniently accessible from all of India's main cities. Taxis are readily available to take you from the airport to Munnar.
By road: From Kochi, Aluva, or Ernakulam, you may either take a bus or cab to Munnar. Booking tickets is possible at the bus terminal next to the Aluva train station or online through the website of the Kerala State Road Transport Corporation (KSRTC).
Also read: Top Tourist Activities & Locations in West Bengal
Ooty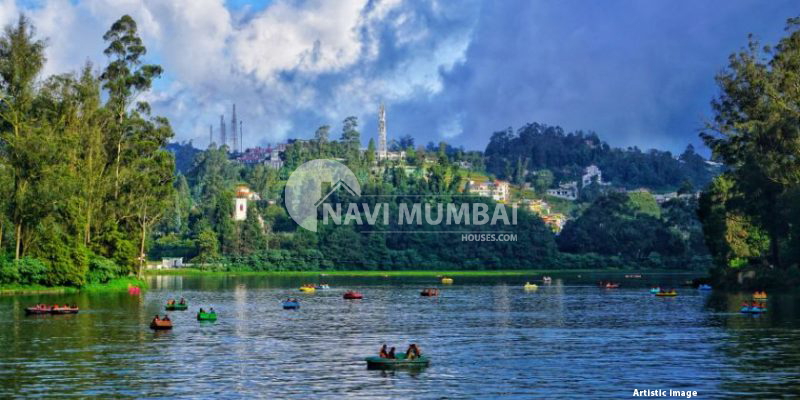 Ooty is the only destination you need to consider if you're seeking for locations to go in India in April. This charming town is recognized for its stunning scenery and comfortable climate and is situated in the Nilgiri Hills of Tamil Nadu. April is the ideal month to experience everything Ooty has to offer because the temperatures are reasonable and agreeable. This picture-perfect town has something for everyone, from waterfalls and tea plantations to hiking and biking paths.
By train: The closest train station, Mettupalayam, is around 47 kilometers from Ooty. Regular trains run between Coimbatore and Chennai to Mettupalayam. Additionally, the toy train connects Ooty with Mettupalayam and Conoor.
By air: The hill station is 100 kilometers from Coimbatore airport. The airport has cab services available. From Coimbatore, flights to Chennai, Bangalore, Madurai, and Hyderabad are all easily accessible.
Ooty is well connected to many south Indian cities by road. There are frequent bus connections to Ooty from a number of places in Kerala, including Mysore, Bengaluru, Madurai, and Kanyakumari. Additionally, many south Indian cities offer Ooty package tours.
Amritsar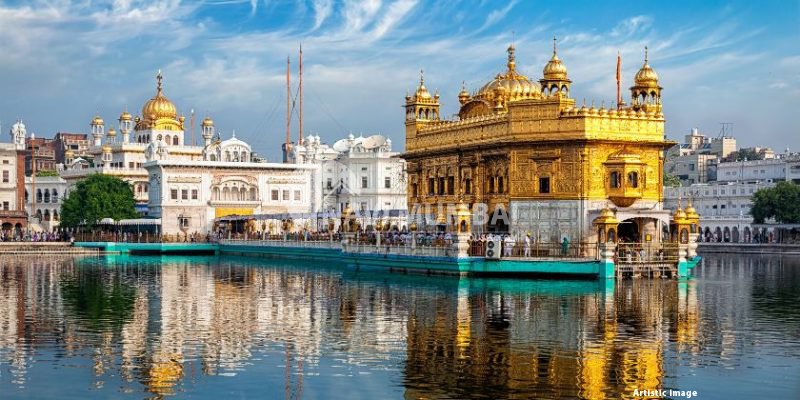 Amritsar, which is in the Indian state of Punjab, is among the top destinations to visit in April. The Golden Temple, the most sacred place for Sikhs, is located in the city. The traditional Punjabi culture and food may be enjoyed at Amritsar.
By train: Amritsar Railway Station has excellent connections to nearly all of India's main cities, including Delhi, Mumbai, Chennai, Hyderabad, Ahmedabad, Kolkata, Agra, and Chandigarh. Train journey from Delhi to Amritsar takes more than 6 hours.
By air: The closest airport is Raja Sansi International Airport in Amritsar. The Sri Guru Ram Das Jee International Airport, which is roughly 11 kilometers from the city centre, is well connected to both domestic and international destinations. Daily flights are available to and from, among other destinations, Delhi, Chandigarh, Jammu, Srinagar, Dubai, London, Toronto, and Tashkent.
By car: Amritsar is well-connected by road to most significant cities in the nation. The Grand Trunk Road connects Delhi with Amritsar. Regular buses are available from Delhi's ISBT to Amritsar. Between Chandigarh, Dalhousie, Chamba, and Dharamsala, there are frequent bus connections.
Kashmir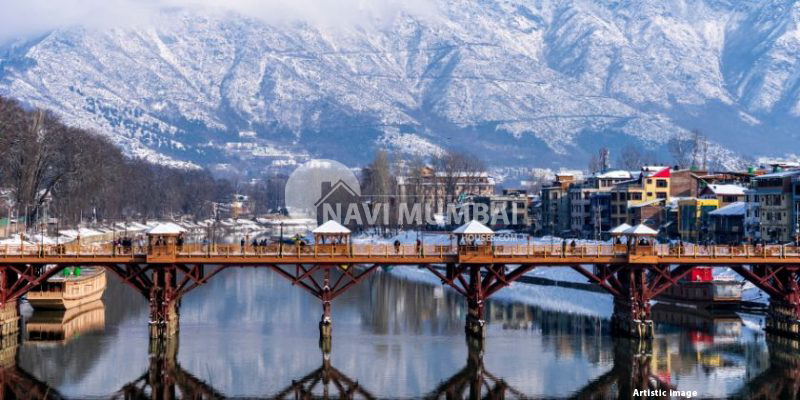 Kashmir is the ideal location if you want to get away from the heat. The area has some of India's most breathtaking natural features, including snow-capped mountains, lush valleys, and clear lakes.
By train: Jammu Tawi Railway Station is located about 330 kilometers from Kashmir's scenic valley. The New Delhi-Jammu Tawi Rajdhani Express, Jammu Mail, and Jammu Tawi Express are among the trains that run from Delhi. From outside the train station, one can rent a taxi or board a state or private vehicle to travel to other locations in Kashmir.
By air: Srinagar Airport (15 km distant), which is well linked to major Indian towns, offers flights into Kashmir. Air India, GoAir, IndiGo, and Jet Airways offer regular flights between Delhi, Goa, Jammu, Leh, Mumbai, and Bangalore. Visitors can rent cabs from the airport to travel to Kashmir's various cities and towns.
By road: Kashmir is connected to a number of adjacent cities and towns by public and private buses. Jammu and Srinagar are connected by National Highway 1-A. The well-known Jawahar Tunnel in Jammu, which connects Jammu with the Kashmir Valley, is also about to open. Numerous sophisticated and luxurious buses, especially those run by the J&K State Road Transport Corporation, frequently travel to and from the state (JKSRTC). These buses are not only cozy, but also incredibly economical.
Pachmarhi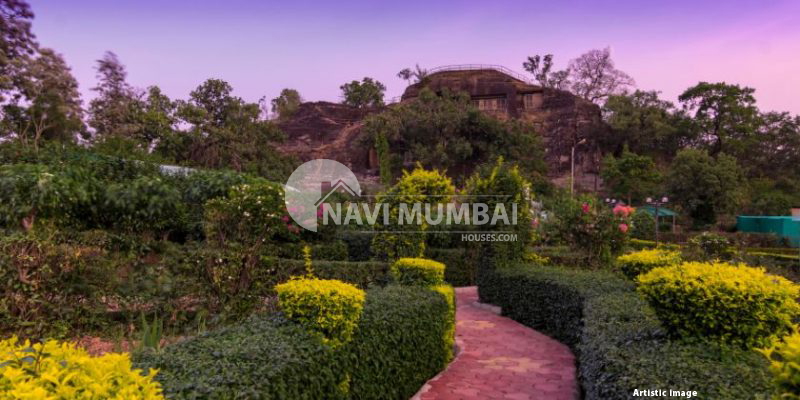 Pachmarhi is a hill town and a municipal board in Madhya Pradesh that is surrounded by the Satpura Hills. It is frequently referred to as Satpura ki Rani and the Queen of Satpura. Because of the excellent weather and gorgeous surroundings, it is one of the greatest spots in India to visit in April. You can embark on a trekking trip or explore the area's numerous caverns, waterfalls, and temples.
Pachmarhi is 52 kilometers from Pipariya Railway Station while travelling by train. There are numerous private buses and taxis in Pipariya that may take you to your destination.
By air: Bhopal, which is located about 200 kilometers away, has the closest airport to Pachmarhi. Taxis or tourist buses can take you from the airport to Pachmarhi.
By car: Buses and taxis can take you to Bhopal, Nagpur, Chhindwara, Pipariya, Hashangabad, and Chhindwara.
Kalimpong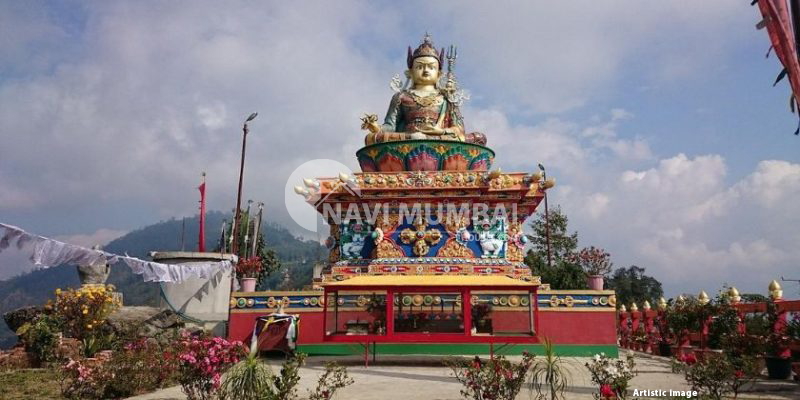 Look no further than Kalimpong if you're looking for the best destination in India to visit in April. It's the ideal location to escape the heat of the plains, and this lovely hill station is found in the state of West Bengal. The best time to visit Kalimpong is in April because of the mild, pleasant weather. From touring the city's numerous temples and monasteries to hiking through its beautiful surroundings, Kalimpong offers a wealth of things to see and do.
By train: The closest railway station, New Jalpaiguri, has connections to the majority of India's main cities.
By air: The closest airport to Kalimpong is Bagdogra Airport in the vicinity of Siliguri. This airport has connections to Kolkata, Delhi, and Guwahati. For foreign travelers, connecting flights are available from Delhi or Kolkata.
By road: Kalimpong is connected to Sikkim and the other states' cities by bus services.
Udaipur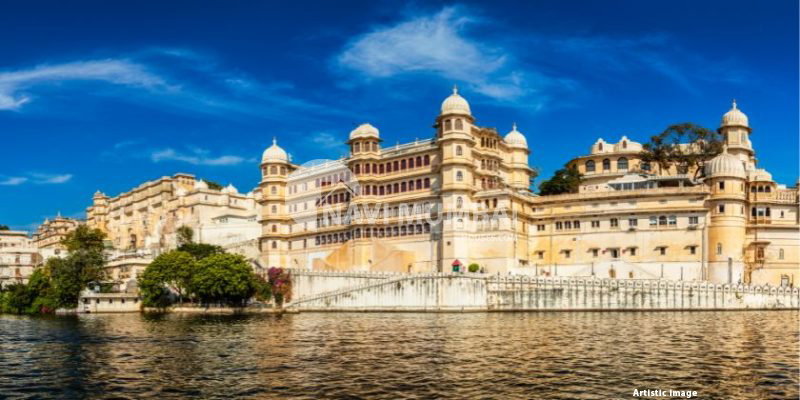 You should travel to Udaipur, the City of Lakes, in April. It's the perfect place to unwind and relax because of the chilly climate and the tranquil atmosphere of the lakes.
By train: There are numerous trains that connect Udaipur with Jaipur, Mumbai, Delhi, and other towns in Rajasthan. The opulent train Palace on Wheels is another excellent option for individuals who want to treat themselves.
By air: From Maharana Pratap or Dabok Airport, various domestic flights connect Udaipur to all of India's major cities, including Jaipur, Mumbai, Delhi, Mumbai, and Kolkata. 22 kilometers separate the city from this airport. There are frequent flight connections between Delhi and Mumbai.
By road: Udaipur is connected to almost all of India's main cities by road. There are numerous state and private bus routes. You could hire a cab to take you here.
Gangtok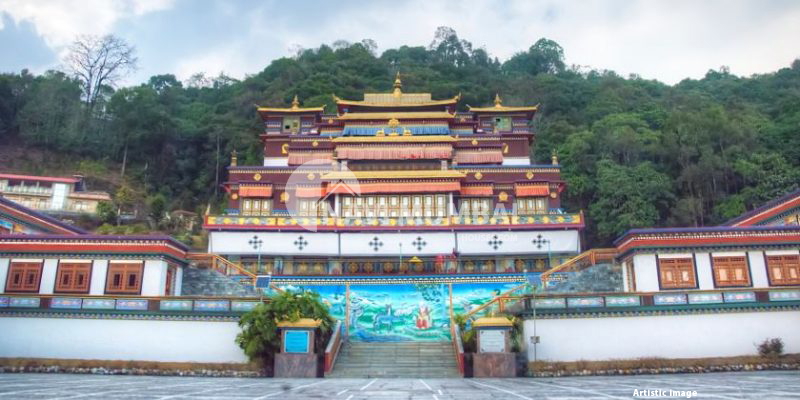 This highland city's stunning scenery is what draws tourists and adrenaline seekers alike. It is one of the best locations in India for couples to travel to in April because of its temples, lakes, and vistas.
By train: The distance from Gangtok to the closest railway station, New Jalpaiguri, is 117 kilometers. This railroad station is well connect to both the major and minor regions of the nation. For the majority of tourists visiting Gangtok, trains are the favor mode of transportation.
By air, Bagdogra and Gangtok are separate by around 124 kilometers.
All of India's major cities are easily reachable from this airport. From Bagdogra to Gangtok, which takes around 20 minutes each way, the Sikkim Tourism Development Corporation also provides helicopter services.
By car: National Highway 31A, which links Gangtok with Siliguri, Darjeeling, and Kalimpong, can be use to travel to the area. There are several frequently schedule Sikkim state transportation buses that run between Gangtok and Siliguri. Private buses, jeeps, and taxis are also available for travelling between Siliguri and Bagdogra.
Also read: Top Tourist Attractions & Activities in Nainital
Manali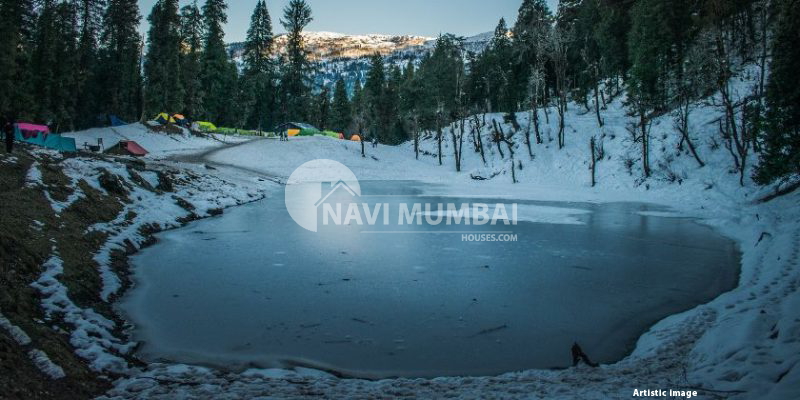 Manali, located amidst stunning hills and an abundance of vegetation, is among the top honeymoon spots in India in April. Thousands of tourists stop by this hill town each year to experience its unique Himalayan appeal.
By train: Ahuja Railway Station is the closest train station.
Air: The closest airport is Bhuntar, commonly known as Kullu Manali Airport, which is 50 kilometers from Manali.
By car: Manali is the most visited hill station in India. Most tourists prefer to drive themselves to Manali because it offers breath-taking mountain views as they ascend the Ghats. By bus, Manali is accessible to nearby cities and even Delhi.
Bhopal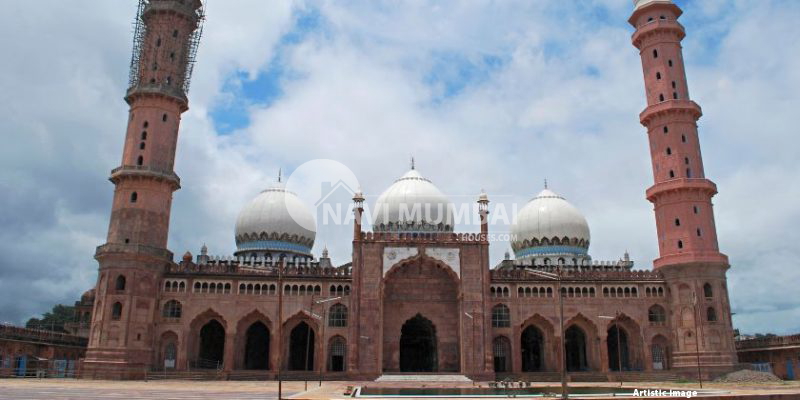 Bhopal, the state capital of Madhya Pradesh, is one of the greenest cities in all of India. Two significant lakes in the city, Upper Lake and Lower Lake, give Bhopal the moniker "City of Lakes."
By train: The main train station in Bhopal is located at Bhopal Junction, which is close to Hamidia Road. With the exception of the North-Eastern states, it connects Bhopal with practically all of the country's main cities.
Air travel: The airport in Bhopal, which is about 13 km northwest of the city centre, has good air connections to a number of cities, including Delhi, Mumbai, Hyderabad, Chennai, Ahmedabad, Kolkata, Indore, Raipur, Chandigarh, and Jabalpur. Taxis are available to take you from the airport to the city centre.
By road: Bhopal is connect to Indore, Mandu, Ujjain, Khajuraho, Pachmarhi, Gwalior, Sanchi, Jabalpur, and Shivpuri by frequent bus services.
Andaman and Nicobar Islands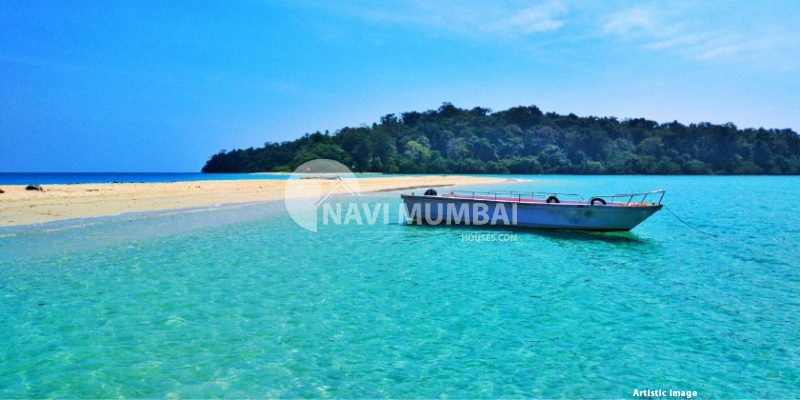 Andaman & Nicobar Islands provide for a wonderful retreat in April with its turquoise waters, white-sand beaches, rich tropical flora, fascinating coral reefs, and distinctive marine species. Radhanagar Beach, Chidiya Tapu, Havelock Island, and Neil Island are great places for nature lovers and photographers, especially during sunrise and sunset.
By ship: From Kolkata, Chennai, or Visakhapatnam, one can board a ship to Port Blair. It takes roughly 4-5 days to travel by water to get to the islands, depending on the weather.
By air: Veer Savarkar International Airport in Port Blair serves a number of Indian cities as the gateway to the Andaman Islands.
Cherrapunji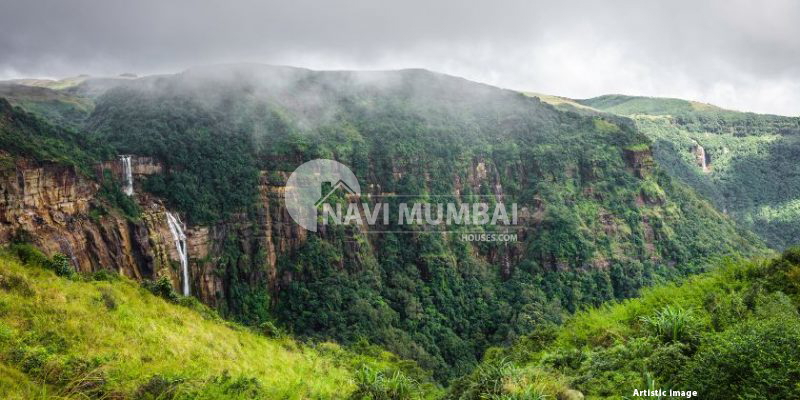 North-eastern India's gorgeous hill town of Cherrapunji is located in the verdant state of Meghalaya. Numerous people go to this hill town each year to explore the extraordinary "Living Root Bridges" built by the roots of rubber trees. This village has a lovely April because of the large number of plants and animals that are present.
By train: Guwahati's railway station is roughly 145 kilometers away. Taxis and buses go between Cherrapunji and Guwahati.
By air: Located about 170 kilometers north in Guwahati, Borjhar Airport is the closest airport. To go to Cherrapunji, you can take a taxi or a bus.
By road: Government buses that run often make it simple to get to the location. Even AC buses are available for trips into the city. The state operates its own buses that transport visitors to the city's top attractions.
---
You're looking for New Projects in Kharghar we have the Best New Projects Kharghar like Ready to Move & nearby possession:  https://navimumbaihouses.com/properties/search/kharghar/
 If you want daily property update details please follow us on Facebook Page / YouTube Channel / Twitter
Disclaimer:
The views of this expressed above are for informational purposes only based on the industry reports & related news stories.
Navimumbaihouses.com
does not guarantee the accuracy of this article, completeness, or reliability of the information & shall not be held responsible for any action taken based on the published information.
Also Read
Buy Properties in Thane