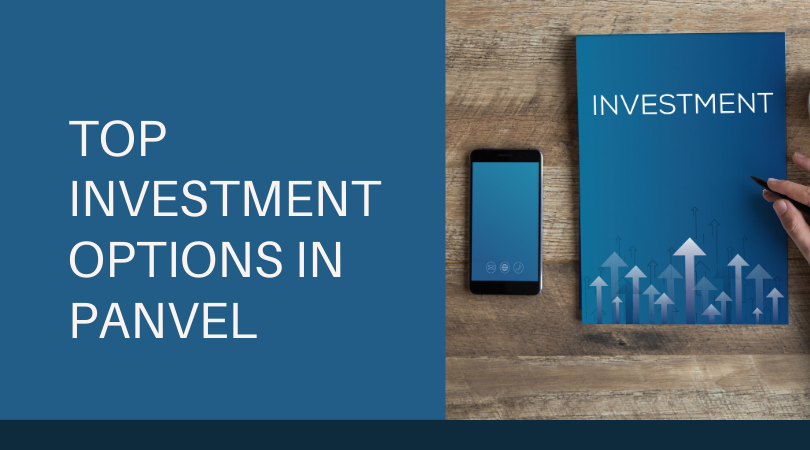 PROPERTIES TO INVEST IN PANVEL | TOP INVESTMENT OPTIONS IN PANVEL
Panvel has come a long way and has transformed into the most sought-after realty destinations for affordable homes, sky rises & business parks. Because of its proximity to major locations, smooth connectivity by roads and railway, investing on new projects in Panvel is not less than any perfect option to choose in Navi Mumbai.
Once referred to as a distant suburb of Mumbai's metropolis, Panvel is now set to turn down the tables. However, strategically located Panvel is crucial junction that connects highways and expressways. While earlier Panvel was not so happening town, in recent years this picture of the city has significantly changed. The city is attracting many buyers and investors to buy a property in Panvel.
Panvel now is now emerging as the most desirable property destination. The increasing development in residential and commercial sectors has further led to infrastructural development of Panvel. Real estate builders and developers are coming up with several new projects in Panvel. Hirandani is coming up with a new township in panvel called as Hiranandini Fortune city. while Hiranandani business park is a commercial project for office spaces.
Belantara by Today Royal GroupBelantara is a popular G + 7  Residential project by Today Royal Group in Rasayani, Panvel. This project offers spacious 1BHK and 2BHK apartments with quality amenities for the comfort of residents. A residential project which blends luxury and comfort for an enhanced quality of living. The apartment is a beautifully designed infrastructure which is sure of propelling it as an elegant landmark.The peaceful surroundings give you a healthy and a natural ambience that keeps you refreshed and calm. Being close to educational institutions ,railway station etc makes it connectivity accessible. Navi Mumbai Houses will be definitely make you reach your deluxe dream home. The project becomes an eye-catchy highlight of Today Royal Builders with its oustanding amentites leaving its mark and making you a proud owner of this beautiful home.At Belantara you will experience precious moments with your family for better and convenient living.
Arihant Arshiya by Arihant superstructres Ltd.You might think surviving in Mumbai is not an easy task but it would be a treat to live in Navi Mumbai. We Navi Mumbai Houses would like to show you an Appealing project of your Happiness.The complete project is being built on the Green Building Concept in order to enhance the utmost comfort as well as security levels to all the occupants by the complete usage of the most advanced technology as well as the material in order to sustain the natural resources comprising of energy and water. This residence is known to play an important role in order to shade your life at your fullest and thus gives you the time to spend with your loved ones. Being located at Khopoli, Panvel, Navi Mumbai it is thus the junction where luxury meets the affordability and is thus considered to be the space where your stress vanish completely and hence, you will thus do justice for your own life as well as your family. Hold the breadth of your imagination and thus mesmerize yourself in the grand complex.Navi Mumbai Houses a leading real estate company that is synonymous with quality and reliability will definitely help you out with your deluxe home. So if you're looking for complete Family Home for future then Arihant Arshiya would be the Best choice to reside.
Shri Vastu Harmony by Shri Vastupurti Developers.Mumbai is a world for many people so Navi Mumbai houses take you to the another world "Shree Vastu Harmony", a G + 3 Residential Complex located in panvel, Navi Mumbai. Paradise Sai World Empire endeavors a spacious and skillfully designed 1BHK, 2BHK apartments a well equipped project with all the amenities to facilitate the needs of the residents.The abode is aesthetically carved for the ultimate comfort of the dweller. Each and every room in the apartment is breezy. The architects have made optimum utilization of space in the apartments. You are bound to feel lively in the bright rooms here with ample natural light. The positive aura of the apartment will enliven you all through the day.Shree Vastu Harmony at Panvel, is a residential project launched to meet the requirements of an elegant and comfortable residential project for mumbai across property seekers with varied budgets. harmony by shree vastu purti is conveniently located and provides for spacious residential houses in panvel, navi mumbai.harmony by shree vastu purti offers properties that is one of the most affordable yet promising residential project in panvel,Navi Mumbai.The project promises of a lifestyle that complements the true urban lifestyle.Navi Mumbai Houses will be glad to make you all reach your destination with true pleasure.So, Navi Mumbai Houses has never been back to reach for their customer's valuable life and will surely be with you to come over your deluxe lifestyle.
Ganga Ganesh by Ganga HomeshMumbai known to be a Golden city but Navi Mumbai Houses presents you A platinum city where you get live with complete luxury, Presenting you Ganga Ganesh a 4 Storied Residential project developed by Ganga homesh which is a Residential Complex of 5 Towers. We wish we can open the book that will open our mind to new dimensions towards life. We can start with something new or aspire for more that would bring sumptuousness and happiness. Project comes from a developer who has a history of using authentic materials and making use of space in a modern way. In Ganga Ganesh you will find not only beautiful but also high quality Apartments / Flats. These luxury apartments are a clutter of everything that will make your life comfortable. The project is iconic with exceptional design and magnificent scale.Ganga Ganesh presents you with a choice that will bring life, happiness and joy. It also provides an opportunity for those special ones, who are in search of wonderful living spaces with exceptional connectivity and amenities. These spaces are designed to meet perfection in a way it would satisfy your every day to day need. Ganga Ganesh offers multitude of stay good features that makes it attractive.  A life closer to convenience yet so untouched by the impurities of urban lifestyle. Navi Mumbai Houses will definitely make you reach the green world, as our agency is a potential Real Estate that has built a strong benchmark in the market.Our agency a leading group in real-estate market will always be on the top to make you comfort in your own paradise.
Tulsi Harmony by Dev EnterprisesMumbai being a dominating city has a great command on Navi Mumbai also, then  Navi Mumbai Houses brings a special designed project of Dev Enterprises- Tulsi Harmony a G+11 Residential Complex with Unique combination of architecture with well built Amenities. Being a Co-operative Housing Society, it offers a spacious and skillfully designed 1BHK and 2BHK apartments with epitome of luxury and excellent planning which gifts you the joy of living a cozy life in the backdrop of eternal beauty and peace of nature.Tulsi Harmony is one of the residential project, located in Navi Mumbai Panvel. It offers spacious and skillfully designed 2BHK and 3BHK apartments. The project is well equipped with all modern amenities and 24X7 security service to facilitate the needs of the residents.Tulsi Harmony is conveniently located in Panvel,Navi Mumbai and provides royal residential houses for a promising lifestyle that complements the true urban lifestyle.Navi Mumbai Houses the very well known Real estate Agency will serve the best Quality & timely delivers are the promises that we keep with our customers. The agency that will definitely help you to fulfill your dream of a luxurious office and achieve newer heights of success.
Green Valley by Varsha DevelopersMumbai is a city where you have the legacy to live in. Navi Mumbai Houses strike out with an excellent property presenting you, Green Valley a G+4 Storeyed Residential Project. with amazing 1RK & 1BHK inclusive located in the most demanding areas of Mumbai. Green Valley is  a collector approved project located in the scenic Devad surrounded by green landscapes.It is a affordable housing project to fit all budgets and very close to most of the daily necessities. Green Valley is one such project that you would love to come home, it is the contemporary rendition of every house owners dream. This real estate project in Panvel is specially crafted for the people who want to spend their idle time in the excitement. It is spread across the beautiful landscape with fine and cool facilities that are nestled in the view of Nature.Complete in modern amenities, resplendent in nature and perfect in location, Green Valley by a canopy of greens it welcomes you into the arms of reassurance. As moments of bliss are shared with loved ones, together, they can make life beautiful. Green Valley is a premium housing project launched by Varsha Developers in New Panvel, Mumbai. Varsha Developers is known for reliability, transparency and integrity. The list of property by Varsha Developers includes multiple residential projects in and around Mumbai. Navi Mumbai Houses a leading real estate company that is synonymous with quality and reliability will definitely help you out with your deluxe home.
Pinnacle by Nimbeshwar Mahadev group.Mumbai a city where truly immense of worship for Lord Vinayak is done through celebrations but Navi Mumbai is never behind in this. So with Blessings of the Lord we Navi Mumbai Houses present you a G+7 storied Pinnacle with Exquisite structure located in majestic locality Sector- 4, New Panvel, Mumbai. with mesmerizing interior and exterior design in the lavish green environment, with superior 1BHK& 2BHK residences with expanded dimensions & surprising Amenities. As the Name Suggests this project is not only meant for your present living but it is also for the splendid future with completely clean, green and pollution-free nature.Although being a Branch of Nimbeshwar Mahadev Group, it maintains a valuable position in the market for providing pure residential flats as it's been located in New Panvel, Navi Mumbai one of the best locations where it has a way to commute from any corner of Mumbai. If you are looking for a Flawless Lifestyle then the Pinnacle would be a great option. A thoughtful project with lavish choices of flats would be completely an admirable built up house for you. So don't lose out on this wonderful opportunity to build up your dream house and grab your deluxe home. Greenery located in a Cherished atmosphere. Navi Mumbai and provides royal residential houses for a promising lifestyle that complements the true urban lifestyle.
Mahalaxmi city by Mahalaxmi DevelopersYou might think Mumbai is the best place to set your future but if you also want your next generations to have a bright future then just try to visit Navi Mumbai where you can get the best place for setting up your future. A thoughtful project with lavish choices of flats would be completely an admirable built up house for you. So don't lose out this wonderful opportunity to build up your dream house and grab your deluxe home.This project is proposed by Mahalaxmi Builders to give a comfort life for the people who love to be homely.Mahalaxmi City  is a Residential Complex. A Beautiful 3 Storied Apartment with Hill view and Greenery located in a Cherished atmosphere.This is an ongoing project. It has a thoughtful design and is being developed with all the modern day amenities as well as basic facilities. The project offers 2 BHK, 2.5 BHK Apartments.With redefined living choose to be yourself at this abode and experience.This plan is a dynamic approach which is a trustworthy and reliable project. Navi Mumbai Houses a reputed Agency despite being very modest we would help you out with any kind of residential plans. The project is well equipped with all the amenities to facilitate the needs of the residents in Captivating Location of New Panvel, Navi Mumbai. Navi Mumbai Houses is going to present you the best Unsurpassed Residential Complex in incomparable Locality of Panvel which is the Heart of Navi Mumbai.
Akshar Emperia Garden in Rasayani, Panvel | 1 RK | 1 BHK | Price, Review, Location, Floor Plan, RERA
Disclaimer:
The views of this expressed above are for informational purposes only based on the industry reports & related news stories.
Navimumbaihouses.com
does not guarantee the accuracy of this article, completeness, or reliability of the information & shall not be held responsible for any action taken based on the published information.
Also Read
Buy Properties in Navimumbai