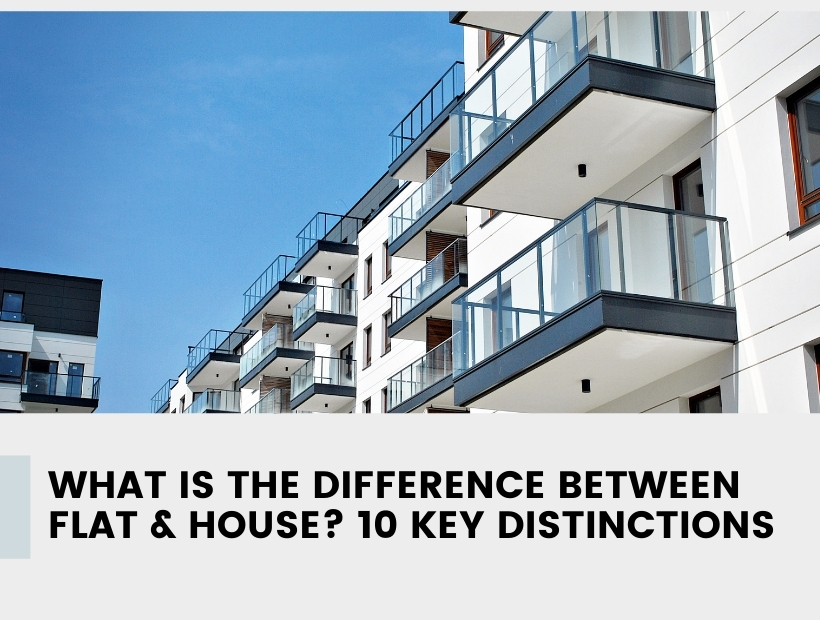 What is the difference between flat & house? 10 key distinctions
Architecture and architecture are continually evolving in response to changing customer tastes. Today's home buyer prefers to live independently, surrounded by greenery and amenities.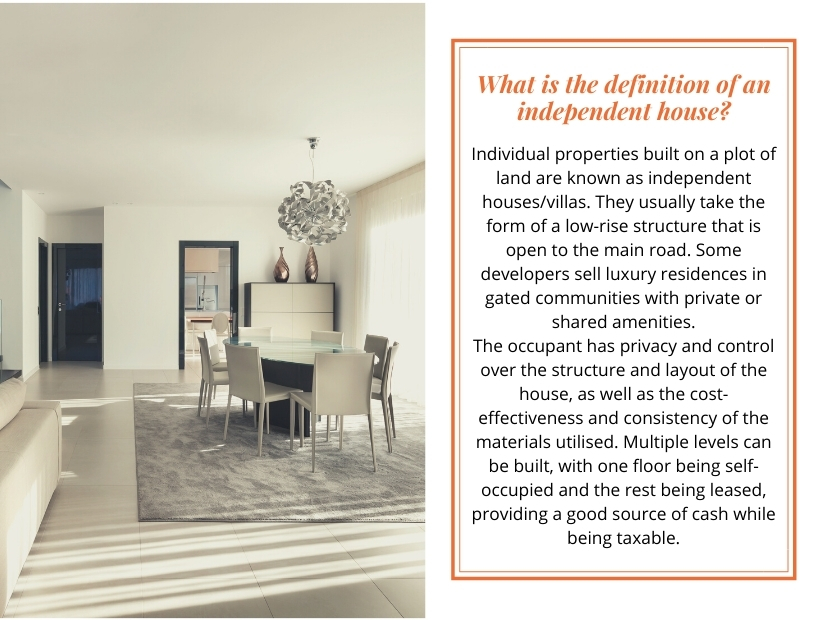 In this context, the terms "independent house" and "flat" come to mind. But what is the difference between the two? What are you going to do to make your life more consistent? Let's have a look at their definitions and contrast them in order to make an informed investment.
What is the definition of an independent house?
Individual properties built on a plot of land are known as independent houses/villas. They usually take the form of a low-rise structure that is open to the main road. Some developers sell luxury residences in gated communities with private or shared amenities.
The occupant has privacy and control over the structure and layout of the house, as well as the cost-effectiveness and consistency of the materials utilized. Multiple levels can be built, with one floor being self-occupied and the rest being leased, providing a good source of cash while being taxable.
---
Are you looking for a 3 BHK Apartment for Sale in Kharghar Navi Mumbai? Then you may contact Navimumbaihouses.com the biggest property portal to Rent / Sale / New Projects properties in Kharghar and Navi Mumbai.
---
What does it mean to be flat?
Apartments are the most frequent type of property in Indian cities for reasons such as modern aesthetics, modern amenities, in-house management, and superior security.
Apartments are a viable choice for self-use, rental, and investment purposes. Apartments are comparable to single-family homes in every manner, and rationalization can be done on a small scale without disrupting the apartment's straightforward layout.
As we can see, it's not a question of which is better than the other; rather, it's an issue of preference. As a future home buyer, you must consider a few variables that will have a direct impact on your lifestyle, whether you live in an independent house or a flat. So, as a starting point for deciding between a flat and an independent house, look over our list of other considerations.
Additional Amenities in a Flat compared. an Independent House
A flat comes with additional utilities such as water, electricity, and security. Though they come at an additional cost of 2-5 percent of the purchase price, we can't deny how easy it is to have it taken care of right away when we move in.
In the event of a self-contained dwelling, you must arrange and manage all of these amenities on your own. If you live in a gated community, speak with the members of the committee to see if they can assist you.
Purchasing Costs of a Flat vs. a Single-Family Home
In the case of flats, the contractor takes care of the legal processes, and the homeowner only has to pay the proper fee for the apartment and move in whenever they want. Because the cost of owning a single family house is far higher than the cost of purchasing an apartment, demand for a home loan would climb in lockstep.
This will comprise the purchase price of the plot, stamp duties to be paid to the government, clearances required by various authorities, expenses of connecting power, raw materials, labor costs in the city, and, in the case of repairs, architect's fees.
Bank loan for a flat vs. an independent house
Obtaining a loan for the flat is quite simple due to the builders' pre-existing relationships with banks, and so is not a time-consuming process. In contrast, the bank scrutinizes the borrower and his/her loan capacity for an independent house, which is more challenging.
Flexibility of a flat vs. an independent house
The flat is more or less shifted on property; if it isn't, we're not sure if every society will allow a complete redesign of the house's design and decor. When you live in an independent house, you have complete freedom to do whatever you want with no restrictions.
Privacy and Safety in a Flat vs. an Independent House
Remember when we talked about the extra services? A flat purchase includes security 24 hours a day, seven days a week. An independent residence, on the other hand, does not have anything like this; you will have to make your own arrangements.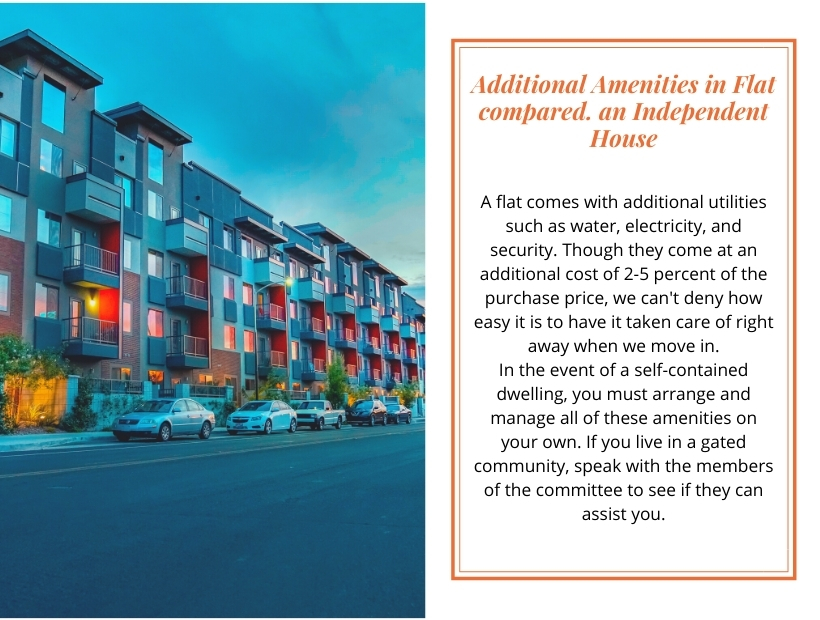 Property under construction (flat vs. detached dwelling)
So, if you're thinking about buying a property that's still under construction, this could be a game-changer. When you buy a flat, such issues are greatly reduced because the builder is responsible for everything. Instead, if you want to build your own house, you'll have to deal with plot purchases, registration, and so on.
Time Period of a Flat vs. an Independent House
A continuation of the last point, with flat construction, you are at the mercy of the builder. It's not uncommon to encounter such snags in the development of a community. Because you are actively involved in the construction of your own home, sticking to a deadline is nearly a given.
---
Are you looking for a Sale Property in Navi Mumbai, We have very good options for you and the best location like 3 BHK Flat on sale in Kharghar Navi Mumbai: https://navimumbaihouses.com/3-bhk-flats-for-buy-in-kharghar/
---
Maintenance Costs of a Flat compared. a Single-Family Home
It isn't here that the job comes to an end. Until you move into your own house, the property will require frequent cleaning, cleanliness, and construction and restoration work. Until you move into your own house, the property will require frequent cleaning, cleanliness, and construction and restoration work. The cost of treatment is considerably reduced thanks to money pooled in a suburban development.
Resale value of a flat vs. an independent house
Land, more than any other asset kind, requires more time to resell. The job can become Herculean in nature because it is an individual property. Apartments are presently in higher demand, according to industry estimates.
Apartments are presently in higher demand, according to industry estimates. Apartment buildings are now incorporating a mix of plotted constructions. If you want to sell your house later, selling an apartment is a better option.
Community vs. Independent House:
A flat is typically built as part of a large society with a minimum of 1000 to 3000 flats. When you live in such a large building, you have a lot of opportunities for interpersonal interactions with your neighbors and communal harmony. People who live in independent houses value their privacy above all else, thus you may notice a decrease in social interactions there.
As you can see, none of these features have any significant disadvantages. It all boils down to personal preference, financial constraints, and personal taste. So do your homework before buying a flat or a house on your own.
---
We are the Real Estate Web Portal to Buy Sell and Rent properties in Navi Mumbai, Mumbai, and Thane. We can help you Buy Properties at Affordable Prices at your desired location. For more information, Call Us On +91 8433959100
If you want daily property update details please follow us on Facebook Page / YouTube Channel / Twitter
Disclaimer:
The views of this expressed above are for informational purposes only based on the industry reports & related news stories.
Navimumbaihouses.com
does not guarantee the accuracy of this article, completeness, or reliability of the information & shall not be held responsible for any action taken based on the published information.
Also Read
Buy Properties in Navimumbai