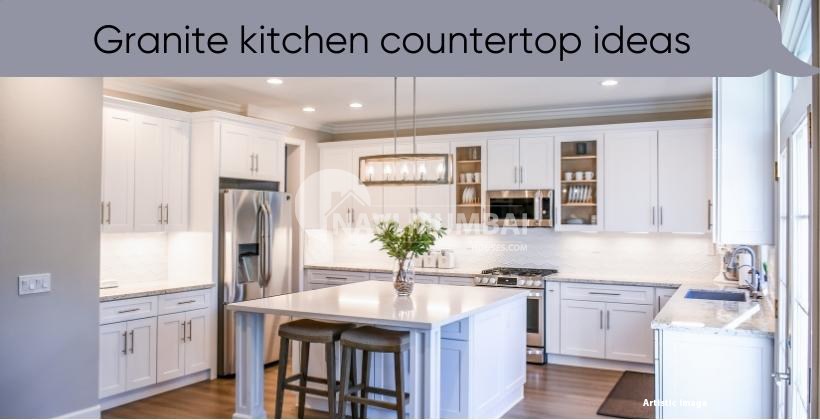 White granite kitchen countertop ideas and designs for your house!
White granite kitchen worktops give the room a wealthy, spacious, and beautiful appearance. Here are some kitchen design ideas for white granite worktops.
---
---

White granite kitchen advantages and disadvantages:-
White granite is not the same as milky white granite. Due to the minerals found in granite, there is an astounding spectrum of colours and delicate patterns, from silvery highlights to wine-colored speckles, which lend refinement to the kitchen. White granite countertops are heat-resistant and long-lasting. The colour white creates the idea of more space. Countertops made of white granite are smooth and free of pores. As a result, the kitchen platform is free of bacteria and debris. Most colour schemes and themes work well with white granite countertops. White granite colours complement both traditional and contemporary kitchens.
A white granite countertop, on the other hand, needs more upkeep than any other granite colour. Spots and flaws are hidden by white granite, but stains are immediately evident on a white island, making these worktops difficult to keep clean.If something spills on the counter, wipe it immediately to avoid persistent stains on white surfaces. Because white granite is porous by nature, it must be sealed on a regular basis.
Types of white granite for kitchen:-
White stone isn't always completely white. Grey, black, yellow, brown, or beige specks and swirls can be seen in some varieties of white granite. Some white granite slabs include brown-black or red veins and freckles with a dusting of blue.
Small sparkles and swirls of dazzling ivory are interspersed throughout the moon white granite, which is laced with silvery grey and black. It is one of the most well-known white granites from India. Its attractiveness comes from its uniformity throughout the whole surface. Bacca Bianca, Emerald White, Kashmir Pearl, and Morning Mist are some of the other names for it. The stone's exquisite swirl pattern complements light-colored cabinets, particularly white cabinets. Natural wooden cabinets, laminate light hardwood flooring, and gorgeous stainless steel pendant lighting with a moon white granite countertop provide for a traditional kitchen design.
White granite kitchen design Bianco Antico:-
Bianco Antico is a white granite with specks of grey, white, and brown. This stone is a spectacular blend of wine-red garnet and black mica with grey quartz deposits. The stone has a metallic appearance. Use Bianco Antico granite against a dark-colored cabinet, such as charcoal grey, scarlet, navy blue, or chocolate brown, for contrasting design components. Natural stone looks great with creamy white cabinetry and textured stone white tile backsplash.
Kitchen design with river white granite:-
A delicate white foundation is accented with dark grey veins and deep crimson burgundy patches and flecks in this river white granite from India. White cabinets look great with this granite. River white granite pairs well with a wide range of wood tones, including grey, cream, brown, medium brown, light white, black coffee, and a multi-colored mosaic backsplash. The dark blue, red-brown, and azure flecks offer a variety of complimentary backsplash, floor, and cabinet alternatives. Various architectural types are complimented by metallic tones and crisp white with white ice stone.
Kitchen design with white ice granite:-
The colonial white granite has a white backdrop with rich brown flakes and regular veining in greys, blues, and taupe. The colonial white granite also has a tinge of rose-pink mineral deposits as a distinguishing characteristic. Cotton White, Balthus, and White Antique are some of the other names for it. Dark-colored kitchen cabinetry can be paired with colonial white granite. Colonial white platforms can also be paired with aquamarine blue cabinetry and brass hardware.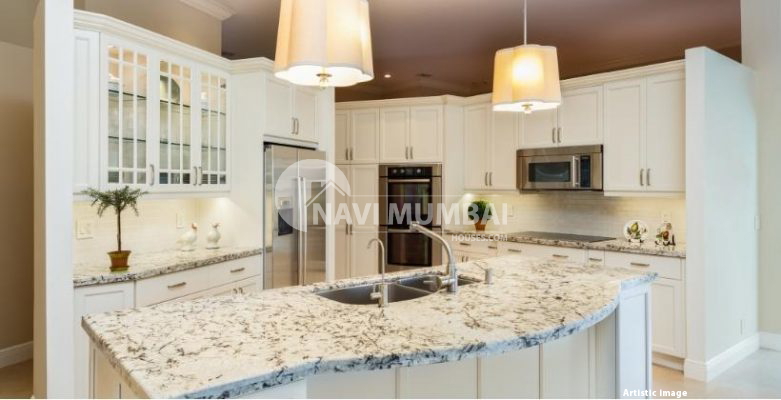 Kitchen design using Kashmir white granite:-
The surface of this Indian stone is white with cream and grey speckles. Kashmir white is a lovely granite colour with a variety of veining and uneven characteristics that add to its uniqueness. Kashmir white is a medium-grained white granite with blackberry-colored garnets and mint-colored tints. The modest presence of garnets on the granite top is evident since Kashmir white granite is found in the same places in Southern India where garnets are found. For a modern kitchen, this style of granite is a popular choice.
White granite kitchen design in Alaska:-
Alaska white granite from Brazil is a beautiful mix of delicate silver and frosty whites, with neutrals and onyx colours that sparkle in the sun and bright kitchen lighting. This granite looks best when coupled with white cabinetry. Choose beige-colored walls and white cabinetry for a gorgeous effect. Also, white granite islands look great with a black or dark green kitchen.
White granite kitchen design delicatus:-
Many homeowners like Delicatus white granite because of the black-embedded crystals that give it a dazzling appearance. Dark-colored mineral veins in the white stone are black, caramel, or light grey in colour. Delicatus granite comes in gold and ice colours and is also known as Kodiak, Juparana Delicatus, and Romano Delicatus. The gold variant is best for warm-toned kitchens, whilst the ice version is typically used for counters that contrast with white kitchen cabinets or blend in with black cabinets. In the kitchen, it may be used to create magnificent granite countertops, flooring, backsplashes, floating shelves, and accent walls. For a striking modern aesthetic, dark wood cabinets might be contrasted with a white granite countertop.
Kitchen design with white galaxy granite:-
The white galaxy granite has a bluish and greenish base with orange and chocolate garnets. Some of the slabs are even maroon in colour. The slab is one-of-a-kind due to the varied colours on a white backdrop. It has a milky white colour and a smooth, rich texture that adds a pop of colour to any kitchen. Unlike other varieties of white granite, this one has a smooth texture that makes cleaning a breeze. With two-tone cabinetry, ideally white and dark brown, go for recessed lighting and huge pendant lights over the granite island.
Cabinet colours and white granite kitchen ideas:-
White granite goes with any design style, cabinet finish, and wall colour. For traditional decor, white is ideal. Cooking, having breakfast, or taking phone calls may all be done at the same time on the kitchen counters. Two types of white granites can be used to divide the cooking and eating zones, or one island top can be black granite for added effect. Vintage, farmhouse, or new-age smart kitchens may all benefit from a white granite kitchen island. Because it contains bits of beige, brown, gold, and grey, white is a versatile colour. These colour combinations make it simple to utilise with a variety of colour palettes. A dining table with a white granite top will add flair to your house.
Ideas for a white granite kitchen backsplash:-
When applied appropriately, white granite may provide a wow impact by complementing any backsplash colour. Use matte tiles, mosaics, and porcelain tiles to dress up the white granite countertop, combining the background tone with the streaks' colours. Also Avoid patterned backsplashes since they hide the granite's inherent charm.
Choose a basic backsplash for beautiful white granite with characteristic swirls. Because glass tiles are shiny, contemporary, and practically transparent, they are an excellent alternative for granite worktops. Choosing a colour that matches the granite countertop creates a wonderfully coordinated aesthetic. Extend the white granite of the countertop to the backsplash for a luxury look. Choose a stylish kitchen design.
Kitchen maintenance and upkeep for white granite:-
Granite countertops are simple to clean and maintain. Seal it once a year to preserve it in perfect condition. Granite is a practical choice for the kitchen since it is waterproof, stain-resistant, heat-resistant, easy to clean, and hard to damage or Clean your granite counters on a regular basis with a soft, cotton cloth and warm water, as well as a cleaner or any light liquid soap. Scrubbers and aggressive cleaners should not be used.
---
You're looking for Purchasing New Homes in Navi Mumbai we have the best New Projects in Navi Mumbai Like Ready to Move & Nearby possession:  https://navimumbaihouses.com/properties/search/navi-mumbai-all/
If you want daily property update details please follow us on Facebook Page / YouTube Channel / Twitter
Disclaimer:
The views of this expressed above are for informational purposes only based on the industry reports & related news stories.
Navimumbaihouses.com
does not guarantee the accuracy of this article, completeness, or reliability of the information & shall not be held responsible for any action taken based on the published information.
Also Read
Buy Properties in Navimumbai