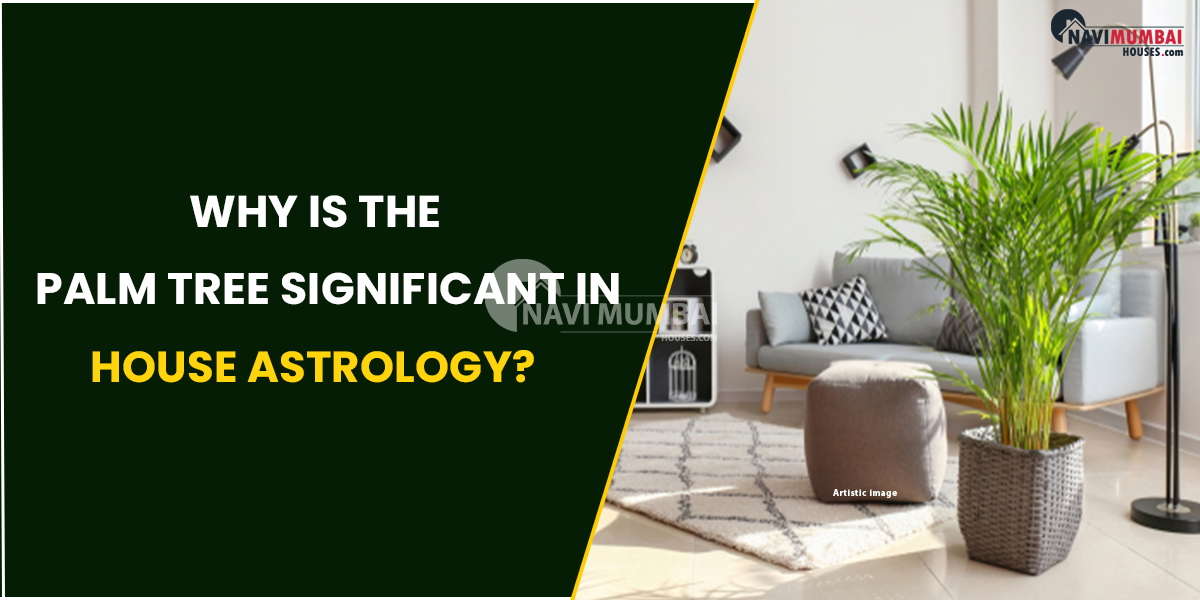 Why Is The Palm Tree Significant In House Astrology?
Palm Tree Significant: Vastu, an age-old science, has a lot to say about home gardens. Vastu Shastra, often known as the science of the Vastu or House occupant, is the art and science of balancing and harmonising natural forces and elements. To enable and improve the flow of essential universal energy, this includes harmonising the five elements of Earth, Water, Fire, Air, and Space.
According to Vastu, indoor plants keep the energy flowing freely and counterbalance the negative with the good. The family's success, money, and health are all impacted. They contribute to your home's design and décor in more ways than one.
If you have a preference for gardens as one of the potential house purchasers, you should definitely take note of the different Vastu advice we have compiled for you. According to Vastu Shastra, having greenery both indoors and outside (in a garden) is advantageous, although not all plants are excellent.
When choosing the plants you want to acquire, you must also take other aspects into account, such as the location and orientation of the plantation. There are several tree species that are among the top options as the trend of keeping plants in the home grows. The palm tree is one of them. Although palm tree vastu is often beneficial for the property, it also depends on a number of other circumstances.
---
Are You Looking New Projects In Mumbai? 
---
Benefits of Palm Trees for Vastu in Homes
Positive energy is drawn to homes with palm trees. The small range of palms that are frequently referred to as indoor palms are the Sago Palm, Lady Palm, Areca Palm, and European Fan. These plants have enormous, distinctive leaves that make them appealing and helpful as showpieces. These plants are thought to provide riches and peace of mind to everyone in the home. Each place where palm trees are planted gains a sense of the natural world.
However, it's crucial to preserve a palm tree in a spot with sunshine so that the sun's daily rebirth can replenish its energy. A palm tree may improve your vastu and help to purify the air within your home. Delete your air purifier from your life!
Vastu Guidelines for Plants in the Home
To get the most out of your indoor plants, follow these easy suggestions. A few minor adjustments here and there will promote more blessings, love, wealth, peace, and harmony.
Palm Tree Significant-How to Get to the Garden
Always put your gardens, trees, etc. towards east or north, according to Vastu Shastra. You may also add a small water feature and a level above the ground to the installation to boost the advantage. Don't overuse palm trees, as well. Try to combine them with different kinds of plants, ideally those that produce flowers or fruits.
Palm Tree Significant-The Garden's location
The land with gardens reflects all five components, whether it is a standard garden or one with palm trees. Earth is represented by the south-west, water by the north-east, fire by the south-east, and air by the north-west. So, while planning your garden, strive to balance the components so that they may all provide uplifting energy.
Palm Tree Type
There are several varieties of palm trees on the market. Decide if you want the tree indoors or outside before spending any money on it. The best palm trees for interior use are acai, areca, and broadleaf. They are excellent for growing inside because they don't frequently spread out. It is simple to clean and maintain them in such sorts since they have a tendency to draw a lot of insects and pests.
Additional Vastu advice for your garden
The garden's east or north sections should be planted with small shrubs, leaving the north-east area open and unplanted.
Tall trees should be positioned in the garden's west, south, and south-west corners. A wide distance should be kept between the main house and the trees.
Avoid planting peepals too near the home's foundation.
The herb tulsi has a relaxing impact. It needs to be placed in the northern, north-eastern, and eastern parts of the home.
In the garden, thorny plants should not be employed. You should never grow cactus. Thorny plants symbolise bad energy.
According to Vastu Shastra, a grass in the garden should face east or north, where a swing with a north-south axis may be placed to guarantee unobstructed views and possibilities.
Either the east or the north can be used to construct a tiny waterfall. The northeast corner of the garden should not be entered. If the garden has a small pool, it ought to be pointed north or north-east.
Palm Tree Significant -Taking Advantage of the Palm Tree
Planning the structure and style of your indoor and outdoor plants may be a really uplifting pastime in and of itself. This can also be very advantageous if Vastu principles are followed. Yes, a palm tree home vastu is highly suggested, but we also advise you to look into your other possibilities. Try blending it with plants that produce fruit and flowers. Use the palm tree to enrich your garden and give it a tropical flavour now that you have a solid grasp of it, transporting you to lush foliage and giving you the impression of a peaceful holiday!
Palm trees may be grown easily since they don't require a lot of work. Due to its profusion, this plant—which is referenced in both the Bible and the Quran—is regarded as a sacred tree. It is not only incredibly attractive to the eye, but Vastu experts also strongly recommend it. I hope this compilation serves as the conclusion to your searches for "palm tree vastu, palm tree in home vastu."
Vastu Shastra cautions against palm trees in homes.
Palm palms are well renowned for their attractive appearance and upbeat energy. Particularly the date palm trees, which seem luxurious and are large. Date palm trees should not be planted inside, outside, or near the home, according to Vastu Shastra. The home where a date palm tree is placed may suffer as a result of the planting. It results in a money outflow or obstructs the home's capacity to maintain and increase its finances. Date palm trees must be avoided for another reason because they may be harmful to the health of the occupants of the home.
Make sure the palm trees are distant from the main entry gate if they are outside the home. The distance needs to be such that not even the tree's shadow may fall on the home. Last but not least, avoid planting a palm tree towards the north or east if you are doing so far from the home. Any obstacles must be removed from these two directions.
---
You're looking for Buy Home In Thane we have the Best Buy Properties In Thane Like Ready to Move & Nearby possession: https://navimumbaihouses.com/property/search/buy/thane-all/
If you want daily property update details please follow us on Facebook Page / YouTube Channel / Twitter 
Disclaimer:
The views of this expressed above are for informational purposes only based on the industry reports & related news stories.
Navimumbaihouses.com
does not guarantee the accuracy of this article, completeness, or reliability of the information & shall not be held responsible for any action taken based on the published information.
Also Read
Rent Properties in Kharghar